Women in the UAE are here to prove that they can do everything. When given a chance, they can excel in varied fields. Be it sports, art or entertainment- these women prove that they are the best and deserve equal opportunities like men. In order to salute the undying spirit of these women, Vatika- GCC's leading natural hair care brand and Curly Tales have launched a new initiative- 'Vatika Voices'.
In the past, Vatika has also worked with popular and powerful Arab Celebrities and Influencers like Haifa Beseisso, Rima Zahran, Jood Aziz, Tamara Farra, Renee Farah and Yara Aziz and collectively, the brand has celebrated these powerful women and their success stories. And now, Vatika and Curly Tales presents to you the story of Aisha Al Mazmi, a 27-year-old Eikrati Radio Presenter. Read on to know more about her journey.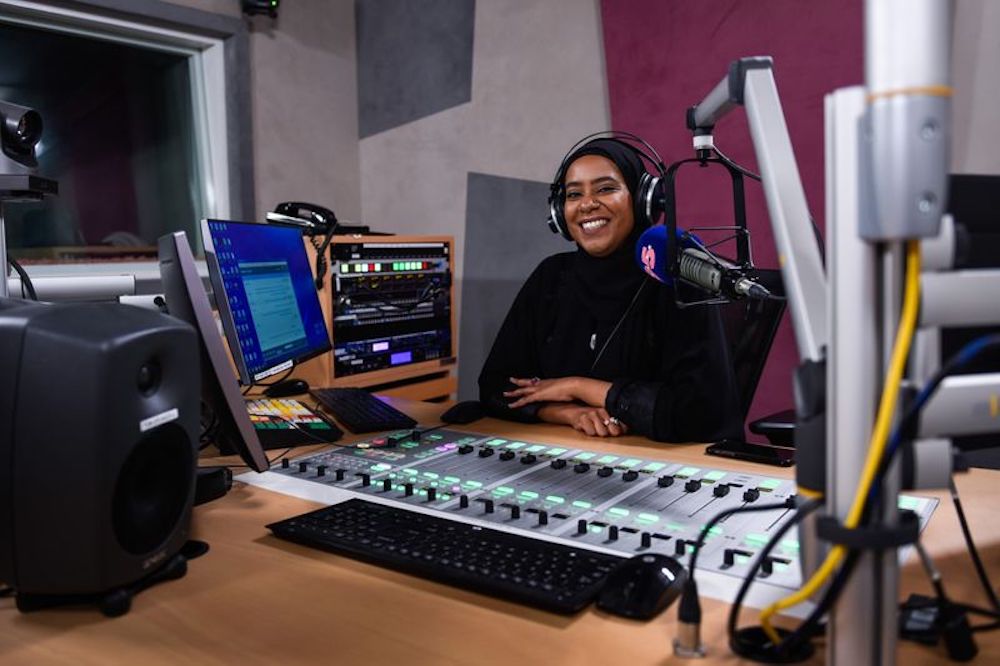 Growing Up And Thinking About Multiple Career Choices
Aisha, a presenter for Pulse 95 Radio, is the youngest female Emirati presenter and newsreader ever to host on an English language station. Born and raised in the UAE, Aisha considered multiple career options while growing up. She graduated from the American University of Sharjah in 2015 and then pursued masters in communication from the University of Sharjah.
However, while Aisha is an inspiration to many today, growing up, she too was confused about what she wanted from life. Speaking about her family and her career choices, Aisha, in an interview with The National, says,
"My parents were always supportive of my ever-changing dreams, from once wanting to become a vet, then a teacher then a vet again, to when I changed my university major three times. They weren't judgmental or angry, even though the majority of my generation had parents who dictated what their kids should study."
Journey Of Becoming The Voice Of The Afternoon Karak Show
In fact, it was Aisha's father who encouraged her to apply at Pulse95 Radio. Being a public speaker and belonging to the media background, he always wanted Aisha to be outspoken and bold. And with such supportive parents, Aisha became a source of influence to many.
Today, Aisha co-hosts the Afternoon Karak show on Pulse 95 Radio with Mikail Atiyeh and it airs daily on weekdays from 4-5 PM. The key focus of the show is youth-centric. The topics covered on the show range from technology to popular culture and current affairs.
Preparation And Research For The Show
Aisha aims to bridge the gap between parents and their kids through this show. And while the show sounds fun and interesting, Aisha makes sure to research well while preparing for her show. She looks up the internet and picks topics the youth is talking about. The format of the show is casual and targets the youth of all cultures and backgrounds.
Aisha, a minority as an Emirati working in English language media, believes that the world needs to know who Emiratis are. While Arabic is their first language of communication, Aisha hopes that more Emiratis are heard in different languages. She says,
"When one Emirati speaks up, it gives an opportunity for other Emiratis to speak up as well. Even though I am representing, I do not have the same opinions or ideas as everyone else."
Goals, Future And Further Aspirations
Aisha is greatly responsible for changing the landscape of radio in the UAE, and she hopes that the future face of the industry looks more like her. She believes in the power of social media and thinks that the industry needs more people like her. Aisha believes that the Emirati youth is quite outspoken, and if they get the same support and courage, they also should use their voice and find a way into this field. Speaking about her future goals and passion, she says,
"If you had told me two years ago I would have my own show, I wouldn't have believed you. I now aspire to write a book and hope to achieve that in the future."
Aisha who is inspired by Sir David Attenborough, the man behind the iconic narrations for BBC, aims to encourage families across the Emirates to learn from her story and wants the youth to use their voice. We salute her courage and spirit.