Women in the UAE are marking their territory in every field. Be it becoming a scientist or a wrestler, women in the UAE are here to prove that they are here to stay. And Vatika and Curly Tales Dubai appreciate these women for their dreams, ambition and career choices. In fact, GCC's leading haircare brand –  Vatika Naturals has launched 'Vatika Voices' to empower women in the GCC. The brand aims to help women by listening to their powerful stories and helping them achieve their dreams. The aid provided by the brand will differ from person to person. The brand will ensure to help the women with just one aim – Empowering Women to shape the future of our society.
Through the Vatika Voices campaign, Vatika aims to show that empowered women are self-sufficient and add more value to society. In fact, the campaign is solely run by women of determination who have managed to prove what it takes to be them. And when we speak about women of determination- Nada Al Bedwawi, UAE's first female swimmer to take part in the Olympics, makes it to our list.
Starting Out As A Swimmer And Parental Support 
Nada Al Bedwawi was barely 18 when she got the opportunity to represent UAE at Rio Olympics in 2016. Nada, who started swimming professionally at the age of 14, was eyeing for Tokyo 2020 Olympics- however, when Rio Olympics knocked on her door, she couldn't say no and went on to become a history maker. However, things weren't this easy and attainable always.
Nada took up swimming a bit late, in comparison to others. She started swimming at the age of 14. When she dreamt of taking part in Tokyo 2020 Olympics, her first coach didn't believe in her. Speaking about her starting phase, Nada, in an interview with The National, said,
"My first swimming coach used to not let me come to training more than twice a week; he told me I should do it for fitness, because I was starting out so late."
Despite her struggles, Nada was happy that she didn't have to struggle for parental approval and encouragement. Speaking about her parents' support, she said in an interview with Al Arabia News,
"I am very lucky to have the support of my family- I would not have been able to do this without them. Unfortunately, this is an element still greatly missing in some Emirati parents, and not just towards swimming but sports in general, and I hope this changes shortly."
Her Rio Olympics Journey 
Nada not only got a chance to be a part of the Rio Olympics but also made history by becoming the second Emirati female to carry the country's flag at the opening ceremony. She followed the footsteps of Sheikha Maitha bint Mohammed bin Rashid at the Beijing Olympics in 2008. She also became the UAE's first-ever Olympic female swimmer by taking part in the 50m freestyle in Rio. Recalling that very moment, Nada, in an interview with Al Arabiya News, said,
"It was an overwhelming, exciting and an honorable feeling to be the UAE's flag bearer at Rio 2016. I am very proud, I think it delivered a powerful message to the world on how the UAE supports women and youth sports."
While Nada made everyone proud with her achievement, she also learnt a lot through the process. She not only got a chance to showcase her talent but also got an opportunity to interact with swimmers and coaches from different countries. Speaking about her training for Rio, she said,
"We kept simulating race conditions to get me ready for the actual competition, and overall the training went well; I felt ready and reflected that in my time. The race was great I did better than I expected, but there is always room for improvement, and I am glad that I put myself out there and finished my race, and now I can officially call myself an Olympian."
Career Post Olympics
While the Rio Olympics boosted her morale, Nada, a psychology student at NYU Abu Dhabi, transferred into MBRU in 2018 to pursue a degree in medicine. During that time when she found it difficult to strike a balance between her studies and sports. Speaking about her struggle to balance the two, she said to The National,
"Honestly I'm still mad at myself, still bummed that I didn't continue practicing."
While Nada believed that she didn't do much to grow post-Olympics, she also said that the structure set for athletes didn't make her feel comfortable and confident. She said that a former UAE national team swimming coach once told her that the UAE Swimming Federation doesn't have enough budget to customise a programme for swimmers. Yes, some high-class coaches and events mould the swimmers and prepare them for the best- however, the programme is not professional enough to create Olympians.
Nada initially thought that'll she will be able to manage school and sports, but that certainly was not the case. She said,
"We're still not there yet, where schools help you study and train at the same time. I'm not doing my part to be honest."
However, with all this in place, Nada still hopes to be a part of the next Olympics in 2024. This time she wants to do it for herself; she wants to feel good and make herself proud.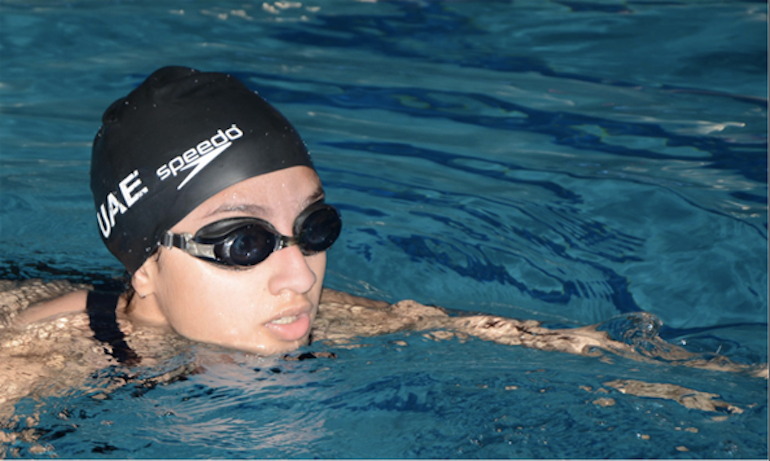 Future Goals And Aspirations
Nada is now training for the 2024 Olympics and is inspired by 28-time Olympic medallist Michael Phelps. On Michael, she said,
"Honestly he's my biggest inspiration because he was talking about the time he had a relapse and he had to go to rehab, and the drunk-driving incident and everything, and he was so open about it and I appreciate that so much.Very few people talk about things like that openly, especially about getting back in the game. So he inspired me to do that as well and train for the 2024 Games."
We hope that many more girls follow their dreams and Nada also makes to the Olympics.