India is so diverse in food cuisines that it's difficult to list out its top picks in culinary delights. Here's a list of some of the best dishes of 2018, that you have to try in 2019.
1. Pizza Omelette At Anand Bhai, Delhi
Anand Bhai's Pizza Omelette stall has gained its spot in Dwarka Sector 7 for selling a variety of egg dishes. Located opposite Goyal Sons, it dishes out Pizza Omelette made out of 10-15 eggs! The stall has gained its fame through unique and innovative egg dishes like these. Try the Special Pizza Cheese Omelette, it is made out 10 eggs with 4 slices of bread topped with a buttery gravy and shredded boiled egg.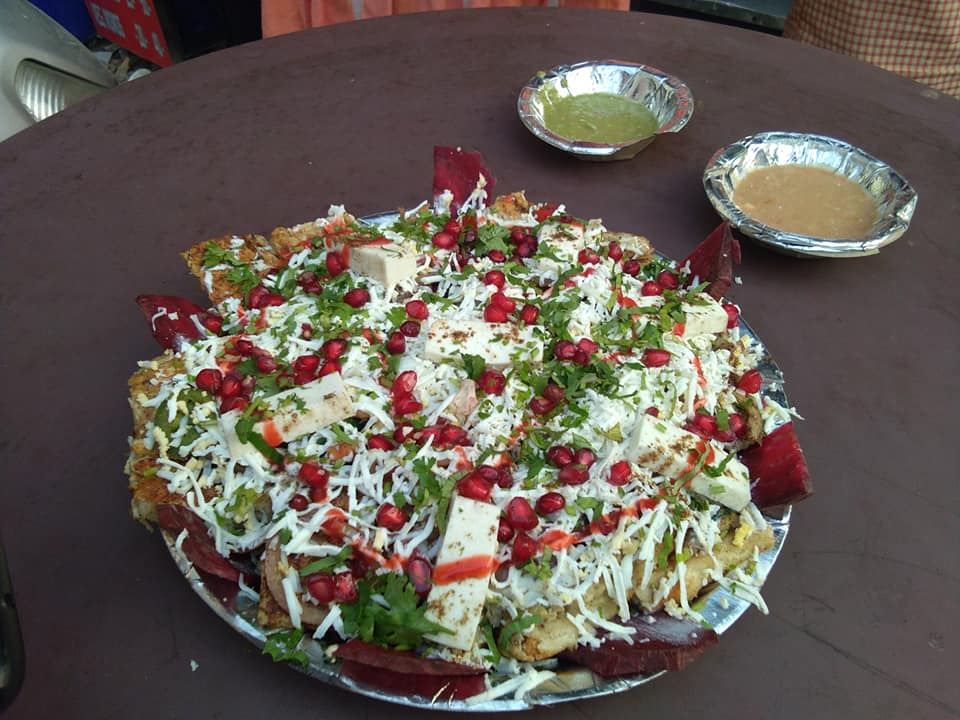 Address: Dwarka ki Spl. Pizza Omelette, E- 561A, Opposite Goyal Sons, Ramphal Chowk, Sector 7, Dwarka
Phone: +91 8010781018, +91 8287019925
Cost for two: ₹250
2. Paan Mousse, Pune
The Paan Mousse! As curious as the name sounds, the dessert is equally intriguing.The paan mousse is made with a dash of paan masala topped with paan leaves using Nitrogen spray. Full marks for creativity and tastes decent too!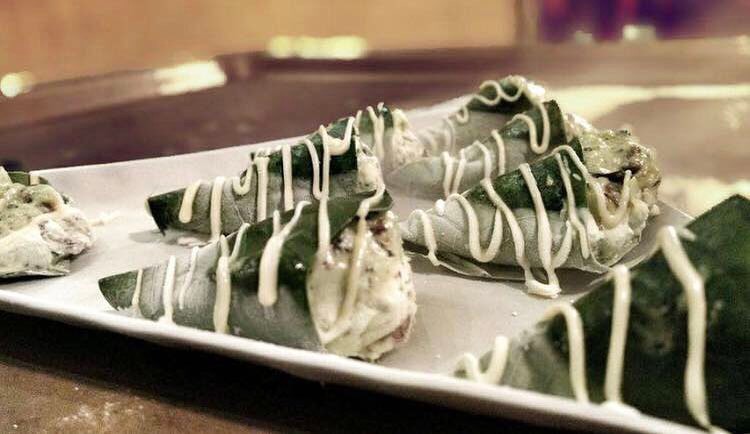 Address: 465, Ganesh Khind Road, next to central mall, Shivaji Nagar, Pune, Maharashtra
Cost: Rs 445
Contact: 020 41057255
3. Oreo Dosa at Nandu Dosa, Mumbai
Nandu Dosa is a tiny place located in Borivali and Juhu that serves a unique variety of dosas at pocket-friendly prices for all South Indian food lovers in Mumbai. They make amazing paper-thin dosas served with delicious chutney and sambhar. Have you ever tried Oreo Dosa? We guess not!
Their special Oreo Dosa is a combination of chocolate chips and grated cheese. The dosa is a must try for every chocolate and cheese lover and who loves fusion food.
Address: Nandu Dosa Dinner, Ritumbara College Road, Behind Chandan Theater, Juhu, Mumbai
Phone: +91 9833230292
Cost for two: ₹250
4. Chocolate Chai At Tea Villa Cafe, Bengaluru
Tea Villa Cafe in a newly opened pocket-friendly abode for all tea lovers in Bengaluru. Opened on the block in Jayanagar, it is a swanky place with beautiful interiors and open space to breathe in fresh air and some sunshine. The cafe has indoor and outdoor seating both with amazing food to gorge on.
Try the Chocolate Chai, White Champagne Raspberry and Basil Tomato Cheese Bagel. If you're a waffle lover then gorge on some amazing waffles that are served on a sizzling platter with stuffed chocolate and different chocolate sauces.
Address: Tea Villa Cafe, 183, 16, 5th Main Road, 4th Block, Jayanagar, Bengaluru
Phone: 080 49653143
Cost for two: ₹800
5. Egg Appam, Kolkata
This seafood restaurant in Kolkata is serving some sumptuous dishes from the flavours of the coastal region of India and we found the perfect dish – Egg Appam. Served at The Coastal Machan, the Egg Appam is a dish that is made of fermented rice and coconut and is kind of a pancake dish that originates from Kerala.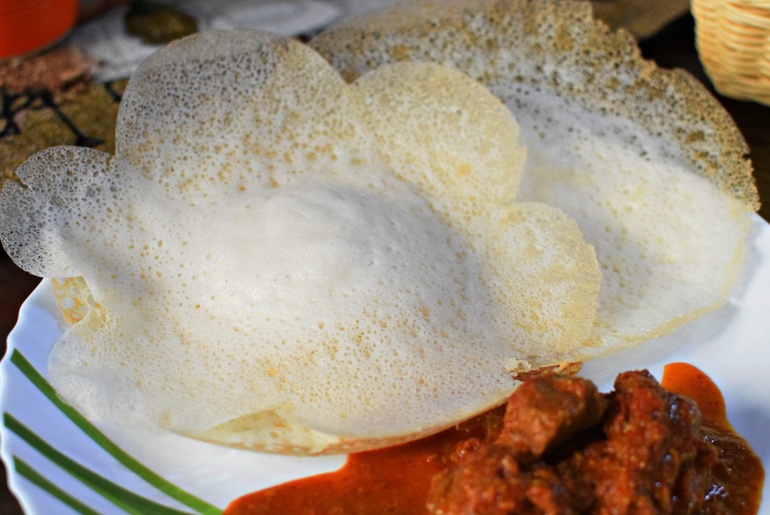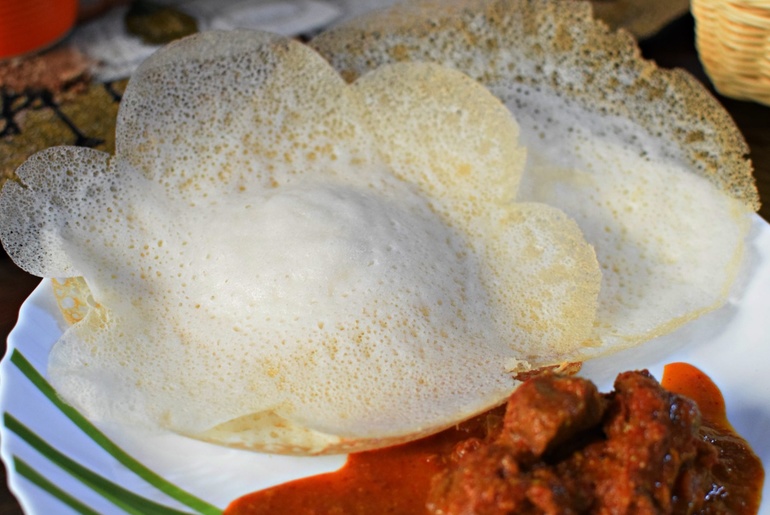 This dish has an egg filling in it which is ideal for breakfast. Although, at Coastal Machan you can match it up with their other delicacies like Bhetki Gassi, a kind of mild spicy gravy dish with coconut in it to relish with.
Address: 55, southern avenue, Kolkata 29, Kolkata, West Bengal 700029
Phone: 070596 94240
Cost for two: ₹ 800
6. Tandoori Chai At Banarasi Tandoori Chai, Vadodara
Vadodara's Banarasi Chai in Ratri Bazar serves Tandoori Chai & Kulhad Chai. This tea corner uses a unique process in preparing the tea and other beverages with the help of a tandoor. The kulhads are roasted in a pre-heated tandoor then the semi-cooked tea is poured into the extremely hot clay pots to bubble over as it finishes cooking, resulting in the hot kulhad giving the chai its smoky flavour. Once prepared this smoky hot tea is served to the customer in a clean kulhad.
Address: Banarasi Tandoori Chai, shop no. 28 ratri bazar, Jalaram Nagar 1, Veer Nagar, Karelibagh, Vadodara, Gujarat 390008
Phone: 096530 77937
7. Gin & Tonic Cheescake At The Blackboard Bakery, Bengaluru
Try the classic sun-dried tomato and basil sandwich which is lathered with cream cheese on the inside and made with focaccia bread. Basically, bread is the hero in their kitchen and is brought to the plate cleverly and as beautifully as it can be. When it comes to desserts, they've experimented with flavour combinations, coming up with quirky yet tasteful plates like the gin & tonic cheesecake which is layered with a citrus gin & tonic jelly with a hint of lemongrass running through it.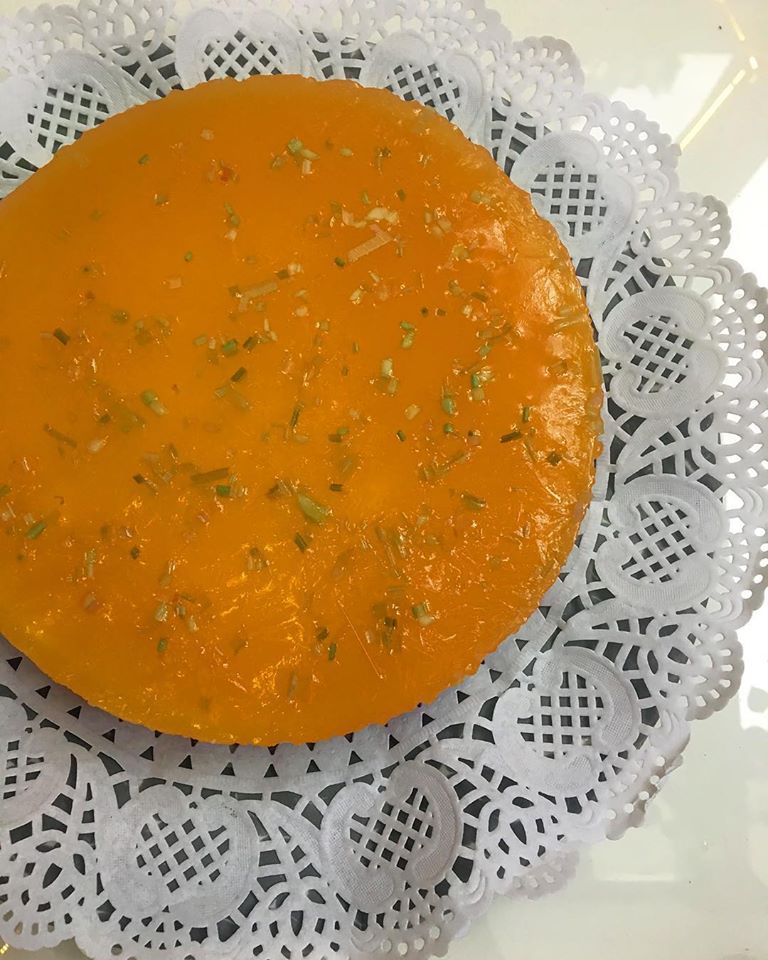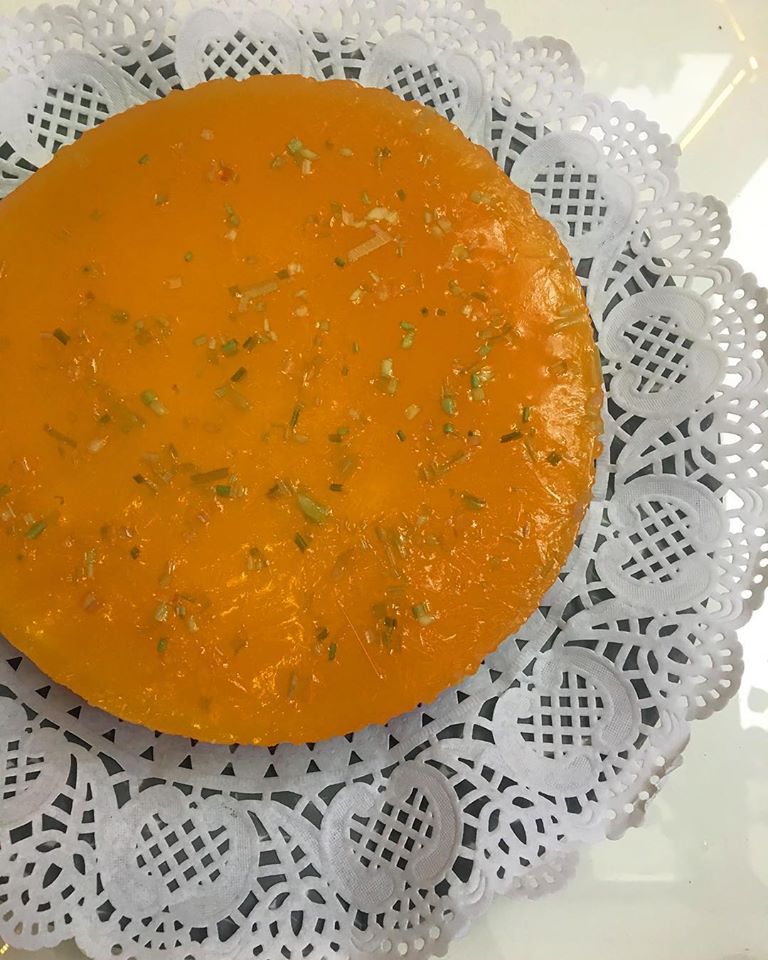 Address: 40/2 Lavelle Road, Shanthala nagar, Ashoknagar, Bangalore
Phone: 099867 06451
Timings: Open 24 Hrs
8. Dabeli Bagels At The Earth Cafe, Pune
Treating your eyes and taste buds is the Dabeli Bagel at Pune's The Earth Cafe. Serving everything with a twist, this cafe in Koregaon Park is all set to give you food combinations like no other. They've given Pune's favorite street food with fusion with bagels. Basically, the Dabeli stuffing is served inside a Bagel bread that gives you a Desi and Videsi feel at the same time!
Address: The Earth Cafe, Restaurant 1, Upper Ground Floor, Lane 7, Power Plaza, Koregaon Park, Pune
Phone: +91 7875537929, +91 7887888688
Approx cost: ₹1,100 for two people 
9. Hulk Sandwich At Om Snacks, Mumbai
One item that caught our eye at this tiny eatery was their five layered Hulk Sandwich. The first layer of The Hulk consists of tomatoes, onion, capsicum and oodles of cheese. Then again comes a layer of cheese. The third layer consists of paneer marinated in their secret chilly sauce. The forth and the fifth layer again consists of tons of cheese and diced vegetables accompanied with their delicious secret sauces.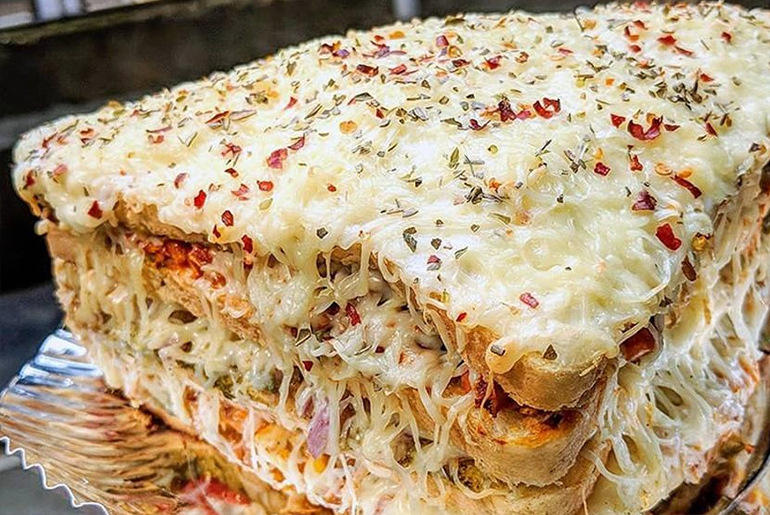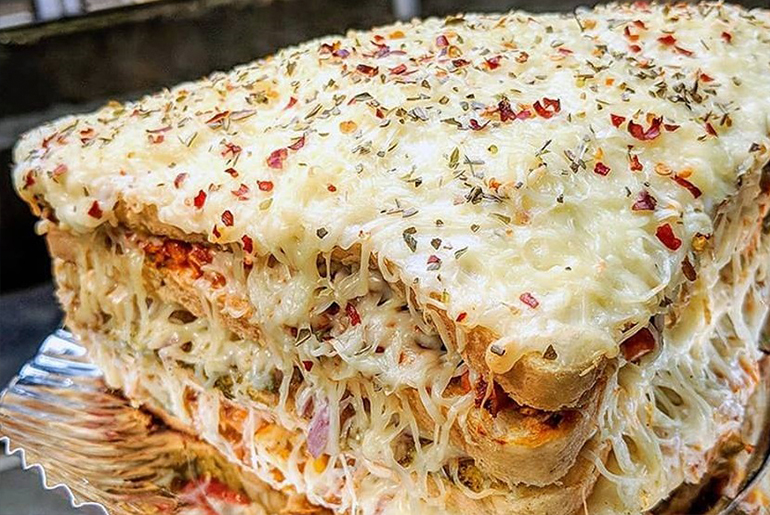 Lets just say that a veggie sandwich is not complete without oodles of cheese and chopped veggies and The Hulk is no different. Priced at just ₹299 this delicious goodness of a sandwich is here to make your day.
Address: Anurag, Opposite Bagarka College, Next to JB Nagar Metro Station, Chakala, Andheri East, Mumbai & Gagan Shopping Arcade, Opposite Meenakshi Tower, Krishna Vatika Mandir Marg, Gokuldham, Goregaon East, Mumbai
Costs: ₹300 for two people (approx.)
Timing: 11am–10 pm
10. Chicken Dosa At Dosa @ Twist, Kolkata 
Dosa @ Twist is a paradise for all South Indian lovers who love their Dosas with a twist. The place is a real hidden gem for hybrid South Indian food serving pizza dosas, chocolate dosas and Non-Veg dosas.
The Chicken Dosa priced at ₹110 only is an amazing blend of Chicken chunks stuffed inside the Dosa served with chutney. There's even Chicken Cheese Dosa and Mutton Cheese Dosa at ₹150.
Address: Dosa @ Twist, 187, Sarat Bose Road, Lake Market Area, Kolkata
Phone: +91 8902392725, +91 9051440514
Cost for two: ₹300