Here are the top 10 places to eat street food in Mumbai you will find some lip-smacking food at cheap rates. These places will stay evergreen and you must try these at least once in your life.
1. Anand Vada Pav – Vile Parle
The freshly prepared vada pavs and the sweet scent of the dosas and Frankies are bound to get anyone's mouth-watering. We tried out Mithibai College's Anand Stall in Vile Parle and we decided to share the experience with you. Over 40 years old, this street food joint started off as little stalls preparing vada pav and sandwiches for the young crowd, but coming up with new and exciting dishes every few months, they are one of the most popular street food joints in the city. A gem in the Vile Parle universe. We tried Anand's Butter Vada Pav lathered with loads of butter and chutneys at ₹20. Another favourite would be the Grilled Cheese Schezwan Vada Pav that was tasteful with schezwan, cheese and grilled to perfection for ₹60. 
Address: Gulmohar Road No. 1, Opp. Mithibai College, Vile Parle West, Mumbai, Maharashtra 400056
Phone: 098334 42623
2. Sardar Refreshments/Sardar Pav Bhaji – Tardeo
A restaurant definitely deserves to be in the iconic list if its owner, Sardar Ahmed, is the founder of pav bhaji. About 52 years back, Sardar Ahmed blessed us with a food item called 'Pav Bhaji'. Sardar's piping-hot butter pav bhaji is a treat to the taste buds, and when we say butter we mean abundance of it. The pav bhaji here, generously garnished with dollops of creamy Amul butter, is quite pocket-friendly.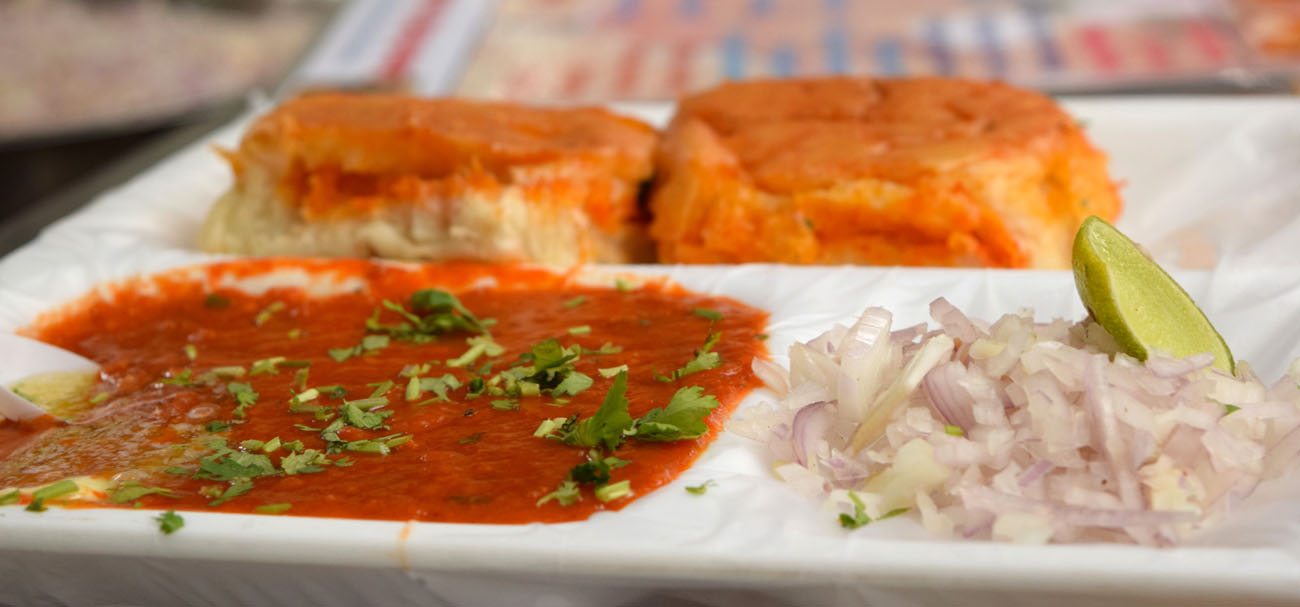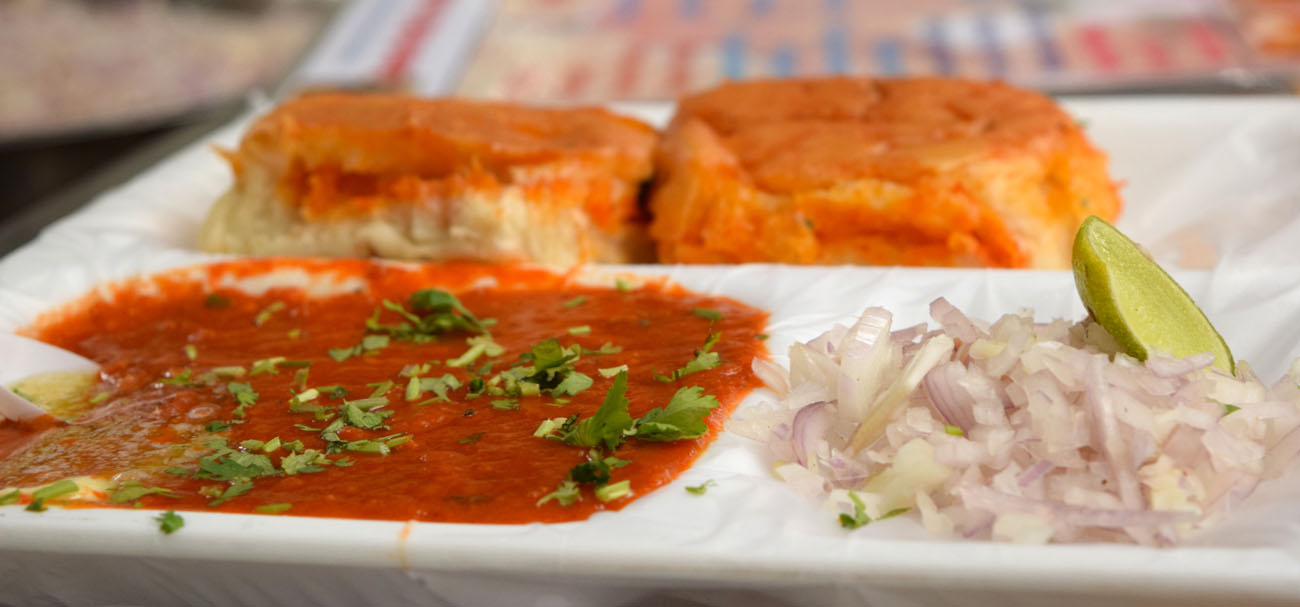 Address: Tardeo Road Junction, Opposite Bus Depot, Tardeo, Mumbai
Approx Cost: ₹110 for the Amul Pav Bhaji
3. Manjeet Puri Chole – Sion
Thinking about ditching your regular cafes for breakfast this time? Go for a more Desi approach and indulge in buttery bhature with chole at Manjeet Puri Chole. This 60-year-old joint serves one of the best kulchas, bhature with chole in Mumbai! Started in the 1960s, it is now in its second generation but still continues to serve lip-smacking food from 7.30 AM to 3 PM in the afternoon. If you're looking for a jump start on your Sunday morning, this is the place to be!
Address: Manjeet Puri Chole, G.T.B.Nagar, Sector V, Sindh Seva Samiti Nagar, Antop Hill, Mumbai, Maharashtra 400037
Timing: 7.30 AM to 3 PM
4. Bademiya, Colaba
Bademiya is famous for its seekh kebabs. Open until 3 am, their most relished delicacies are the chicken kebab, mutton boti kebab and chicken reshmi kebab. Everyone loves their rumali roti too! Hop in here for some great food with your meat-loving friends after a long night of partying!
5. Bachelorr's – Chowpatty
Bachelorr's in Chowpatty claim to make the best of shakes, juices and more. It has been a crowd-puller since the 1930s and it has a loyal following of customers for years! We took a trip to the famous joint to enjoy some treats out there.
Usually, loyalists just park their cars and enjoy a few shakes and treat on their car bonnets. We tried the Strawberry Juice (₹216), a seasonal favourite filled with strawberry pieces. Another favourite would be the R.P. Bhaji Pav Roll (₹180), and it is stuffed with Mumbai's favourite food! You can't miss the Green Chilli Ice Cream (₹67), and prepare for a teekha chaska!
Address: Bachelorr's, 45, Ext. Sattar Sea View, Dr. Purandare Road, Chowpatty, Mumbai, Maharashtra 400007
Phone: 090299 73145
Approx cost: ₹800 for two people
6. Raju Sandwich
Raju Sandwich is one of the best street food places in Mumbai. You will always find a lot of crowd here and there are two reasons for it. One that the food is delicious and the second being that is is cheap. We always like something that is fast, crunchy, delicious and in our budget and Raju Sandwich is the right place!
7. Vadapav Aunty
Well, it wasn't originally known as Aunty Vadapav, but this lady here made it her very own! She has been running this Vada Pav stall in Chembur for more than 35 years. She is very popular because, over the years, the taste and the quality of this vada-pav are intact. Vada Pav is served alongside spicy green chutney and red peanut chutney. This delicious combination is the favourite fast food in the city!
8. Subhas Sandwich
Back in college, Subhas sandwich was our go-to place. The Subhas sandwich store is located between Poddar and Ruia College. They serve some great sandwiches and I personally love their chocolate sandwich. And trust me Subhas uncle is so nice that he would just put in extra chocolate or cheese if you even request once. It is the best place to have a sandwich and I personally recommend this. The prices start from ₹ 60 and beyond.
9. Pure Milk Centre 
Pure Milk Centre in Ghatkopar serves all things yummy and they are the most popular stop for dosas in Ghatkopar. They are the most famous places to have dosas as they serve 100 variety of Dosas. Home to some whackiest dosas for the last 40 years, Pure Milk is known for its Maggi dosa, cheese burst dosas, chocolate dosa and even ice-cream dosa! This is a must-try place and you will love it, we guarantee that.
10. Pizza Dosa
All the Dosa fans in the house here is a perfect place for you to eat all the dosas you ever wanted. This stall outside Mithibai College in Vileparel has literally 64 types of dosa. You have to come here, you will be amazed looking at the way he makes these dosas. The making of the dosa is also a very exciting thing to watch here. Without a doubt, you will love the taste of these dosas.