Wondering what it would be like to have some nice gourmet tiffin everyday? These 5 kitchens in Mumbai have a healthy and gourmet food service and we've been swooning over them. This is called staying fit without staying sad. I mean who likes the same old cucumber and tomato salad with sprouts everyday!
Here's a list for you!
1. Pitchfork
Eating your way into good shape sounds like a darned good idea. Pitchfork is a gourmet tiffin service started by mother-son duo Zarin Watson who is a fitness consultant along with trained chef Pearce Watson.
Pitchfork offers modern Global cuisine and has something for every kind of foodie. Whether you're in the mood for a healthy bowl of salad or a cheesy sandwich, the kitchen offers it all. Foodies, it's time to rejoice.
Contact: +91 7400475553
Pitchfork currently delivers to areas around Khar & Bandra ony
Delivery Timings: 12:00pm – 10:00pm
For More Info: Bandra Gets A Funky New Global Cuisine Delivery Kitchen: Pitchfork
2. Food Darzee
It's difficult to lose weight if you like to eat good food. Wrong! Food Darzee makes sure you get the best of both worlds. It is a food gourmet tiffin service, where the meals are delivered fresh to your door step everyday. Also the menu for the day is shared every morning.
The menu includes:Zucchini Caprese Salad, Cauli Cheese Rostii and Eggplant Pesto Pizza with Chicken. Wouldn't you be interested in such a tiffin service?
For ten days: ₹9200
For a month: ₹25000
You can place an order here
For More Info: Food Darzee Delivers Keto Meals To Your Doorstep
3. 6 Pack Meals
A service that provides 6 nutrition packed meals daily. The clientele here ranges from Alia Bhatt to Ranbir Kapoor. The prices match the names. The meals here cost anywhere between ₹25000 – 1 lac  per month. Each of the meals are made by chefs from Michelin starred restaurants. The meals are packed with protein and vary from a 4 meal pack to a 6 meal pack.
Check them out here
You can also call – 098203 72107

4. Buddha Bowl
Say hello to delicious Pan-Asian meals in a bowl, right at your door-step – with Buddha Bowl. Their menu caters to the modern Indian palate, comprising a wide variety of salad bowls and Curries from across Asia.
Buddha Bowl offers a gourmet experience in a box that you will never forget.
Timings – 12 noon to 3 pm and 7 pm to 11.30 pm.
Location – Bazaar Road, Bandra West
Delivery radius/areas – Bandra West, Khar West & BKC
For More Info: Try Deliciousness In A Bowl At The Buddha Bowl In Bandra
5. The Diet
The Diet is another tiffin service which will leave you mesmerised by the amount and quality of food that comes in a box. With both veg and non-veg options, them main aim is to make diet food look and taste great & they are certainly doing it well.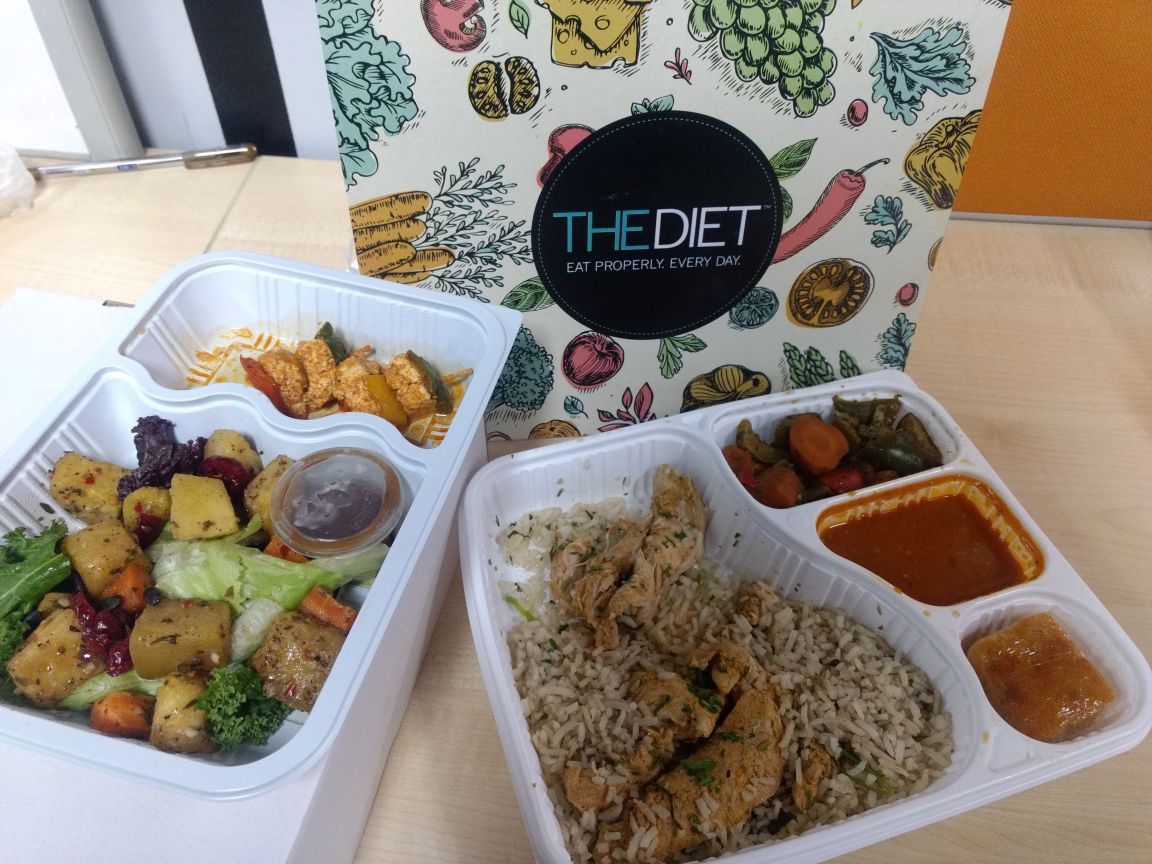 They offer range of Indian and multi-national cuisines, made healthy and tasty to ensure that each day is a different experience. Everything on their menu is grilled, baked sautéed or steamed and NEVER deep fried.
Contact: +91 22 2550 1023/ +91 98200 50519
Delivery area: Across Mumbai
Check them out here
LIKE Curly Tales on Facebook | Instagram| Twitter
You can also subscribe to our newsletters