Apart from all the amazing local delicacies offered on the streets of Hyderabad and other attractions, the city of has a lot to offer. Here's a list of all the unique and extraordinary themed restaurants that are sure to take you on the best culinary expedition ever.
1. Log-Sabha – Parliamentary Theme Restaurant
Catch intense quotes and paintings on the walls that will actually transport you to a local log-sabha with an exceptional decor. The quirky cartoon sketches of the politicians and a soothing ambience will set the mood and relax you. Log-Sabha is located in film Nagar in Hyderabad that comes with a unique theme. The Parliamentarytheme is well thought with political paintings on the walls, it's a rooftop place that comes with a super chill vibe to catch up with friends over a glass of cocktail. Try the Mojito Mint Magic cocktail to cool off and Afghani Fish to gorge on. Also, try Mojito Chicken wings and Honey Mustard chicken with a hint of sweetness.
Also read: This Late Night Delivery Place Is The Best For Midnight Cravings In Hyderabad
Address: Log-Sabha, 3rd floor, Plot 385 Road 82, Film Nagar, Hyderabad
Phone: 040 33165339
Cost for two: ₹1,200
2. Serengeti – Rain Forest Themed Restaurant
If you're looking to escape the scorching heat then look no further than this Rain Forest themed restaurant, Serengeti located in Hyderabad. Dine in the jungle and experience the magic of a forest themed restaurant at Ohri's Serengeti that brings on the table flavours and eclectic tastes that are absolutely worth relishing. Gorge on North-Indian delicacies while the animals come alive at this restaurant, the ceiling of the restaurant is adorned with wooden logs and the interiors are decked with green leaves and dim lighting.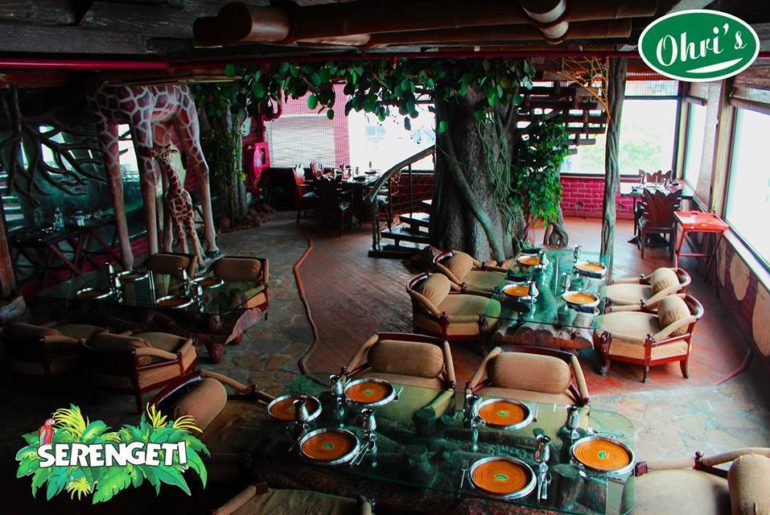 Address: Ohri's Serengeti, 8-2-682/3, 5th Floor, Ohri's Banjara, Road 12, Banjara Hills, Hyderabad
Phone: +91 8790114141, +91 9866018122
Cost for two: ₹1,200 (Approx.)
3. Sahib Sindh Sultan – Train Themed Restaurant
Sahib Sindh Sultan in Banjara Hills is an ode to the first passenger train in India. Now if the name is confusing for you, the restaurant is named after Sahib, Sindh & Sultan and those are the names of the 3 engines used to pull the first train. Dine in royalty at this train-themed restaurant in Hyderabad and treat yourself to a culinary journey like no other.
Address: 
Sahib Sindh Sultan, 
5th Floor, City Center Mall, Road 1, Banjara Hills, Hyderabad, Telangana 500034
Phone: 040 6668 3337
Approx cost: ₹1500 for two people
4. Beach House – Beach Themed Restaurant
The white and blue tones and the calm vibes at this restaurant will transport you to a beach paradise along with delish food to gorge on. Apart from Sea Food, this place also serves Chinese and North Indian cuisine. Calling all beach bums to this beach themed-lounge located in Kavuri Hills in Hyderabad to dip their tones in the sand while sipping on a cocktail from the bar.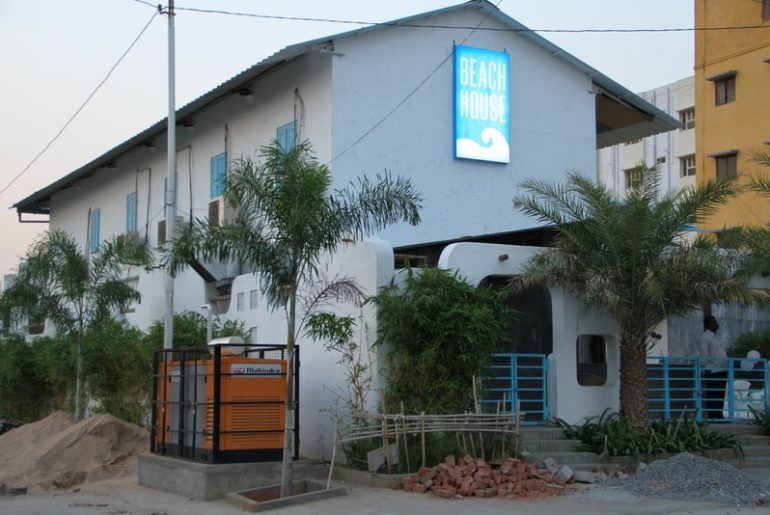 Address
: Beach House, Kavuri Hills, Near MadhapurPolice Station, Madhapur, Hyderabad
Phone
: 
+91 9704577774, 
040 42402999
Cost for two: ₹1,200
5. Tollgate Restaurant – Highway Themed Restaurant
The decor of this cafe is inspired by highways from all around the world and will give you major highway feels along with scrumptious dhaba delicacies. You can even spot some Instagram-friendly art installations and graffitis to strike a pose or two. You can spot a Bombay kulfi counter at the entrance, tar roads while you enter and a red bus calling out that you have arrived at your destination. The restaurant is open from 8 am to 2 am to kill all your hunger pangs with their mouth-watering cuisine.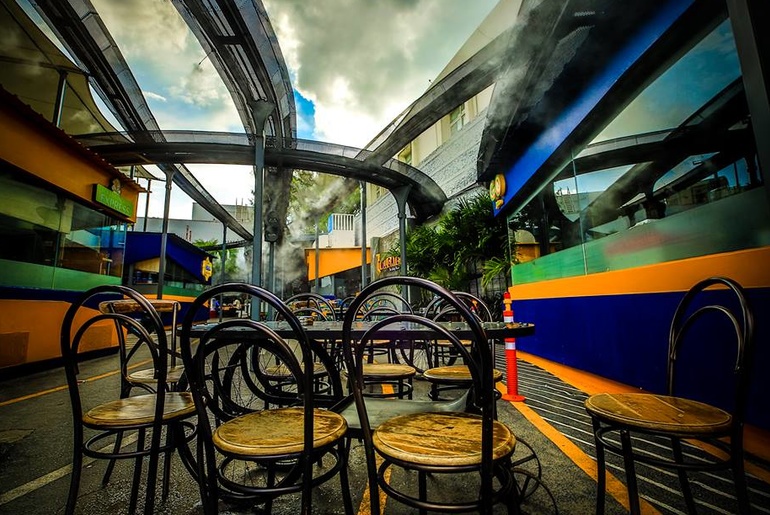 Address: Plot No. 1057, Rd Number 45, Masthan Nagar, Nandagiri Hills, Jubilee Hills, Hyderabad, Telangana 500033
Phone: 040 2368 1144
Cost for two: ₹700
6. 70mm – Bollywood Themed Restaurant
Now imagine dining with posters of your favourite Bollywood idols and scenes evoking good memories in your mind and a Cabrera section, it would be an ideal date with so much to talk about. Head out to this restaurant where Bollywood and food come under one roof, what more do you ask for?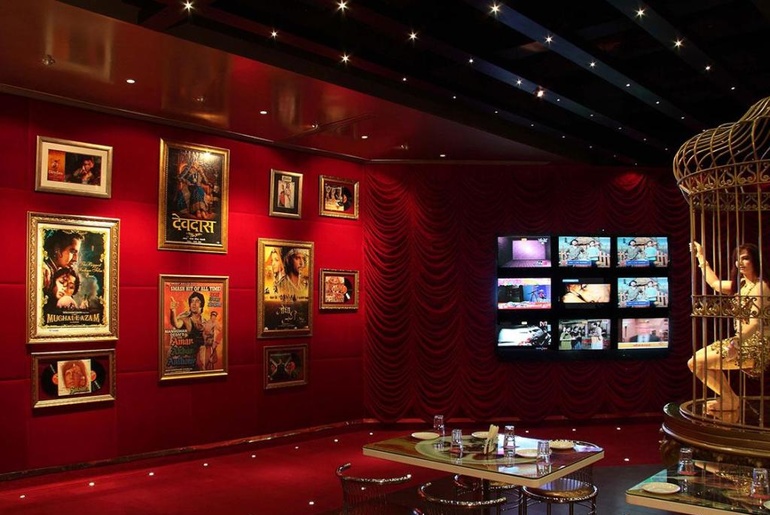 Address
: Ohris Jalavihar, Necklace Road, Hyderabad, Telangana.
Price for two
: ₹1000 – ₹1500 (approx.)
Phone
: 
+914039561412