Bandra might be known as the shopping hub of Mumbai. but it also has absolutely lip-smacking delicacies to offer. Whether you're looking for indulgent sweets or scrumptious seafood, or even a light meal, Bandra's the place to be! So the next time you head out to shop and need a place to unwind, Bandra's got you covered with these spots –
1. 12 Union Park By Shatranj – For Asian Cuisine
Bandra's newest Oriental Asian Kitchen is here to entice you with its food and flavors so head over to 12 Union Park by Shatranj today. The food menu at 12 Union Park is simply the best. Get started with their oriental soups including Kai Thong or Edamame & Broccoli. They have a range of items to choose from including salads, sushi, sashimi, dimsums, appetizers and more. There are options to choose from mains, rice, noodles, and end the meal with their classic desserts including Matcha Cheesecake for the health freaks or even Black Current Sorbet. 
Also read: 12 Union Park By Shatranj Is Bandra's Newest Oriental Asian Kitchen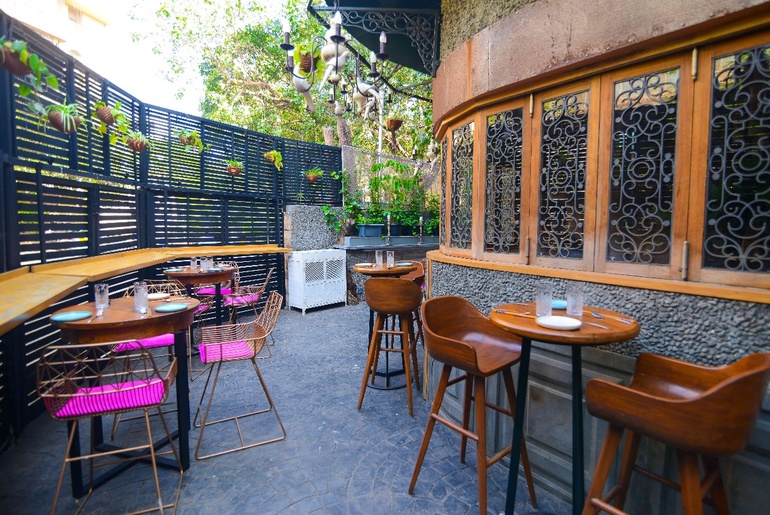 Address: 12 Union Park, Ground floor, 12 Union Park, Carter Road, Khar, Mumbai
Phone: 022 2649 8458
Approx cost: ₹2000 for two people
2. Highway Gomantak – For Lip-Smacking Seafood
Calling all seafood lovers to try out the yummy seafood thalis at Highway Gomantak in Bandra. We loved the Special Fish Thali (₹450). It is Bangda fry with Pomfret curry is served with chapatti, rice & accompaniments. The tasteful blend of flavors in this thali is unforgettable. We loved the Bombil Fry (₹350). It is one of the specials here with soft fried fish that compliments the tangy curries perfectly. Don't forget to try the Kolambi Curry Thali (₹260). The lip-smacking prawns masala curry will be enjoyed by all seafood lovers!
Also read: Highway Gomantak In Bandra Is Your Go-To Place For Lip-Smacking Seafood
Address: Highway Gomantak, 44/2179, Gandhi Nagar, Behind Maratha Store, Service Road, Highway Facing , Bandra East, Mumbai, Maharashtra 400051
Phone: 022 2640 9692
Approx cost: ₹500 for two people
3. Farmer's Cafe – For Pizzas When You're On A Diet
You can now indulge in your favorite fast food item without worrying about putting on weight with healthy pizzas at Farmer's Cafe in Mumbai. No worries about cutting back on calories with Bandra's new pizzeria. Farmer's Cafe on Linking Road has put a healthy spin on your favorite fast food item. They have a range of pizzas, but all in a healthy form so you would be feeling refreshed and detoxified instead of bloated. Their pizzas contain ingredients like avocado, spinach, brown rice, veggies and many more healthy items.
Also read: Eat Pizzas While You're On A Diet At Bandra's Farmer's Cafe
Address: Shop 2, Rita Apartments, 16th Road, Nr. Mini Punjab Hotel, Bandra West, Mumbai
Phone: +91 7506015930
Approx cost: ₹1,000 for two people
4. The Burgery – For Indulgent Burgers
Bandra gets another new joint and this one spoils you for choice – with burgers! Say hello to The Burgery who believes in making the world a burger place! If you're the kind who is totally into 'nice buns', then The Burgery is where you should head. This quaint little bumble bee coloured joint is your answer to affordable burgers! Now we love big buns and we do not lie and The Burgery promises to whop up some funky burgers. Burgers are available for both vegetarians and non-vegetarians such as The Great Indian Dabeli, Beetroot & Carrot, Cottage Cheese, Mince Mutton, Stuffed Chicken, Fish & Chips among others. If a burger seems too filling, you can also binge on crunchy Masala, Pesto and Cheesy Fries.
Also read: The Burgery Opens In Bandra
Time:
11:00 am to 12:30 pm
Contact Details: 7021431752
Address: 25 F, Dr. B.R. Ambedkar Road, Near State Bank of India, Pali Hill, Bandra (W)
5. Bombay Adda – For Weekend Fun 
Another roof-top bar? Yes please! This newest addition, Bombay Adda Rooftop Lounge isn't a regular sheesha lounge. It comes with a boxing ring, love-lock bridge and a time travel DJ console. Mumbai dwellers get set for a gastronomy voyage and experience the best in different sheeshas, cocktails and finger food at "Bombay Adda" the latest entrant in roof top at Bandra.  Perched at the top of the Blackberry showroom on Linking Road, this lounge may be our newest Adda. Talk about novelty!
Location: 8th Floor, Blackberry showroom Linking Road, Santacruz West, Mumbai
Price: ₹1,800 for two people (approx.)
Contact: +91 9820077988
6. I Think Fitness – For Healthy Eating
Fitness never seemed so easy with these guilt-free desserts and smoothies at I Think Fitness Cafe. The idea behind I Think Fitness cafe is simple – Healthy, oil-free and delicious food. Along with their calorie counted dishes to eat, it allows you a tasteful indulgence that you can't miss. This one comes from the founder of the gym with the same name, I Think Fitness Gym in Bandra. Suren Joshi, a health freak himself has been in the business for quite sometime. His latest offering being Bollywood's favourite hot spot Su Casa. The theme behind this cafe resonates with the enthusiasm for fitness and the chefs are particularly trained to keep the nutritional values intact.
Also read: Get Fit Not Fat At The Fitness Cafe In Bandra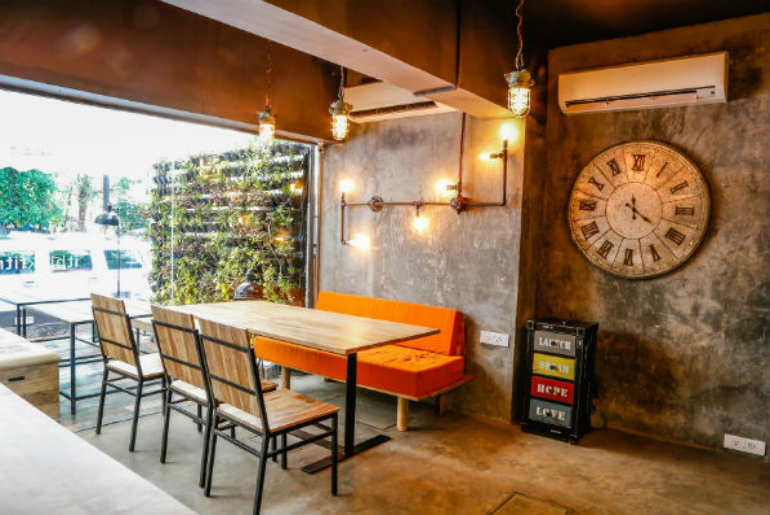 Where : Shop 1 – 2, Carlton Court, Pali Road – Perry Road Junction, Opposite Bank of India, Bandra West, Pali Hill, Bandra West
Phone : +91 9769609602
Approx cost : ₹500 for two
7. VORTEX – For The Best Saturday Nights
VORTEX is Bandra's newest diner cum lounge bar with a live kitchen, fusion drinks and a mouth-watering menu composition. If Bandra is your place to be, welcome the all new Al Fresco, diner cum lounge bar – VORTEX. Offering unique dining concepts like a live kitchen, a clay oven, and a mouth-watering selection of cuisines, its the perfect spot for your weekend scenes. Head here to enjoy the food along with the delightful ambiance and idyllic music. Not enough? VORTEX also houses a beautifully landscaped rooftop with a garden.
Also read: VORTEX Is Bandra's Newest Destination For Fun Saturday Nights!
Address: VORTEX,  Crystal Shoppers Paradise, Link Road, Junction of 24th and 33rd road, Bandra West, Mumbai, Maharashtra 400050
Phone: 099695 77291
Approx cost: ₹1500 for two people
LIKE Curly Tales on Facebook | Instagram | Twitter
You can subscribe to our newsletters