A trip to Agra is incomplete without biting into the sweet crunchy white pumpkin mithai, petha. But do you have any idea how this Indian sweet is prepared? Well, perhaps you'd rather not! Recently, a video showing the making of Agra's famous went viral. Unfortunately for the wrong reasons and Netizens are left aghast by the unhygienic conditions deployed in the industry kitchen.
Video Of Cooks Preparing Petha In Agra Goes Viral
Food vlogger, Nishtha Farma AKA @theyummymania took to Instagram to give the Internet a sneak peek into how an Agra sweet shop prepares massive quantities of petha from scratch. In the viral video you can spot workers first chopping open the white pumpkin or ash gourd and massive it through a machine to de-seed them. Next, the ash gourd is chopped into cubes and put into a massive vessel with water.
View this post on Instagram
But here's where things get shocking for Netizens. Two of the workers are seen washing their faces with the water from the vessel filled with ash gourd pieces. Later the workers are seen preparing sugar syrup in large quantities by boiling hot water in a massive kadai and adding sugar into it. Lastly, the video ends with them emptying containers of ash gourd into the sugar syrup. The pieces are kept aside in steel trays, perhaps ready to be packed. They resemble ice cubes. That's petha for you.
Also Read: From Kolkata's Rasgulla To Agra's Petha, 8 Indian Cities And Their Famous Mithais
Netizens Are Aghast By The Unhygienic Practices
Apart from watching workers wash their faces in the water from the dish while it's being prepared, it's also not easy to unsee the flies circling the vessels. Netizens weren't forgiving about this. @neha_kulkarni_1997 comments, "After this I will stop eating this". @murtuzarabbani says, "Pani nahale uspe thair ke". @aditya123pal adds, "Me watching " oh it's hygienic they are using gloves 😌", 2 secs later.. "did he just fucking washed his face in the container?" @ankit_sr states "Seal this unit, inspector".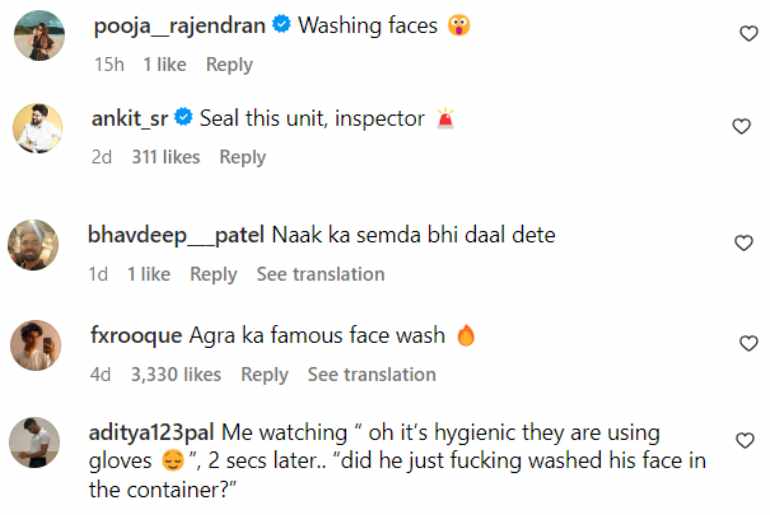 Also Read: 9 Best Petha Places To Check Out In Agra
Did you watch this viral petha-making video? Are you also going to think twice before gulping down this sweet the next time?
Cover Image Courtesy: @theyummymania/ Instagram
For more such snackable content, interesting discoveries and the latest updates on food, travel and experiences in your city, download the Curly Tales App. Download HERE.
Good news! We are on WhatsApp! Subscribe to Curly Tales WhatsApp Channel to stay up-to-date with exclusive content and BTS. Join HERE.