In an already bustling, perhaps slightly congested culinary scene, Bengaluru's blue-eyed chef Manu Chandra's LUPA comes in as a breath of fresh air. His most "audacious" project in 18 years is a luxurious European restaurant bang in the middle of MG road. The minute you walk into LUPA, the smell of freshly baked pizzas tickles your senses, sights of clinking wine glasses and sounds of gushing fountains, is like walking out of Bengaluru and stepping into the cobble-stoned streets of Italy.
Manu Chandra Introduces His New Flagship Restaurant In Bengaluru
View this post on Instagram
Manu Chandra's first physical restaurant—LUPA— after parting ways with the Olive Group (known for iconic brands like Fatty Bao, Toast & Tonic and Monkey Bar ) weaves his love and repertoire for European cuisine and history. The globally celebrated chef has earned laurels catering for the India Pavilion at Cannes, serving renowned celebrities like Shekhar Kapur, Nawazuddin Siddiqui, AR Rahman and the most recent World Economic Forum in Davos.
While he's often urged to open a space in Delhi, Manu Chandra says, " If I open a restaurant in Delhi, who's gonna open in Bengaluru?" And that's LUPA for you Bengalureans, an ode to the city that post-COVID is ready to splurge on the finer things in life — in this case, European flavours with a contemporary flair.
LUPA, A Luxurious Bengaluru Restaurant Celebrating European Cuisine
A perfect blend of pre-modern opulence with passionate attention to detail exuberates in the ambience of LUPA, designed like a Tuscany home. The timeless space nestled bang in the middle of Bengaluru's MG road is cleverly hidden away from the rest of the world by a massive wall. It's almost missable yet waiting to be unravelled by those curious to step into a whole new world — and literally so! Take the case of the hand-carved marble fountains, which drown Bengaluru's traffic noise, the Tuscany-inspired vases with massive potted plants and the cosy seating outdoors.
The 11,000 sq feet restaurant's other highlights include a 12-foot underground wine cellar housing thousands of bottles of wine, a live grill, a pizzeria, a mini gelato lab churning fresh gelatos and a Salumeria cum Small Plates Bar serving exquisite varieties of cheese. The inside dining area exuberates splendour, style and comfort with a dramatic winding staircase that almost acts like a showstopper. 
Break Bread With Their Finely-Crafted Cocktails & Housemade Bread
At LUPA, kick things off with a twist with the LUPA-Tini, a vodka-based limoncello concoction. It sits right on the palate and goes well with patrons looking for cocktails with a fruity twist. Another drink on the menu which you must try is The Notorious F.I.G., a sweet familiar cocktail which celebrates figs, bourbon and cinnamon. And then, of course, drinks aficionados can order the Melon Cheese Ham, which turns the signature ham and cheese combination into a finely crafted cocktail.
Also Read: Things To Do In Bengaluru If You Are Single On Valentine's Day
Italians and Italian cuisine are known for their hospitality. It's all about breaking bread and eating together. The Hot Brie served bubbling hot on the table is topped with fig jam, toasted walnuts and fresh herbs. There is a simple pleasure in dunking a slice of sourdough in this melting cheese and devouring it hot, just like their house-made Warm Bread Board that comes with sides of flavoured butter and dips.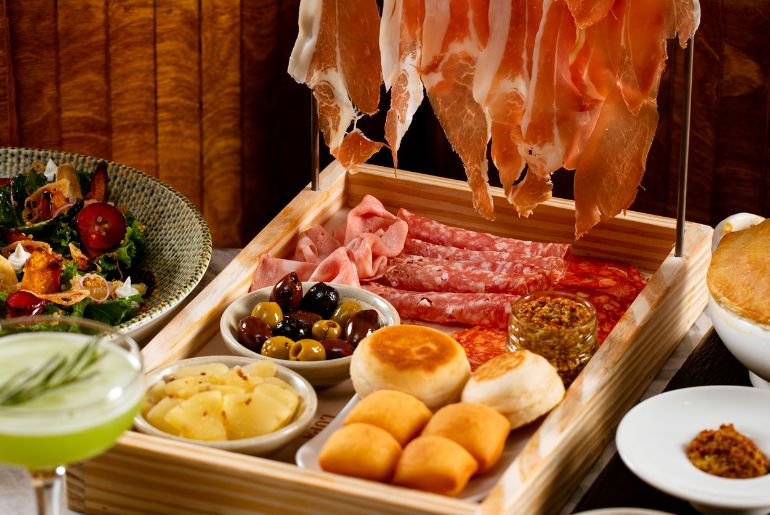 The Kale and Quinoa Salad with crispy lotus root stems, the Harissa Chicken, soft and succulent chicken legs in roasted tomato and harissa sauces are great appetizers and pair well with the cocktails. There's a bite in them where you can't help but lean in for more. Yet, they don't seem too heavy on your palate, so you'd have all the space to dunk in what you came for — authentic Italian pizzas.
Also Read: Bengaluru Turns Pink! See The Gorgeous Pink Trumpets Blossoming All Across The City
Authentic Italian Pizzas That Transport You To Italy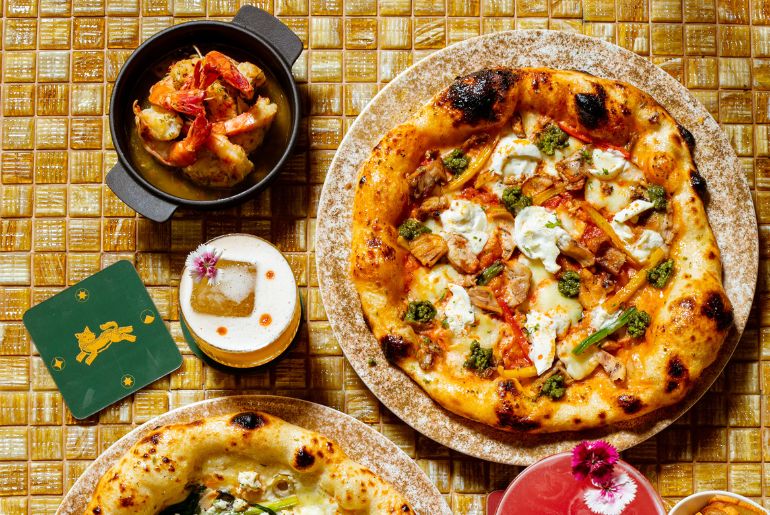 When in LUPA, don't miss out on the Caprese pizza, a wonderful ode to Italy's Margherita pizza. This is the dish that globetrotters can vouch for as it comes really close to a pizza you'd find on the streets of Italy — light, airy dough, fresh tomato base, aromatic basil and ooey gooey mozzarella cheese! Also try the Lamb Za'atar, a Mediterranean take on pizza with Greek lamb meatballs, zaatar and feta-cheese topping.
For mains, you can also take a dip in the pool of elevated European dishes like Pressed Half Brick Chicken — a meaty dish elevated by a soothing jus and Mustard & Chilli Marinated Sea Bass, a complete meal of oven-roasted sea bass, tapioca pearls, quinoa and crunchy veggies.
Also Read: 9 Best Pre-Wedding Shoot Locations In Bengaluru
Indulgent Desserts For Your Indulgent Evening
As you listen to the gushing water fountain, the birds chirping and retro music buzzing, indulge in spoonfuls of their boozy housemade Tiramisu, luxurious and cakey, served with a table shot of espresso and biscotti. But don't miss out on the Rocher Paris Brest— a delicate doughnut-shaped choux pastry filled with hazelnut cream— a potential highlight of your meal.
To Manu Chandra's observation, people have understood the meaning of YOLO after COVID, willing to indulge more in wine and food. So, LUPA beckons you for an indulgent experience, bringing the luxuries of European cuisine to Namma Bengaluru.
Where: Ground Floor, Spencer's Towers, No.86, Mahatma Gandhi Road, Bengaluru – 560001
When: Monday to Sunday, 12:30 pm to 12 am
Cost: ₹4500 for two with alcohol
Cover Image Courtesy: Press Release