Under 140 Characters
Breakfast is my favourite meal of the day and the one at Bombay Baking Company just might top the list.
What Is It?
Happiness depends on the way you start your day and Bombay Baking Company at JW Marriott at Juhu brings just that to the table with its all new breakfast menu. Our beloved BBC is known for its amazing bakery products and we've got to warn you – it's not part of the menu. So it doesn't matter if you've had your fill of the amazing breakfast menu (that I'm going to tell you all about), you're going to be very tempted to sample a few macaroons.
Also read: Go On A Breakfast Crawl In Koramangala, Bangalore
What's In It?
I'm not kidding when I say I really adore breakfast. You know what I don't like though? When restaurants start serving things you'd eat at lunch for breakfast.The Bombay Baking Company does not make that error.
Bombay Baking Company is known to welcome guests with the aroma of fresh coffee. In addition to offering fresh homemade breads, sandwiches, scrumptious cakes and pastries, Bombay Baking Company is all set to offer French Toasts, Blueberry Pancakes, Bakers Basket (choice of Danish, croissant, doughnuts, and muffins), Bircher Meusli, Classic Eggs Benedict and much more. There's also freshly squeezed orange, pineapple and watermelon juice. Oh, and they do an entire range of cheese which goes perfectly with their baked breads plus they make for really colourful pics. Totally Instagram worthy.
Also read: Breakfast Cues From Ladakh
My Favourite
If you love French Toast, then you're going to go into food heaven with this one. I also loved the Mushroom and Thyme on sour dough toast. Making an omelette may sound easy but it really is a fine art and the guys at BBC have got it bang on. And is it really breakfast if you don't eat a great omelette?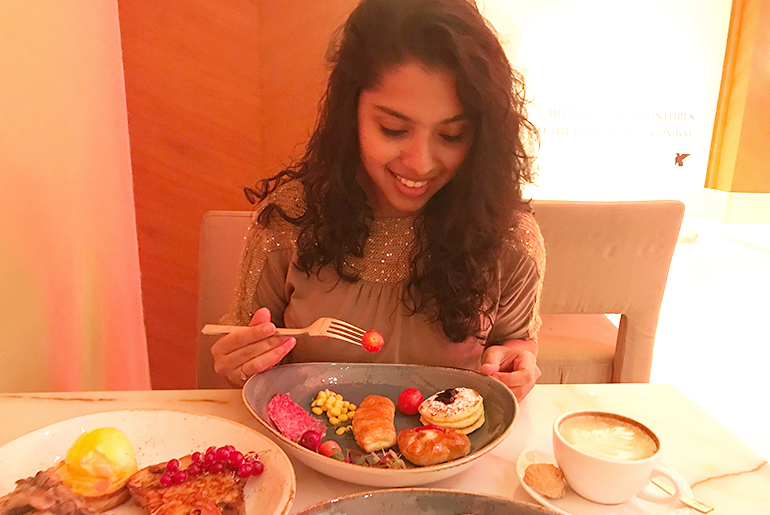 Verdict
We loved the breakfast and we strongly recommend you go give this a try as soon as possible! If you have a sweet tooth, you're going to like it just a tiny bit more. I'm also going to leave you with an image of me indulging in a whole lot of Nom!
LIKE Curly Tales on Facebook | Instagram | Twitter
You can subscribe to our newsletters