With winter finally beginning in Dubai, there is no better time to head outdoors with your family. And Dubai Garden Glow, a magical park filled with lights, attractions, illusions and more is the ideal place to enjoy the chilly weather. The amazing and alluring lights are back at the Dubai Glow Garden, so get ready to spam your gram. Adding sheen to the already shimmering city, the Glow Garden is now open for its sixth season with larger-than-life installations. Enjoy a lovely evening walk with your family and capture some Insta-worthy moments. From enormous swans to large, incredibly detailed butterfly sets and a magic park, there's a lot in store this season. 
With the pandemic in place, the garden has taken utmost precautions to ensure safety of guests. So, here's what you can expect at this year's Glow Garden.
What To Expect At Dubai Garden Glow 2020
The garden's theme for this year- 'Back to Nature' has a little something for every age group, perfect for a family outing. The  garden is home to various thematic recreational areas, including the Alluring Glow Park, Biggest Dinosaurs Park, Spectacular Art Park and Miraculous Magic Park.
With the temperatures dipping, this is the perfect time to enjoy the outdoors and soak in some fresh air. Guests are welcomed by a bright palette of stunning artistic installations. The park used more than 500 light installations  to liven up his year's Back to Nature theme.
The sixth season has some amazing new concepts and attractions which are bigger, better and brighter. DubaiGardenGlowis home to a host of other gorgeous parks including the vibrant GlowPark, Biggest Dinosaurs Park, The Spectacular Art Park and Miraculous Magic Park.
Travel Back In Time & Meet Dinosaurs
Say hello to prehistoric creatures at the biggest dinosaur park. The Dinosaur Park brings back to life more than 120 animatronic dinosaurs, in a dazzling display of lights. Learn the evolution of dinosaurs at the Dino-lab, get awed by their skeletons at the Dinosaur Museum or spam your gram with these humongous creatures. Guests can travel back in time and experience the dawn of the dinosaurs through the three periods – Triassic, Jurassic and Cretaceous.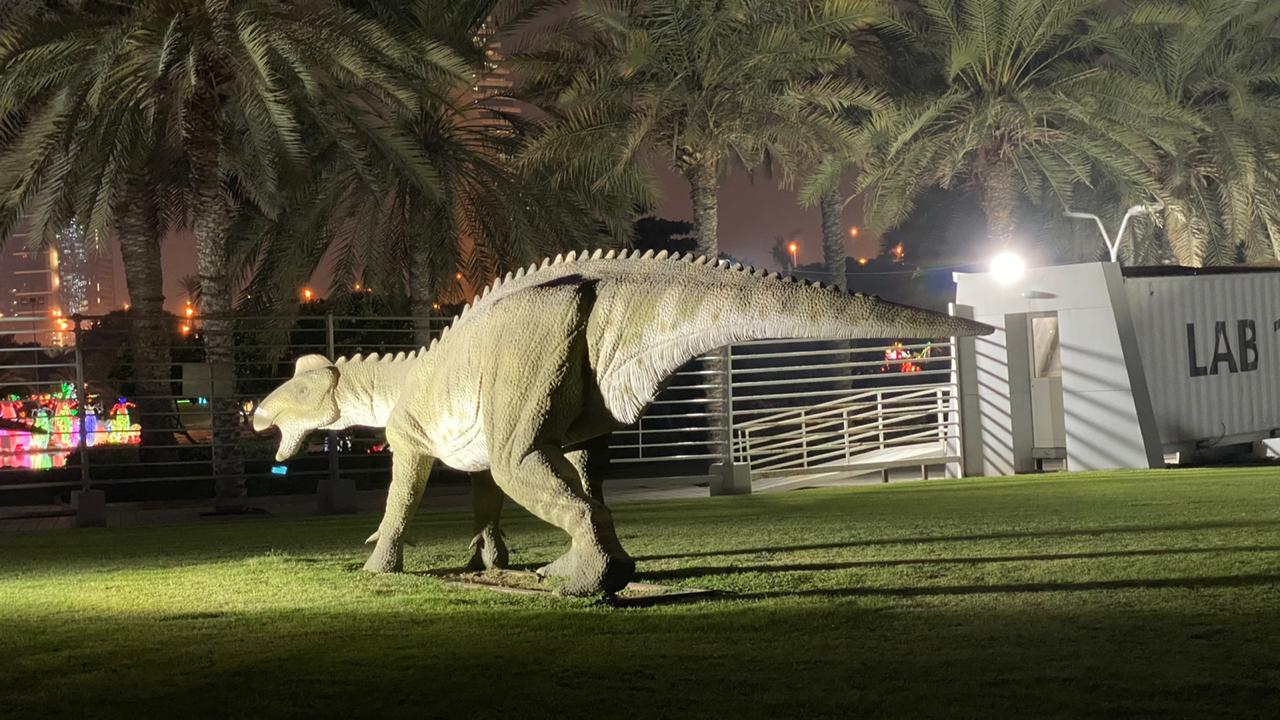 The Glow Park
Glow Park is fabricated with handmade lights. The unique Environment Friendly models are artfully constructed and originated with a beauty that creates everlasting imprints in the minds of its viewers.
The Spectacular Art Park
The Art Park houses unique installations made using recycled materials like bottles, CDs and porcelain cups and plates. The installations are inspired from the theme of Back to Nature, Art Park, and attempts to drive home the message of conservation. The Eco-friendly Art Park seamlessly stitches the different notes of happiness, cultural values, beliefs and identity, creating an overall paradise of all colors of life.
Miraculous Magic Park
Let your imagination run wild at the Magic Park! A treasure trove of fascinating photo opportunities, this unique installation uses geometric forms to create hypnotic optical effects. The park houses over 25 fun exhibits and 3D artworks, taking you into a world of quirk and fun. 'Hangout' in an upside-down coffee shop, disappear into thin or take selfies from inside a dinosaur's mouth and let the world see it too. 
Safety Guidelines At The Park
Dubai Glow Garden follows all safety precautions as directed by the government. All guests must wear facemasks at all times and maintain social distancing. Temperature checks are mandatory for all guests before entering the park. In addition, all touch points will be cleaned and disinfected continuously, to ensure safety of guests. Customers are encouraged to use contactless payment methods, in order to avoid direct contact.
Deets
Location: Gate 6, Zabeel Park
Timings: Saturday to Thursday – 5 PM to 10:30 PM Friday & National Holidays- 5 PM to 11 PM
Cost: AED 65 (inclusive of VAT)