On one hand, Goa's biodiversity hotspot Mollem gets a devastating blow with the clearance of 120-hectares of forests, on the other, the Uttarakhand government is leaving no stone unturned to protect the biodiversity. Yes, Uttarakhand gets the country's first forest healing centre in Ranikhet. It is based on the concept of bringing people in direct contact with nature and making them healthy.
Visitors Can Walk Barefoot & Lie Down In The Forest
The centre has signboards at the entrance which advise visitors to walk barefoot on the grass, hug trees, lie on their back, and gaze at the forests and the sky above to soothe their senses. Did you know that tree-hugging can increase the levels of feel-good hormones like oxytocin, serotonin, and dopamine in your body?
Also read: These Forest Glamps Few Hours From Mumbai Are A Perfect Escape In Nature On Weekends
The Centre Has Platforms To Meditate Amid Nature
The healing centre is spread across 13 acres and takes inspiration from the Japanese technique of forest bathing called shinrin – yoku. The Uttarakhand government did detailed research and studied the revitalising impact of forests on human health. They have also built cute platforms to provide visitors a perfectly natural ambiance to meditate. Sleep In A Tent Suspended Above A Forest Estate In Kerala & Enjoy Wildlife Spotting.
The Healing Centre Is Set Amid Pine Forests
The healing centre is set amid pine forests as conifers like pine trees emit oil compounds to safeguard themselves from various microbes & pathogens. Several studies found that these compounds help to multiply antigens in our blood which help in fighting infections and enhance overall immunity. The oil compounds also help in reducing levels of stress hormones in your body and have a relaxing effect. Kerala Raises Micro-Forests In The Japanese Way In 22 Tourist Spots.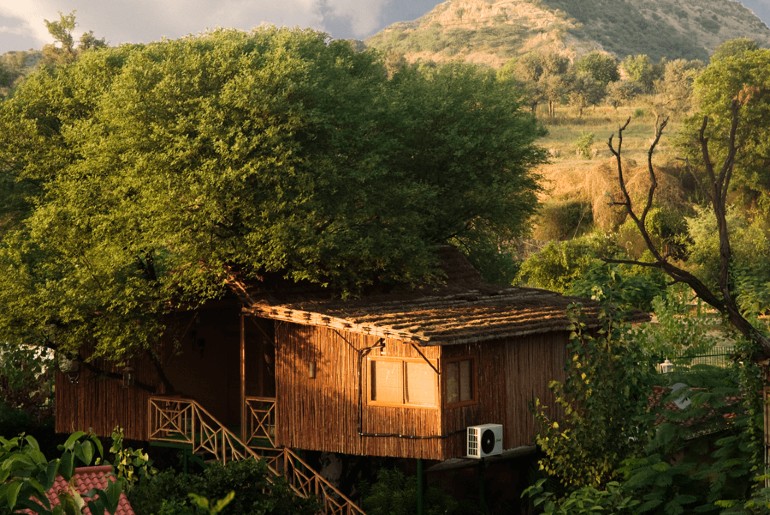 The signboards also advise visitors to leave behind phones and cameras, to ensure that they feel the sensations of nature without any distractions.