Dubai does it yet again! Last year, Dubai made the list of the world's safest places and this year again, our country has made it to the list. A study conducted by crowd-sourced global database company Numbeo has ranked Dubai and Abu Dhabi among the safest cities in the world for 2020. Dubai was ranked at seventh place. We all love Dubai and Abu Dhabi for how safe they are. The travel guide looked at a variety of factors such as overall safety and family-friendly accommodations.
Findings From The Survey
Abu Dhabi and Dubai feature at 1st and 7th position, respectively. Abu Dhabi also had a low crime rate index of 11.36 and the highest safety index of 88.67. Meanwhile, Dubai scored a crime rate index of 16.98 and a safety index of 83.02, putting it on the seventh spot.
Over 23% of family-friendly hotels, over 18% of child-friendly eateries, and over 30% of child-friendly activities and attractions can be easily found in the Emirates. The finest holiday locations for family-friendly lodging are Orlando, Florida, with 58.93% of family-friendly hotels. Then comes Las Vegas, Nevada, with 28.73% of family-friendly hotels, and Rome, Italy, with 28.34 percent of family-friendly hotels.
In a poll released by travel insurance review website InsureMyTrip in April of this year, Dubai has rated the world's top destination for family vacations. The information included the calibre of family hotels, attractions, and beaches. Also the overall safety and the strength of ocean currents, and Dubai received a 7.42 out of 10 grade.
Sharjah also made it to the list, bagging the fifth spot!
The Complete List Of Winners
Abu Dhabi topped the list, followed by Doha, Qatar, Taipei, Taiwan and Qeubec City, Canada. Here's the complete list:
1. Abu Dhabi, UAE
2. Doha, Qatar
3. Taipei, Taiwan
4. Qeubec City, Canada
5. Sharjah, UAE
6. Zurich, Switzerland
7. Dubai, UAE
8. Munich, Germany
9. Eskisehir, Turkey
10. Bern, Switzerland
What Else?
Last year, the Travel Weekly Asia Readers Choice Awards voted Abu Dhabi as one of Middle East's best destinations. Speaking about the grand win, Abu Dhabi's Tourism department mentioned that they have worked hard to position Abu Dhabi as global hub for culture and tourism. The award is a culmination of these efforts, we must say.
However, this was not the capital's first award last year. Abu Dhabi also bagged two other awards for:
1. Middle East's Leading Business Destination at the World Travel Awards
2. One of the top ten most family-friendly tourism destinations in the world
These recognitions came in after the capital opened its doors to new touristic attractions including the Abu Dhabi Showdown Week, Abu Dhabi Family Week, and Qasr Al Watan. The city also witnessed a 5.8% increase in the number of visitors in 2018.
Furthermore, the capital was also voted the safest city in the world in 2019. The capital scored a safety index of 89.3 points. The grand announcement was made at the 12th International Symposium for Police Best Practices in Dubai last week. 96% of residents felt safe walking outside in the wee hours. Singapore bagged second place, meanwhile.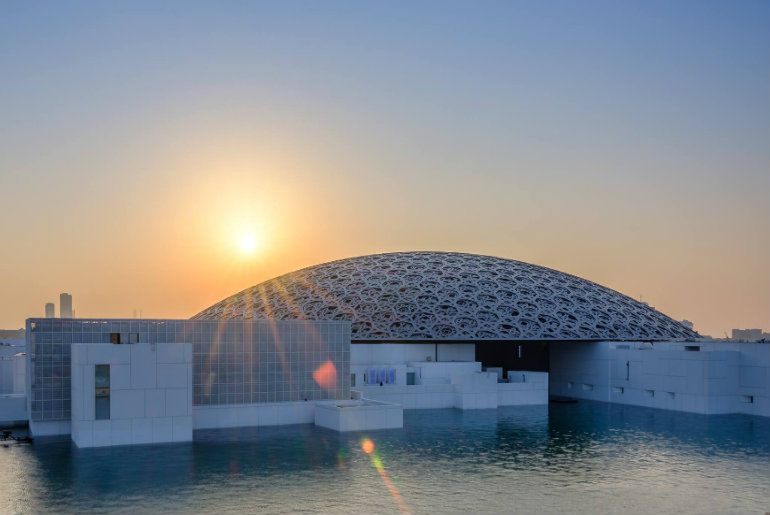 And lastly, the Louvre and Warner Bros. World were also listed among the top 100 attractions to visit across six continents and 48 countries. The ranking was compiled in the sector of parks, restaurants, hotels, attractions and museums.