Under 140 Characters
Ever wondered where you can hog onto some authentic chat varieties and good street food in Chennai? The Mint Street Food Walk at Sowcarpet is an answer to all such questions. This is a must for all street food lovers.
What Is It?
One of the top stereotypes about Chennai is that it's a city of idli and dosa. There is a lot more to Chennai's food scene, which is the reason why you've got to sign up for this amazing Sowcarpet Food-walk. Sowcarpet, is an area in North Chennai that has a number of eateries which bring out the best of North Indian Street food you can have in this city.

What To Eat and Where?
1) Kakada Ramprasad
If there's one  place that would give the entire taste of Sowcarpet, Kakada Ramprasad is the place to go. They have a plethora of sweet and savoury  items available. This place is very famous for it's Aloo tikki chaat , different varieties of Pav Bhaji, and jalebi. It is located on the mint street right side from the police station and  bike parking is available too. Costs approximately Rs.450 for 2 people.
2) Anmol Lassiwala
It is a small stall located right next to Kakada Ramprasad.  The Kesar Lassi and buttermilk are very famous here. The lassi is served in a huge container and one person  cannot finish it all by himself.  It costs about Rs.140,  easily among the best lassi's in Chennai.
3) Mehta Bros Mithaiwala
The very famous and unique Murukku Sandwich,  Khakra Sandwich and Vada Pav varieties should be on your list here. Costs approximately Rs.150 for 2 people.
4) Ajnabi Mithaai Ghar
This place doesn't need much of an introduction . Very well known for Gujarati varieties like fafda, khandvi and khakra sandwich. A lot of sweet varieties are available too. It is located on the Elephant Gate Street , left from Mint Street right side. It is worth every penny, and costs approximately Rs.250 for 2 people.
5) Chotu Motu
It is a sweet and savoury shop that specialises in Jain cuisine. The bhel puri and dahi puri are among some of the best chaat items available here.
6) Seena Bhai Tiffin Centre
It is one of the most famous eateries on the list and the only one serving South Indian Food. They're famous for their Ghee Oothapams and Ghee Mini Idlis which are topped with podi. They are priced at Rs. 50 each for a small portion.
What Else?
Don't forget  to head to King Vadapav for delicacies like cheese vadapav , mayonnaise vadapav, and Maya Chat  for their famous onion kachori.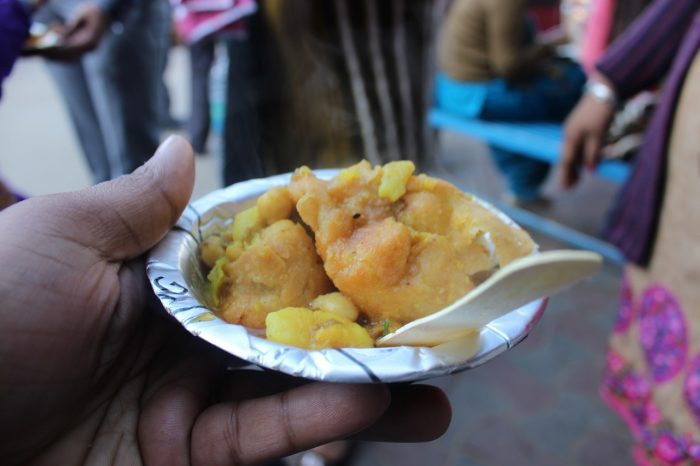 Deets-
Address- Mint street, Sowcarpet, Chennai.
Saturday evenings are the best times for food walks since it's a very busy and jam packed area during the week days.It is advisable to use public transport to get to Sowcarpet, since the streets are very narrow.
LIKE Curly Tales on Facebook | Instagram| Twitter
You can subscribe to our newsletters