Under 140 Characters
Harshaali Malhotra, known for her role as 'Munni' in Bajrangi Bhaijaan and Kaavya Doshi went head-to-head against each at the Great Zespri Race and here's what happened!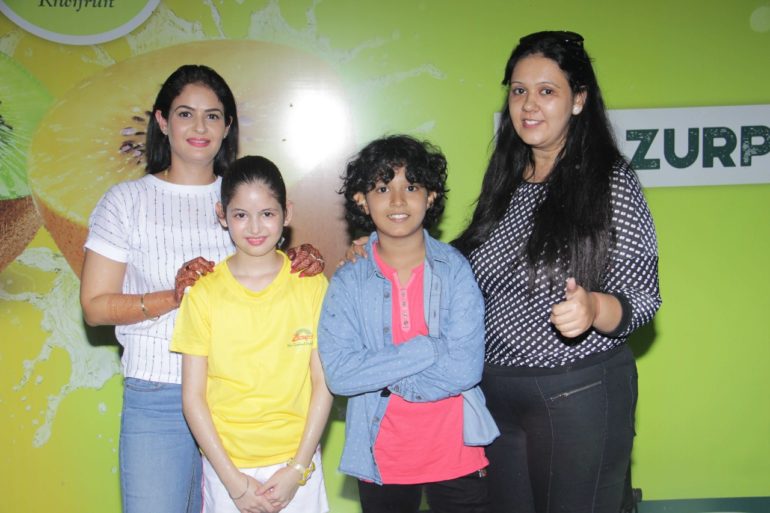 What Is It?
Zespri recently held a fun 'Zesprilicious Outing' event on the fine evening of 7th October 2017. Mom-and-kid teams participated in an innovative race to make Kiwifruit smoothies. They learned to include Kiwifruit in their daily diet in order to amp-up their nutrition fulfillment by cutting, scooping and being zurprised! Moms had to cut and scoop out the Kiwifruit and place it in a basket and rush to the 'Kiwifruit Blender Bikes' where their kid pumped the pedals to run the blender to extract the smoothie in a glass and proceed to drink it. Whoever finished this activity first would win! (And you thought Carter Road was for couples!).
Present at the event were Zespri India's brand ambassadors and child stars of the brand films – Harshaali Malhotra, known for her role as 'Munni' in Bajrangi Bhaijaan. Accompanying her was Kaavya Doshi, a known face in the ad film industry for multiple appearances. Both Harshaali and Kaavya went head on with each other along with their mothers for the Great Zespri Race which resulted in Team Harshaali's victory.
There were loads of other participants as well and the concept of having mother-kid teams to blend a great smoothie was one of the top highlights. The fun integration of the Kiwifruit Blender Bikes made sure that the kids were actively involved.
The event itself was a huge success with hundreds of people who actively participated and enjoyed the activity. The mom-and-kid teams, received encouragement through huge rounds of applause and support from the spectators apart from Zespri goodie bags which contained multiple amazing gifts.
Also read: Get Healthy While You Holiday At Atmantan Wellness Retreat In Mulshi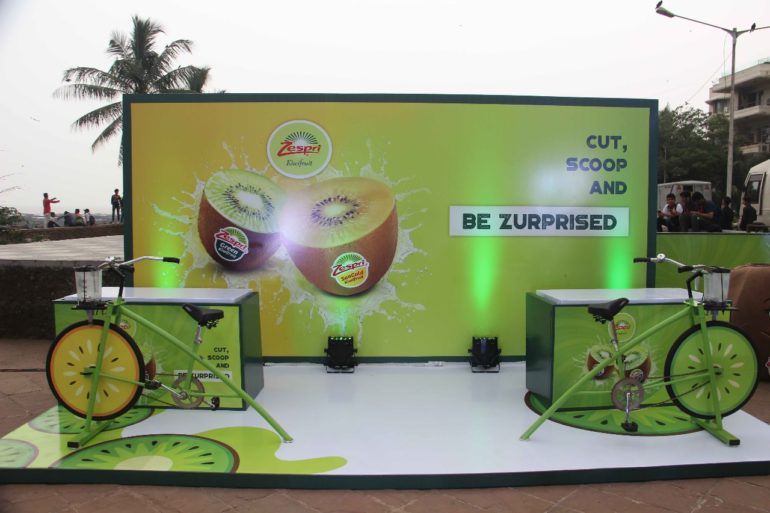 What Else?
Zespri India, a part of Zespri Kiwifruit of New Zealand, the world's no.1 Kiwifruit marketer,s are set out to create a strong impression in the minds of its consumers in India.
With presence in over 50 countries across the world, Zespri is the most trusted Kiwifruit grower & supplier. Zespri works with over 3000 Kiwifruit farmers in New Zealand and offshore farm locations. The co-operative is well known for its quality and sets the global benchmark for guaranteed excellence and delicious, nutritious Kiwifruit.
Manasi Chitlangia from the Zespri India brand team, says "This year, our primary focus was to ensure that Zespri's outdoorsy, health centric and attributes of taste were communicated to our audiences in a fun format."
Also read: Summer Garden In Powai Is A Restaurant For Those Who Like It Healthy
Deets
To get your hands on a delicious Kiwifruit, click here
LIKE Curly Tales on Facebook | Instagram| Twitter
You can also subscribe to our newsletters