Under 140 Characters
South Indian filmmakers' favorite waterfall Hogenakkal, is a must visit and just a 3 hour drive from Bangalore.
What Is It?
Hogenakkal is a small village on the Kaveri river in the Dharmipuri district of Tamil Nadu. It derives its name from the Kannada words 'Hoge' and 'Kal', meaning smoking rocks. A smokey experience is created when the water gushes on the rocks with the height of 65 meters and dissipates. The main attraction here is a croacle ride. A croacle is circular bamboo boat and can be maneuvered with only one paddle. Even though the boats are small, they surprisingly seat 8 people. The boat men here also serve as guides and will give you a tour of the serene sights traveling down stream on the Kaveri. To summarize what Hogenakkal is, would be to say it's a nature excursion. Nay, a pilgrimage on the sacred Kaveri.
Also read: Athirapally In Kerala Has The Most Scenic Waterfalls That You Can't Miss
Whats In It?
A standard visit here consist of going to the Hanging bridge, bathing falls and the Crocodile park. Bathing falls is a must do for anyone planning a visit. The water is said to have curative powers since it emanates from dense forests and contains a myriad of herbs that have Medicinal properties. You can take sometime out here and test your swimming skills since the water here is quite challenging. Tourists can also try trekking around the hills here. The area is backed up with a lotta flora, tall trees and vegetation making the whole place look like a natures paradise. Hogenakkal is a hot spot for film makers and a lotta movie sequences and songs have been shot here.
Also read: Experience The Best Of Kerala In Just 7 Days!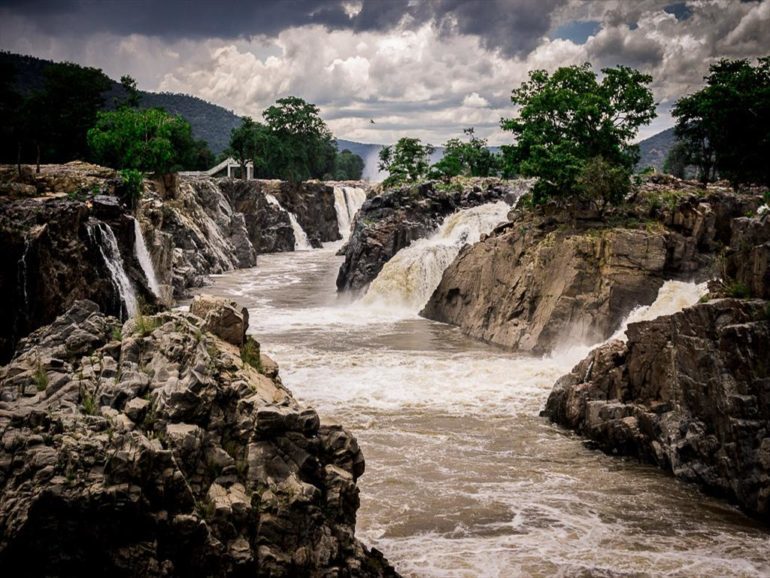 Deets
Located on the border of Tamil Nadu and Karnataka, Hogenakkal is a 3 hour drive from Bangalore(the closest airport). Best time to visit is from July through November.