Dubai has many popular spots for tourists- however, one spot that always tops the list is Gold Souq. And now the iconic Gold Souq has been transformed and how. Yep, for the art exhibition, it has been transformed into an open-air museum. Read on to know about it.
The Art Exhibition Will Continue At Gold Souq Till April 25
The art exhibition will continue at Gold Souq till April 25. Belgian artist Françoise Palsterman, who is also known as F.Man, and six of her peers from different countries will exhibit their artworks at the Gold Souq. F.man was invited by the Dubai Police Authorities to display her body of work.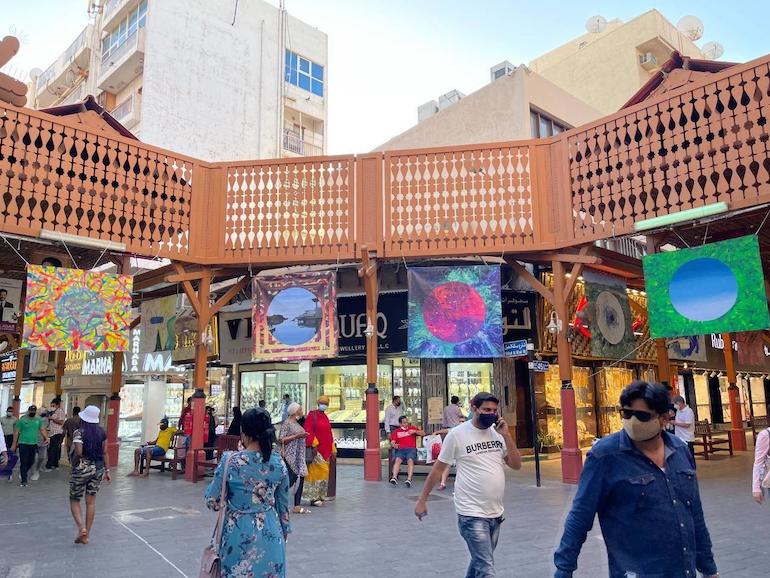 The Souq is a historic part of Dubai and has a lot of history attached to it. It is the first exhibition in this heritage centre. In terms of artwork, a total of 30 artworks will be displayed at the Souq for the shoppers to witness. Speaking about this initiative and transformation, Tawhid Abdulla, Chairman, Dubai Gold & Jewellery Group, said to a leading daily,
"The open-air exhibition envisaged by the Dubai Police and F.man is a classic example of the endless possibilities of art. We are thrilled to see the exquisite art pieces in the heart of Deira Gold Souq and offer this experience to the shoppers and visitors."
Dubai Authorities Are Looking Forward To Welcome Tourists And Citizens At The Souq
Well, with the transformation and the unique artworks, this definitely will be a novel experience for the tourists and residents. Abdulla also added,
"Dubai Gold & Jewellery Group is proud to welcome the residents and tourists to the Gold Souq to enjoy the treat by several artists across the globe."
Gold Souq is a bustling market of gold, jewellery and diamonds. And we can't wait to see how it will look after this transformation.