Actor-comedian Jamie Lever never fails to leave the Internet in splits with her spot-on impressions of celebrities. From imitating director-choreographer, Farah Khan to acing Kareena Kapoor Khan's adorable nazaakat, trust Jamie to always put a smile on your face. This time, the comedian mimicked Sonam Kapoor going live on Insta. And that's not all, what would Sonam Kapoor say if she is craving ghar ka khaana? Read on!
Jamie Lever Mimics Sonam Kapoor Craving Ghar Ka Khaana
Jamie Lever shared a reel of herself imitating Sonam Kapoor going live on Instagram. In typical Sonam Kapoor style, Jamie dressed up in chic formals, donning a black top paired with gold earrings and a necklace. With a slight smile on her face, Jamie( as Sonam) said she was watching Neerja and admiring the performances.
View this post on Instagram
And as she was casually sitting in her Prada T-shirt with a comfy M&S blanket wrapped around her, was craving ghar ka khaana. Perfectly enunciating the Neerja actor's voice and nuances, Jamie Lever's impression left fans in chuckles. But that's not all, what's hilarious is that she goes on to say (as Sonam) that she had homecooked food sent from Juhu all the way to Paris on a private jet.
Also Read: Rhea Kapoor Spoils Sonam Kapoor With Indian Food
Netizens Find Her Impression Spot On!
Sick of having caviar and croissants, which are too fattening, she wanted to have ghar ka khaana. So, what did Sonam urf Jamie really eat? Well, she gorged on chapati, tinda, bhaji with bhatinda.. Wait, what? Well, Jamie urf Sonam clarifies that Bhatinda is not a veggie and hilariously corrects herself. Not Bhatinda, she had Baingan, the veggie that starts with the letter "B". And she enjoyed her homecooked lunch with lots of ghee.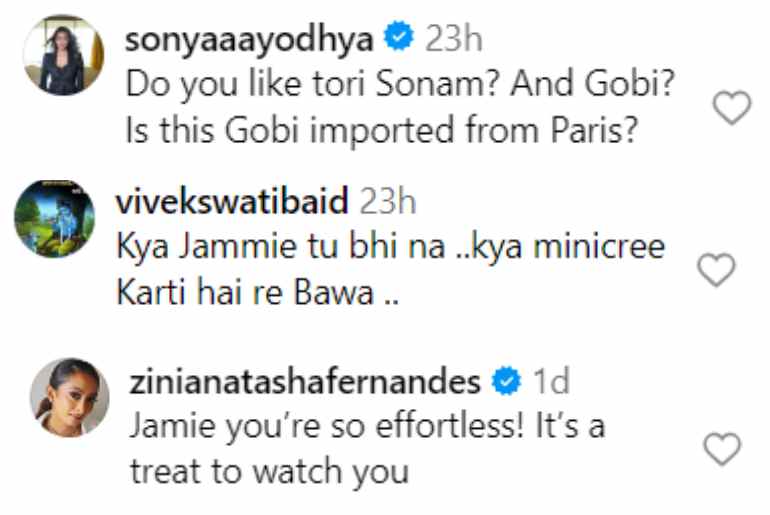 Jamie Lever ends her "Sonam Kapoor Live" by saying "Thank You For Coming" and corrects and then hilariously corrects that she didn't mean to promote her dad Anil Kapoor and sister, Rhea Kapoor's film.
Also Read: 8 Food Items That Are Safe To Have If You Have Food Poisoning 
The comedian's mimicry video had her followers in splits. @zinianatashafernandes commented "Jamie you're so effortless! It's a treat to watch you". @mehekshetty said "Hahahaha i loveee the Chapaati". And @sonyaaayodhya asks "Do you like tori Sonam? And Gobi? Is this Gobi imported from Paris?" Even Jawan actor, Priya Mani called it "Epic". 
Meanwhile, how did you find her mimicry?
Cover Image Courtesy: @its_jamielever/ Instagram and Canva
For more such snackable content, interesting discoveries and latest updates on food, travel and experiences in your city, download the Curly Tales App. Download HERE.
Good news! We are on WhatsApp! Subscribe to Curly Tales WhatsApp Channel to stay up-to-date with exclusive content and BTS. Join HERE.