Most youngsters love motorcycling. I was no different. I only had a cycle with me then but that did not stop me from dreaming I often borrowed a motorcycle from friends to ride. I bought my first motorcycle in 1985 – a hero Honda 100 cc. And there was no looking back. Here is my story, India to London on a bike.
Also Read: Mothers Who Drove From India To London
How It All Began
1983, seven like-minded guys, united by the same dream of motorcycling from India to London, got together to discuss and plan the trip.  The great irony of it was that though we were good riders, none of us owned a bike. How, when and where were not the questions that bothered us. Dreams are not tangible phenomena, are they? We were young and raring to go. The group spent a lot of time and days planning the trip. Several aspects needed thorough attention: the route, finance, getting motorcycles for ourselves, documents and official permission from the countries we were to pass through and a lot of other seemingly minor matters. I was most concerned about the official documents as no one seemed to know how to go about getting them.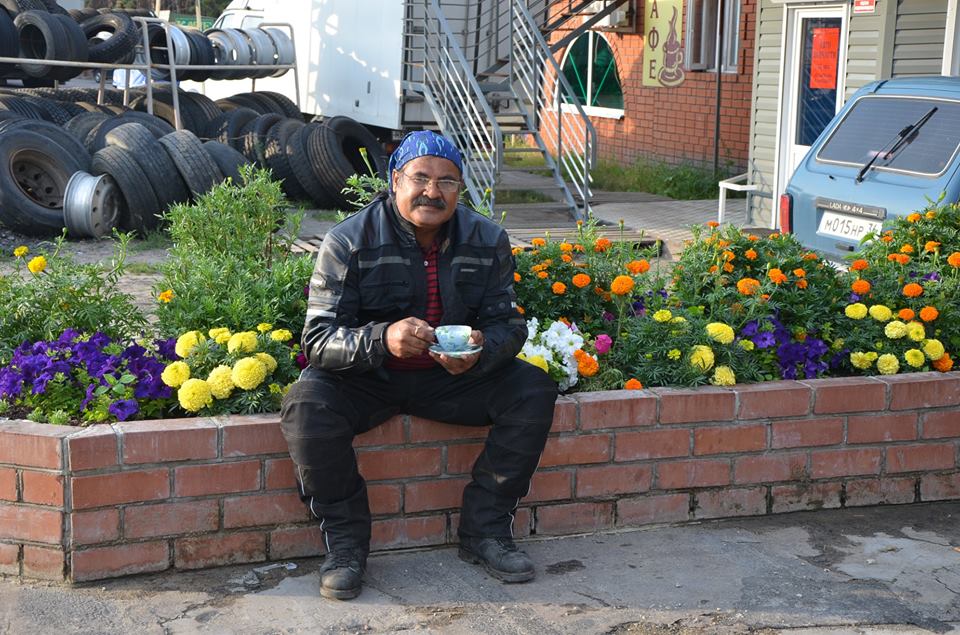 The priority of the teammates was to collect funds, which, of course, was a major hurdle. We, however, were confident that one of the companies would definitely sponsor such an enterprise by giving us motorcycles for the tour. A few months passed in our discussions without much headway. The members of the group and I were on different wavelengths. I found their approach somewhat casual. Eventually, I dropped out as many of our meetings ended up with me arguing and quarreling with them, as none of the team members saw my point of view and concern about precise planning and the necessity of obtaining legal documents.
I decided to set about it myself. I had known about four other riders who had tried the same journey from India to London in the early 70s and had to return from Iran for the same reason.  It's very important to first put in massive tiresome paperwork to obtain the mandatory permissions for crossing borders and entry into foreign territories.
Life got in the way and I completed my Masters in 1985. Then I eagerly acquired a Master for myself – namely Harsha, my wife. Life just took another turn and thus began an interesting journey of another kind. I had managed to own a 100 cc motorcycle by then. Over weekends, my wife and I enjoyed some stimulating rides to different rural destinations.  I made some thrilling long distance trips, too. From childhood, I had been fascinated by the vastness and the picturesque diversity of our country just by looking at the road map of India that my father had shown me.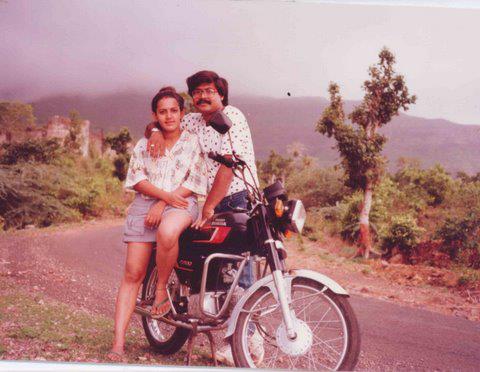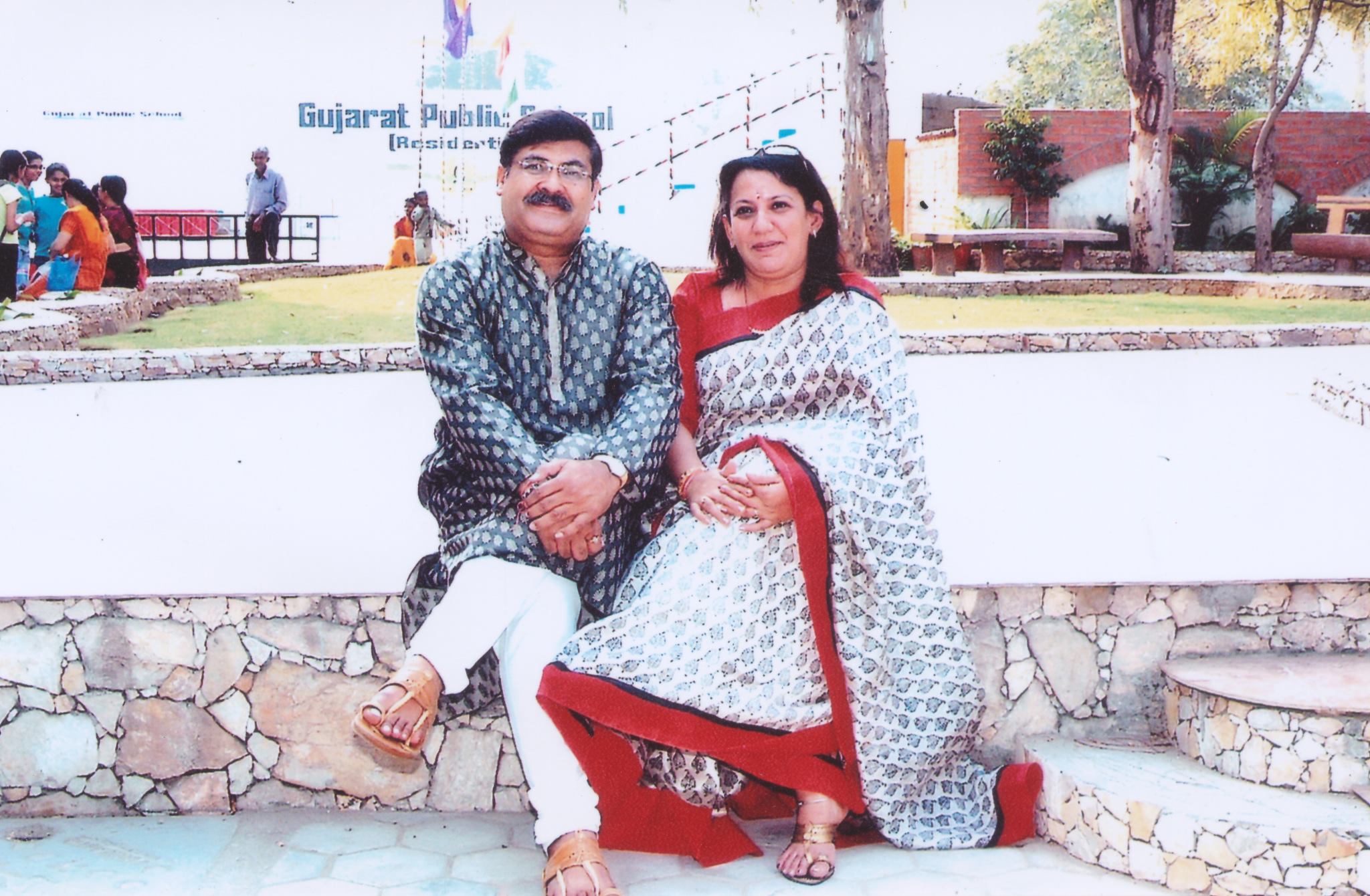 Motorcycling, gradually, almost sneakily, crept back into being my most enticing fad. A friend and I together introduced and organized the 1stMotocross in Vadodara City in the year 1985. It took the youngsters of the country by storm, leading to the organization of Motocross events every year for the next six years. In the following years, as a hobby, I managed and organized many motorsports events such as Treasure Hunts, Braille Car Rally, where the navigator is a visually handicapped person and the route map is provided in Braille. It is a family event and three to four other participants are permitted in a car.
Tough Stuff Car Rally in extreme difficult terrains and various different car rallies. Many such events were introduced in Gujarat. I also organized a National car rally, called The Salt Desert Car Rally. I felt a great sense of satisfaction from conceptualizing, organizing and executing such events.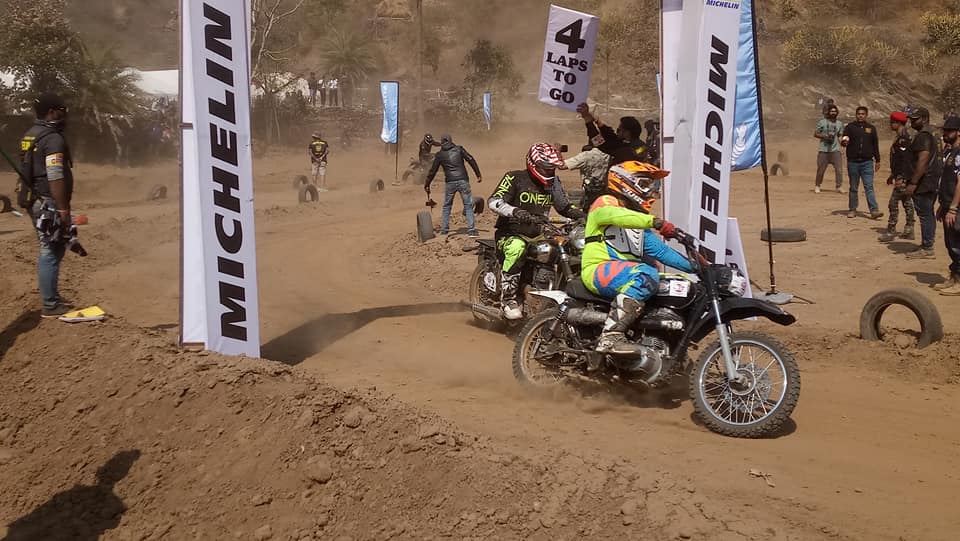 The Road of Life Is A Maze With Unexpected Turns
Life could not have been happier. My family – my wife Harsha, my daughter Ruchika and my son Rahul – fully supported and enjoyed my various interests and fads. I was in a state of bliss. Then the unexpected happened. I had a heart attack. I, who took such pride in perfect fitness; I, who exercised regularly, played football and every conceivable game, was laid low by a Heart Attack – not one, but three attacks in a single night between 1.00 am and 3.30 am –  on that fateful day, 15th December 2005. I survived.
I was shell-shocked. Life stood still. The dream of exploring the world on a motorcycle could not be anything more than a fantasy, now, a pipe dream, to be talked about rather agonizingly.  I went through angioplasty and a stent was placed in my heart. I interrogated the doctor severely, thoroughly, emphasizing my fitness routine and the impossibility of my being thus struck down. He patiently explained to me that the cause was genetic. He reminded me that my father had had seven heart attacks. That was true. He had conquered them all but ultimately lost his life due to malignant cancer in the brain.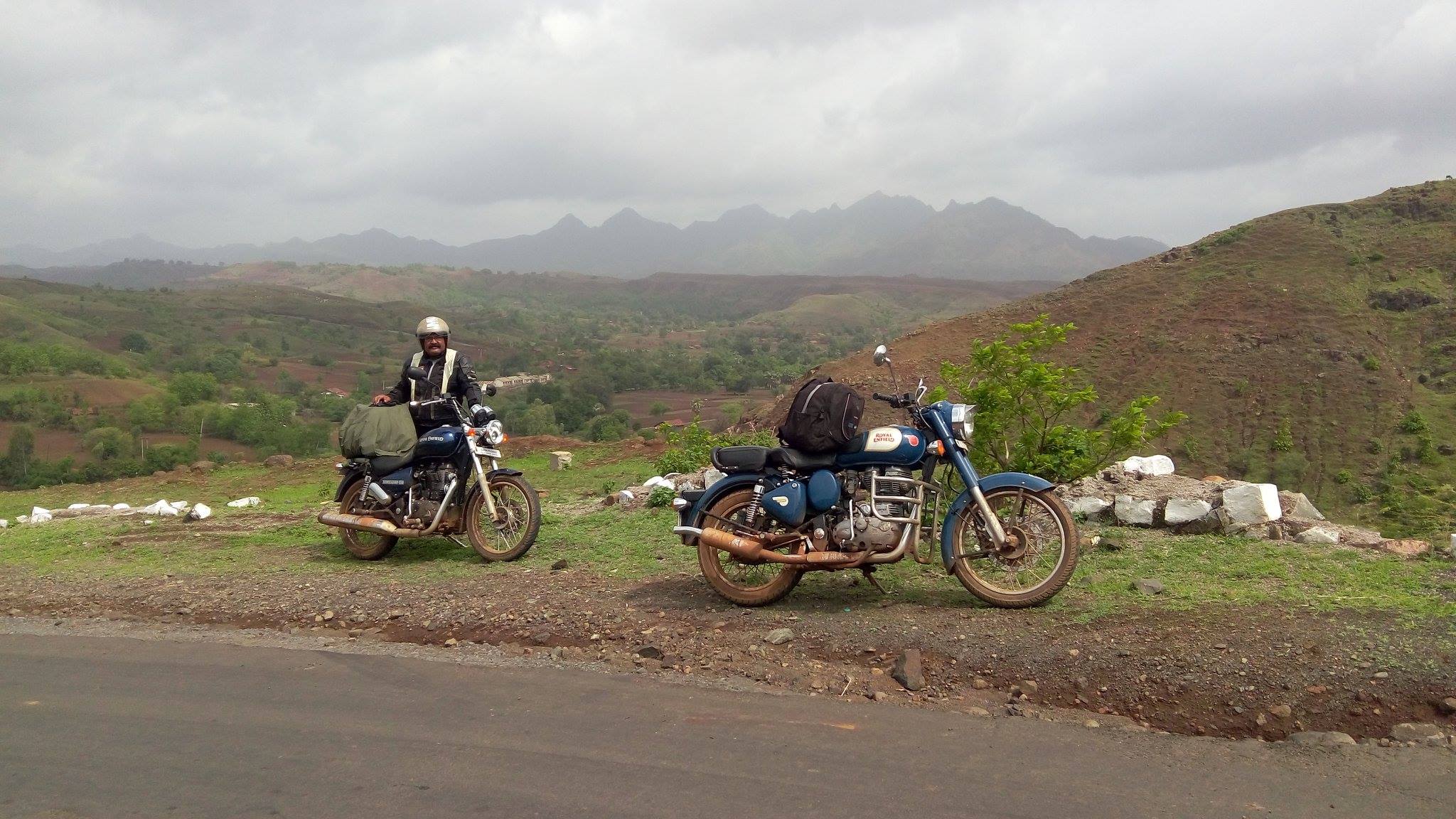 I had to accept the doctor's reasoning deciding to make a resolution to live well and live fully. This was the time I strongly felt the need to make a wish list, a list of things, I wanted to do before the end. Regaining my health and fulfilling my dream of biking around the world were at the top of the list. Well, it is ten years now since the divine warning. My children have graduated. Ruchika my daughter is enjoying her work as a journalist and was a copy editor with Autocar in Mumbai and now at Forbes India; Rahul my son is a Chartered Accountant and happily married to Priyanka, a life partner of his choice.
All three of us enjoy the thrill of riding motorbikes. Unbelievable as it may seem, I have fulfilled most of my wish list. The doctor is happy with my fitness; my children are well educated; I have been playing golf regularly since four years; scuba diving is on the pending list; and I have finished the first draft of my travel book – my motorbike journey from Vadodara, a small city in Gujarat State, India, where I live, to London, the capital of the United Kingdom. Meanwhile, I joined the prestigious Gaekwad Baroda Golf Club and won a tournament in the very first year and thoroughly enjoyed the prize – a package of 4 nights and 5 days stay at Alila Diwa, Goa.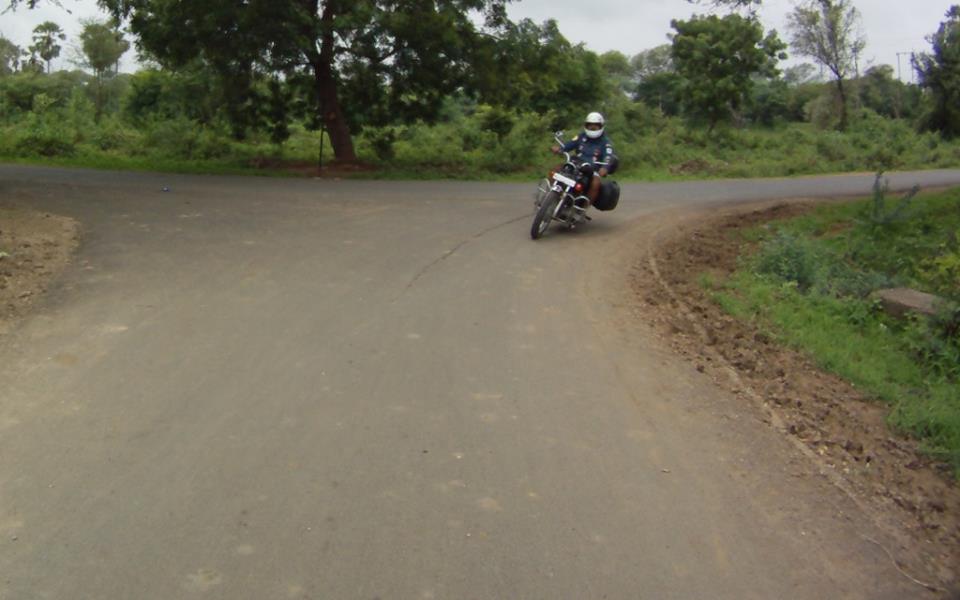 In 2010, the lure of extensive motorcycle rides was getting stronger by the day. London was calling again. I had not forgotten the importance of thorough planning; I decided to take one step at a time. To prepare myself for the long journey to London I started long distance rides once again. Over a period of two years, I made a few runs: Goa, Mumbai, Delhi, the Rann of Kutch, Karwar and a captivating one to Leh. This got me back in shape and the confidence for a really long distance motorbike venture grew by leaps and bounds. London's call was getting louder.
The ride to Leh was very special, indeed. I had promised my son that his 20th birthday gift would be a long distance motorbike trip. The joy of riding a motorcycle is unparalleled, especially when you ride with your son. The most wonderful part of the ride was from Manali to Leh. On that trip, I watched my son grow up to be a mature young man. I saw him understand the different aspects of riding, especially of safety and timing. I made him take decisions at difficult times and I followed his instructions without question. In a way, it turned out to be the best gift I had ever given myself. The bond between the son and father became absolute; the unsurpassable barriers drawn by Indian cultural traditions seemed to have disintegrated; Kumar-Rahul returned from Leh as two close friends, with mutual admiration and unshakeable respect for each other.
London, Here I come!
"Why London?" was the question often asked. "Why not London!" seemed to me the obvious retort. One has to go somewhere, doesn't one? But to be frank, I really did not know why I had always thought of riding a motorbike only to London and not anywhere else. It could be a sub-conscious attachment or attraction because I studied under an affectionate British gentleman, our beloved principal Sir Peter Rogerson, in an institution established by the British in 1871 the Rajkumar College at Rajkot.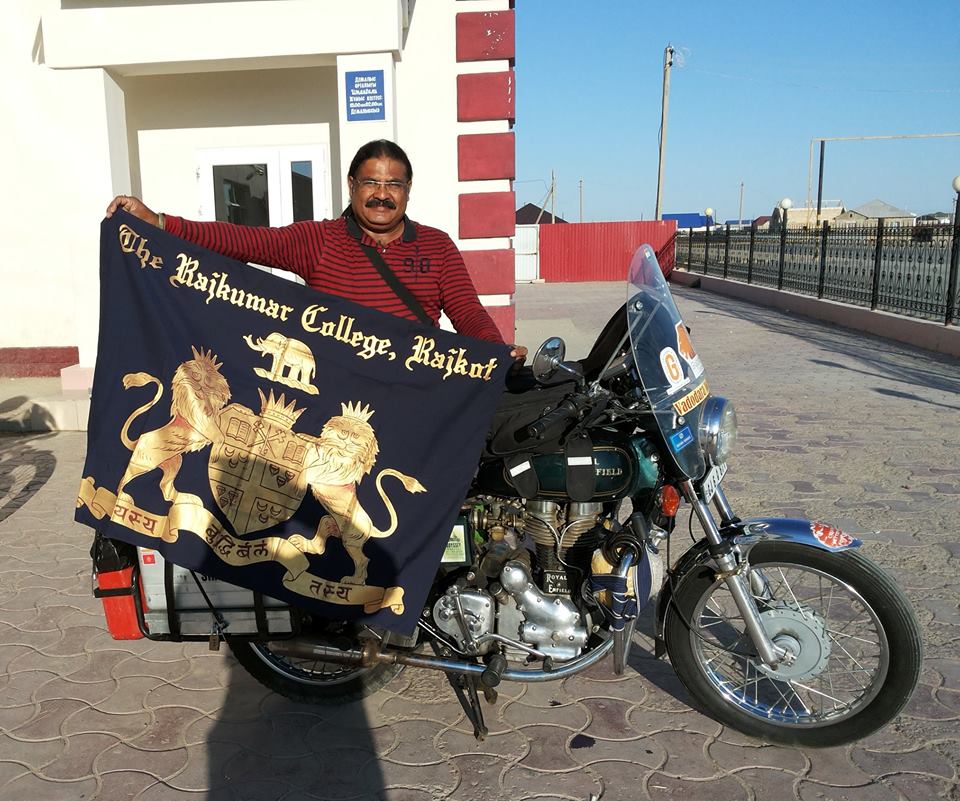 Apart from achieving fair success in the cricket matches that we played, the personal highlights of my visit to the UK was watching the finals between India and West Indies where India won the world cup at Lords, for the first time and of course the mesmerizing batting of Kapil Dev's historic 175 knock against Zimbabwe. Apart from all this, spending some lovely time with my friends and my girlfriend's relatives, now my wife.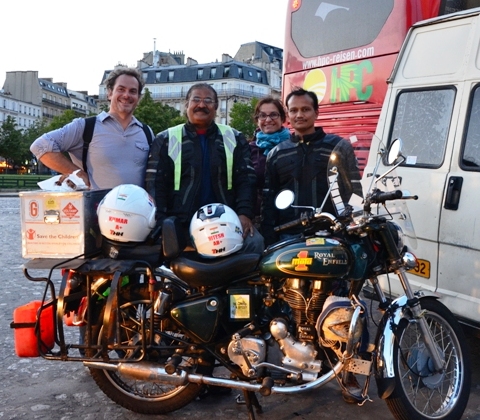 Completing this task of going to London from India on a bike no less, has definitely been my greatest achievement and there is no stopping here! I am planning a lot more such as conducting a commercial venture under my company floated in 2017 – M/s Ride Your Dreams, taking 3 women riders, (the first team of women from India) their mechanic and photographer from India to London starting June 2019 for 85 days. We shall be crossing 21 countries and 3 continents. You can learn about this more here.
Conclusion
Biking has changed my life in many ways. I grew more confident as a man,  learned to travel alone and not in groups, my love for the rural sector increased and I learned to enjoy the food available in various corners of the country. Another valuable lesson was how I learned that one does not need to have too much money to ride if he can live in small places.
There are many stories as one travels on a motorcycle. One thing is amazing. If two motorcyclist (maybe on a big bike or small bike) stop anywhere a conversation breaks out between them, often leading to a cup of coffee. You make good long lasting friends on motorcycle journeys. Other motorcyclists are very helping in case of a breakdown. This is not possible if you travel in a car. So I urge you all to follow your passion! It is as fulfilling as it can get. I am now 58 years young and it feels great to have accomplished what I set out to achieve.
This article was contributed to Curly Tales by Kumar Shah. If you have a story to tell us, drop us an email to hey@curlytales.com