Originating from Uttarakhand's Devprayag, the mighty Ganges meanders down through the Himalayas before reaching the plains. It travels for around 2525 kilometres from the Garhwal Himalayas to the Bay of Bengal, crossing North India's Gangetic Plain. In Uttarakhand, the Ganga, unlike the plains, is cleaner and appears beautifully turquoise when the weathers are ideal. And soaking the feet into the chilly waters while enjoying the mountain views is a different feeling altogether. Here are is a list of 5 best riverside resorts in Uttarakhand to enjoy the breeze and the view:
1. Aloha On The Ganges
This is one of the most spectacular resorts by the Ganges in Rishikesh that offers a mesmerising view of the crystal clear river and the mountains. Located right alongside the Ganga, the resort comes with a pool with a mountain view and also spa facilities. The resort can also arrange river rafting, rock climbing and more for adventure junkies.
Book | Here
2. Him River Resort
If you like to unwind in the pastoral style by the Ganges, this resort Phoolchatti, Neelkanth Road is your place to be. The resort will let live right in the heart of the Ganges. The river flows right outside the balcony of the rooms here. You can stay in the rustic cottages here and also go on fishing in the nearby waters.
Book | Here
3.  Royale Rainbow Resort
This gorgeous resort is located atop a hill, right by the Him Ganga and the mountains. The resort not only offers stunning views of the river but also overlooks numerous cascading waterfalls that flow into the river. It is fourteen quaint cottages. The royal cottages are air-conditioned and the deluxe cottages have coolers. I Stayed By The Ganges At This Stunning Mountain Resort Just 5 Hours Away From Delhi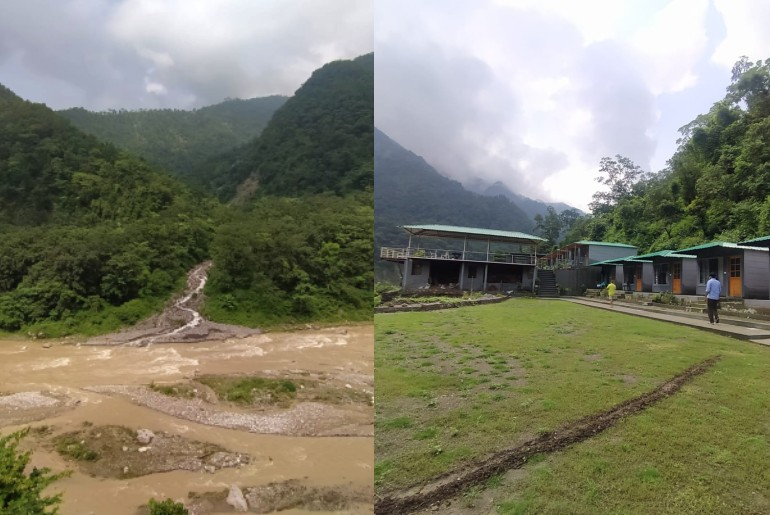 Book | Here 
4. Raga On The Ganges
This hidden gem in Rishikesh sits on a sweeping lawn and features spacious rooms with large glass windows offering panoramic views of the surroundings. The resort itself is a masterpiece with magnificent interiors and luxurious amenities. At the resort, you can also relax in sunbeds by the roaring river and indulge in yoga, canoeing and other activities.
Book | Here
5. Glasshouse On The Ganges
Snuggled in a jungle, this Neemrana property near Shivpuri offers tents, treetop rooms and cottages by the Ganges. The best part about this resort is that it has a private white sand bank. The property has yoga experts to help you relax your body and soul. You can also enjoy Trans-Himalayan cuisine in the restaurant at his property.
Book | Here 
Pro Tip: When you're staying by the Ganges, try to carry a personal tent with you to get that nomadic feel by the bank for some time!