There can't be a better value for a meal than a traditional desi thali. With just the right amount of veggies, proteins and carbs at pocket-friendly prices, you can eat to your heart's content. Add in an afternoon siesta, and your weekend is sorted.  So, when I came to know about a new Gujarati thali eatery in Bangalore, I had to ensure my weekend revolves around it. After all, I live to eat! And my profession is a testimony to this. Well, all thanks to my passion for food, I recommend you visit Pankaj Delicacies in Bangalore. Here's why.
Pankaj Delicacies In Bangalore Serves Authentic Gujarati Thali
Nestled in the heart of Jayanagar 4th block, Pankaj Delicacies serves Gujarati, North Indian and Jain cuisines. Part of the Purohit Management, this vegetarian restaurant is a humble abode for anyone craving home-style Gujarati fare. Decked up in shades of off-white with wooden chairs and pale tables, it has a simple no-nonsense environment, where food is the sole hero. The hot afternoon urged my family and me to order Masala Chaas. Served in a steel tumbler, it was ice cold with just the right hint of masala. A perfect thirst quencher for a scorching day.
Also Read: Enjoy Insta-Worthy Rainbow Ice Cream Sandwiches At This Bangalore Restaurant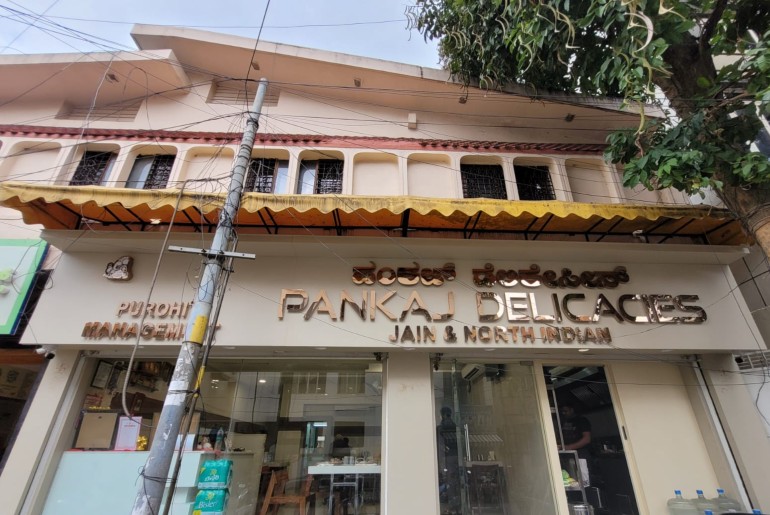 Also Read: Seegadi, A Coastal Restaurant In Bangalore Offers Pocket-Friendly Seafood Thalis & Mangalorean Delicacies
Thali Priced At ₹190 Reminds You Of Home-Cooked Gujarati Meal
Pankaj Delicacies' best seller is undoubtedly the Gujarati thali. While we did customarily browse through the menu, we ended up ordering just what we came for. Priced at ₹190, the limited thali consisted of sweet Gujarati Dal, traditional Kadhi, a potato curry Batata Nu Shaak, Turai Ki Sabzi made of ridge gourd and thick gravy made of green peas.This was accompanied by Gulab Jamun, Papad, Dahi, Phulkas and rice. The thali was delicious as the dishes complimented each other beautifully. While I found the Kadhi a little too sour for my liking, the Gujarati Dal and Batata Nu Shaak were my winners.
Also Read: 6 Best Vegetarian Restaurants In Bangalore You Must Try For A Soul Satisfying Meal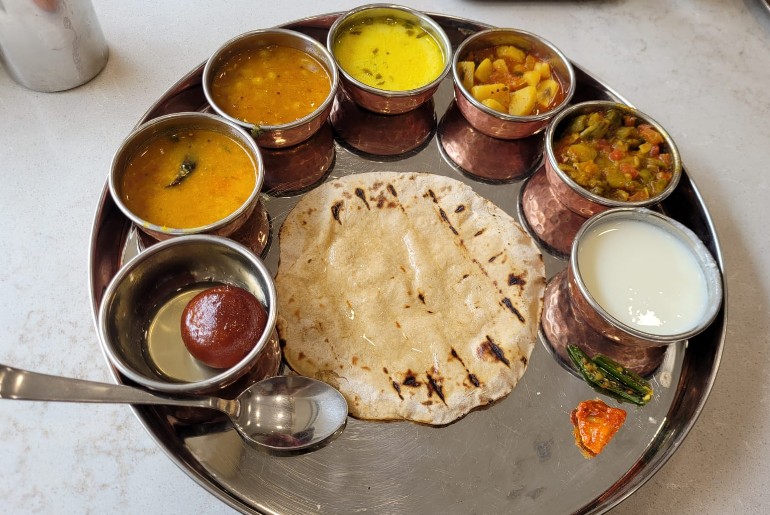 Also Read: Dine Amidst Trees & Potted Plants At This Beautiful Vegetarian Restaurant In Bangalore
Stuffed Parathas, North Indian Sabzis Are Other Dishes You Can Order
I did miss the farsan, but the simplicity of this thali reminded me of a home-cooked meal in a Gujarati household. The green chilli and lemon pickle added the extra zing to my meal. This Gujarati thali is limited, but the portion is generous for the price you pay. Apart from the thali, you can relish their stuffed parathas and North Indian sabzis with phulkas. Pankaj Delicacies also serves Dal Baati Churma, but you'd have to inform the staff beforehand, as they prepare this on prior notice. My search for authentic Gujarati food in Bangalore led me to Pankaj Delicacies. With both my tummy and wallet happy, I sped off to catch up on my afternoon siesta. And you will too after you devour this meal on a lazy Saturday afternoon.
View this post on Instagram