Senior citizens, aged 60 years and above, can now avail a 50 percent discount on Air India flights. The tickets have to be purchased three days before the flight's departure. The official website of the airline has mentioned the criteria required for the scheme. The offer is applicable on only domestic flights. The senior citizen must be of Indian nationality and a permanent resident of India. On the date of departure, the person should have attained 60 years of age. Also, the offer will be applicable to select booking classes in the economy cabin. Meanwhile, here are 7 hacks to get through airport security faster in the era of long queues.
Also Read: 5 Indian Airports That Offer Covid-19 Testing For All Incoming Passengers
People Aged 60 Years And Above Can Avail 50% Off On Air India Tickets
Air India has launched a scheme which will allow people of Indian nationality aged 60 and above to avail 50 percent off on the base fare of flight tickets. Other than the base fare, the flight ticket will include common user terminal fee, passenger service fees, airline fuel charge and some other charges. Flyers who want to avail this offer need to show a valid Photo ID which has their date of birth mentioned. The ID can be voter ID card, driving license, passport or senior citizens' ID card issued by Air India. The offer can be availed for flying to any sector within the country. Also, Air India has planned to start non-stop flights from Bangalore to San Francisco.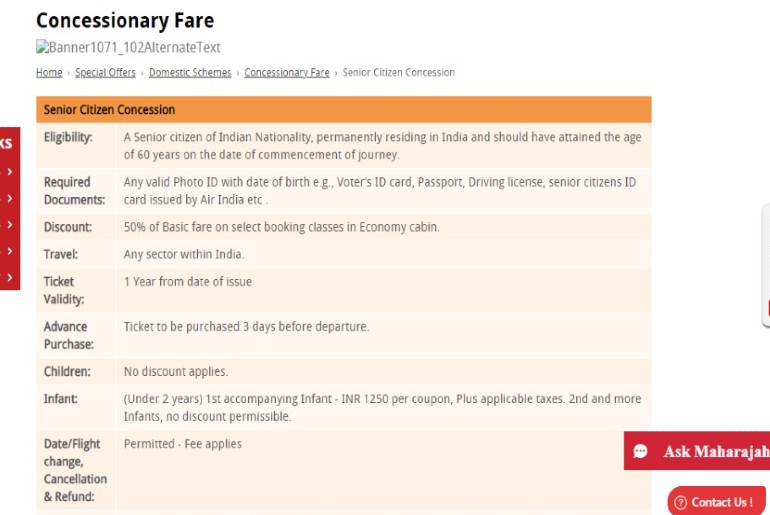 Also Read: Jet Airways To Make A Comeback In Summer 2021; AirAsia Might Exit India
Flyers Need To Present Relevant IDs During Check-In
In the Senior Citizen Concession update, Air India has mentioned the eligibility as, "A Senior citizen of Indian Nationality, permanently residing in India and should have attained the age of 60 years on the date of commencement of journey." The website has also added, "In case the relevant ID/documents are not presented at the time of check-in or at the boarding gate, the basic fare will be forfeited and the tickets will become non-refundable (only taxes & levies will be refunded). Boarding will be denied if the identity proof is not provided at the time of check-in and at the boarding gate." Meanwhile, here is a first-hand air travel experience from Mumbai to Delhi during the pandemic: