Under 140 Characters
The best sushi in town, amazing oriental cuisine, sugary finger desserts and unlimited bubbly drunching! Could Sundays get any more exciting?
What Is It?
'Zen' at the Park Hotel, Kolkata is probably the most sought after, fine dining oriental experience of the city since even before I can recall. If you love everything classy, you're going to have a great time here. Sushi fanatic? You will soon be absolutely obsessed with Zen…and if you're a first timer to Japanese cuisine, it's the perfect place to try Sushi and fall in love with the dish already! What's more? The vibe is also great for some refreshing cocktails making Zen lovely for celebrating your special day or just letting yourself out after a hard day of work. Located on the iconic Park Street, its central location is ideal and the signature Sunday brunch menu makes it my personal favourite drunch spot of the city!
Also read: Dine At Cafe Toto In Kolkata Which Is Run By Underprivileged Youth
What's In It?
You will be welcomed by a long luxurious corridor that leads to an elegantly done set up. The interiors are stylish, spacious and modern. The open kitchen adds to the charm as you can see the master chefs carefully handpicked and trained, stirring up delicious oriental meals as per your liking. They treat food like its art and it's truly a delight to watch them at it! One of the rare fancy places where the ambiance works well for both a lunching delight as well as for a  beautiful dinner experience, the Zen also houses a slightly segregated area for bookings of around 8 or more.
Here you feel like you're very much a part of the restaurant, yet more connected with only your peers, the round table also makes it easy for conversations to flow and everyone to just enjoy some happy time together. Book the space as the perfect setting for hosting a small party or for the Sunday bubbly brunch with your girls or long lost friends! Zen has food set menus on all days but their signature Sunday brunch menu is slightly different with a wide variety of vegetarian and non-vegetarian sushi, main course options and desserts displayed as part of the buffet. Yes, and loads of bubbling champagne (and other forms of alcohol) to go along so that you can distress, eat, drink and be merry with your people till your heart's delight!
What To Order?
The sushi platter (Zen Yasai Sushi) is a must! Though I like to try something new each time, it is the sushi at Zen that I can never get enough of and that keeps me going back to the place for more. The asparagus and cheese sushi are my personal favourites! The Thai green curry with sticky rice is also highly recommended and one of the ginger based cocktails shall help you finish off the meal with a clean palette. Guess what? They have  recently introduced a new selection of dimsums, baos and buns to make things even more exciting so taste away! On Sundays, opt for their bubbly brunch menu, the food options are way more than sufficient and you get unlimited alcohol including champagne, beer, vodka and more.
Also read: Indian Coffee House In Kolkata Is The Country's Most Iconic Coffee Shop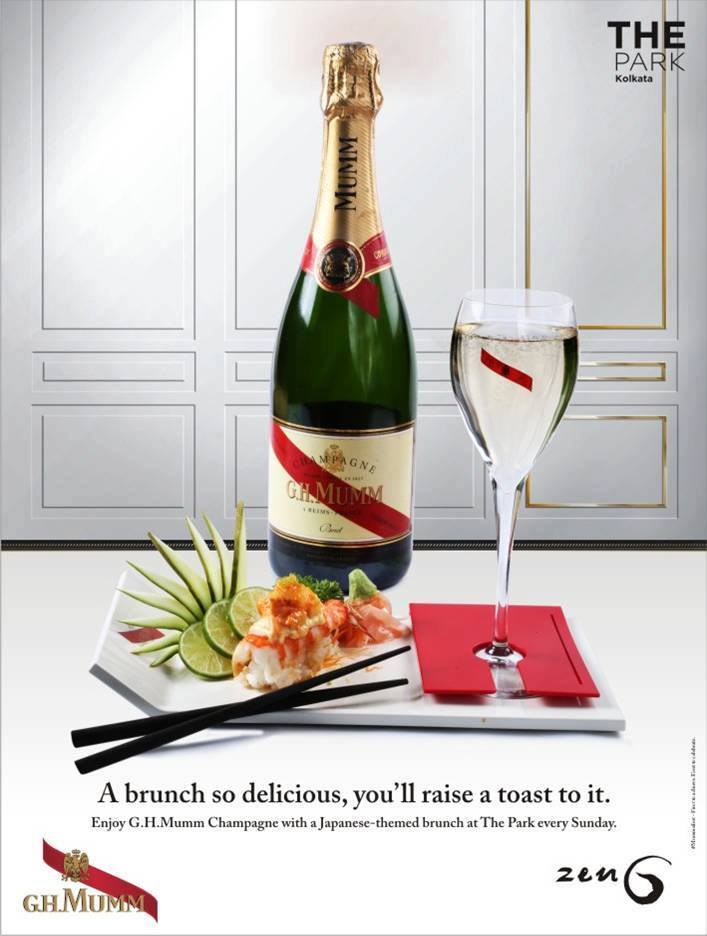 What Else?
Excited much? Put on your favourite white dresses or whatever it is that you would like to sport to a champagne brunch and get yourself a table now! Get set for hours of laughter over glasses of bubbly or your favourite cocktails, stomach full of yummy sushi and loads of chatter over a Sunday afternoon that could not be spent in a more fun way!
Deets
Where: Zen, The Park, 17 Park Street, Kolkata, 700016
When: lunch available most days (12:30 PM – 3:30 PM), Dinner (7 PM – 11:45 PM)
How Much: 4000 INR for 2 people (Approx), Set menus for only food starts from 999 INR + taxes.
Sunday Brunch is around 3000 INR including taxes and unlimited alcohol + food from a set buffet.
Contact: 033 30859019
LIKE Curly Tales on Facebook | Instagram | Twitter
You can also subscribe to our newsletters