Let's face it; daal-chawal-bhujiya for noon and litti chokha for brunch are almost the same. In our dictionary, it is the best idea of comfort food. This dish's ideal plating has the correct amount of spice, crunch, and flavour. Even though practically every Bihari household is able to prepare food at home, there are some days when you just don't feel like going through the trouble of cooking. This is where your problems end if you've been looking for authentic Bihari food for as long as you can remember.
Our nation's capital is popular for its diverse culinary choices, with posh eateries and street vendors that cater to tastes from around the globe. Following is a list of the top 6 places for Bihari litti chokha in Delhi, where you may have this traditional Bihari dish whenever you crave it. 
 1.
Littiwala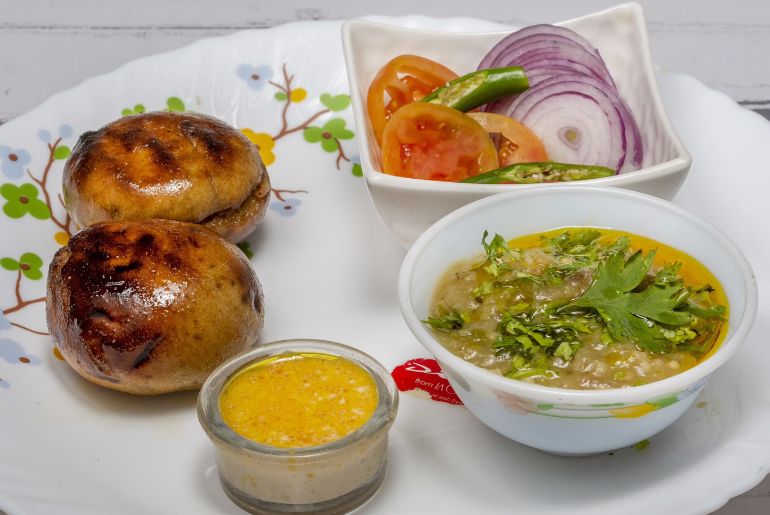 If you ask anyone who enjoys Bihari cuisine where they recommend going, this is often the first restaurant that comes to mind. This small restaurant tucked away amid Laxmi Nagar's busy streets, is famous for creating mouthwatering dishes with authentic Bihari flavours. Their zesty chokha and crunchy littis are what Bihari cuisine fantasies are made of! 
Where: Gali 10, Block B, Saraswati Gali, Vinod Nagar, Pandav Nagar, New Delhi
When: 11:00 am – 8:00 pm
Cost:  ₹100 for two (approx)
 Also Read: 5 Best Places To Relish Gajar Ka Halwa In Delhi
2. Cafe Lota
Cafe Lota, a renowned eatery in Delhi, provides the genuine flavour of Bihar on a literal platter. Even if the selection on their Bihari menu may be somewhat constrained, each dish is jam-packed with various delicious flavours that take you to the Bihar villages. Additionally, the setting at this restaurant improves your total dining experience and marks it as one of the best places to serve Bihari litti chokha in Delhi.
Where: National Crafts Museum, Bhairon Marg, Pragati Maidan, New Delhi
When: 10:00 am – 9:00 pm
Cost: ₹1200 for two (approx)
3. Gaon

Eat at this Gaon to sample genuine Bihari cuisine. A special menu of vegetarian, chicken, and mutton litti chokha is too hard to pass amidst the abundance of North Indian and Rajasthani selections. The restaurant is reasonably priced and is a nirvana for lovers of Bihari cuisine. However, the atmosphere and furnishings of this Bihari eatery in Delhi will transport you back to your own deep jungle.
Where: K-4, Block K Ii, Lajpat Nagar, New Delhi
When: 11:00 am – 11:30 pm
Cost: ₹650 for two
Also Read: 10 Best Places To Spend Bonfire Nights In Delhi NCR
4. Bihar Ki Rasoi 
This modest eatery is tucked away in the commotion amidst the variety of regional food stalls in Dilli Haat. Dilli Haat is the cultural centre of the city, offering exquisite handicrafts, hand-woven textiles, as well as mouthwatering local cuisine. Bihar Ki Rasoi must be the best stand after the Sikkim one (it has the best momos). So now, you can order everything from litti chokha to a selection of mutton curries at this low-cost restaurant.
Where: Near the INA Market in Stall 14 of Dilli Haat, India
When: 12:00 pm – 10:00 pm
Cost: ₹800 for two
5. Mr. Littiwalla
You must visit this humble restaurant if you are staying in or near Laxmi Nagar. This little eatery is quite well-liked among the students who live in the nearby PGs and coaching facilities. So, this has to be your destination if you're seeking authentic, reasonably priced, and tasty Bihar food.
Where: Faizal Pur Madawali, Patparganj, New Delhi, B-31 Gurudwara Road
When: 10:30 am – 10:30 pm
Cost: 500 INR for two.
6. Bhoj Puria
Feeling lazy to go out? Now you can get Bihari food delivered right to your door. You can enjoy and relish this beautiful Bihari thali by Bhoj Puria at your home. Also, the coolest thing about thalis is that you may take advantage of a wide selection at a reasonable price without having to worry about what to order.
Where: Sector 22, Dwarka, Shop 9, Ground Floor, DDA Market, across from Mount Carmel School
When: 10:30 am – 11:00 pm
Cost- 500 INR for two.
These are just a few of the several places in Delhi that offer litti chokha. So now you know where to go if you're feeling lazy to cook the dish at home. 
Cover Image Courtesy: Unsplash