Summer is in full swing in Dubai and getting outdoors can just seem impossible. Well, that's why Dubai has some cool indoor activities to offer! The city is loaded with a whole lot of fun activities, all well within the comfort of an air conditioner, so you can have fun without sweating it under the sun.
From playing in the snow to jumping on a trampoline and watching a movie in a 270 degree theatre, here are some off-beat indoor activities you can indulge in this summer!
1. Ifly Dubai
Get an exhilarating feeling of flying like a plane with iFly Dubai. Scared of the heights and jumping off the plane? This one fixes it for you. Go against the gravity as you fly 4 meters high this summer at iFly Dubai.
Where: Mirdif City Centre
Cost: AED 220
Contact: 04 231 6292
2. Ski Dubai
It's too hot outside and you just can't wait to be amidst the snow- Get that feeling? Well then head down to the Mall of Emirates head to Ski Dubai to spend an evening in snow. Ski down the slopes in controlled temperatures, take a ride in the many fun snow rides, or enjoy a warm cup of hot chocolate at the avalanche cafe to warm you off the bitting cold. Cool way to beat the heat, isn't it?
Where: Mall of Emirates
Cost: Student Package starts from AED 130
Contact: skidxb.com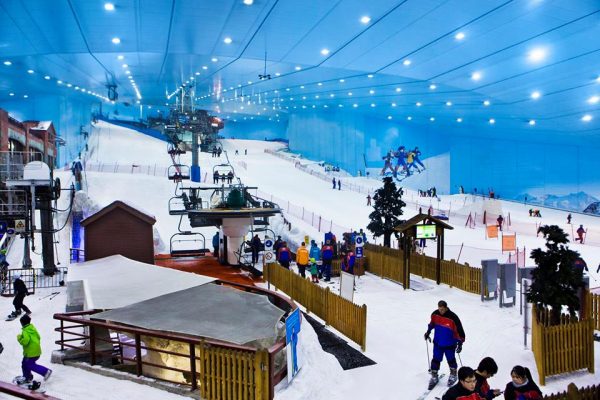 3. Jumble
Why should kids have all the fun? Young adults can head in groups and challenge their mental abilities finding their way out of the maze. This one needs a lot of concentration, but trust us the fun is unmatchable. Plus, you're indoors, under a fully air conditioned roof- so what's wrong in getting lost for a while?
Where: Jumble, Sheikh Zayed Road
Cost: AED 129
Contact: 800 586 253
4. ScreenX time
Ever wondered what it would be like to watch a movie in 270 degrees? This summer, UAE brings to you a brand new cinematic experience at Reel Cinemas. Movie-goers can immerse themselves in a 270-degree format movie hall, making you part of the movie (quite literally)!
Where: Reel Cinemas, Dubai Mall
Cost: AED 65
Contact: reelcinemas.ae
5. Watch A Water Show
Give the Dubai fountain a miss and head to La Perle to experience a magical water show. The aquatic stage, a first of its kind has dancers and acrobats performing stunts in and on the water. How cool is that!
Where: La Perle, Habtoor City
Cost: Flash Tickets at AED 199
Contact: laperle.com
6. Bounce
Burn off some calories while having fun with your mates as you bounce off the trampolines this summer. Opt for sessions as per your mood and take your entire family for a fun workout.
Where: Al Quoz 1
Cost: AED 80 per hour
Contact: bounce.ae
7. IMG World of Adventure
Summers are stopping you from heading to the theme park? Worry not! IMG World of Adventure is a world famous indoor theme park replete with rides that are good enough to give you an adrenaline rush.
Where: IMG Worlds of Adventure, Dubai
Cost: AED 285
Contact: 04 403 8888
Also Read: 5 Places to Find Ice and Rain in Summer