Golf and luxury go hand in hand. And, in an episode of WanderLuxe with Curly Tales, we have brought to you India's first golf villa, which is a huge property with amazing views of the Nandi Hills and more. The JW Mariott Bengaluru Prestige Golfshire Resort & Spa is a property that will ensure a luxurious stay exclusively about YOU. In this golf resort, you'll be able to enjoy the gentleman's sport & the resort's hospitality like no other in Bengaluru.
India's First Golf Villa In Bengaluru
Starting from a pickup from the airport to having a butler at your service only through a WhatsApp message, this resort has got its services on point for the visitors. The guests can choose to have a lazy day or go around and take a tour in the resort Mercedes. Further, guests can even opt for the spa services or a high tea, watching the pretty sunset. The villas too have the most extraordinary services for guests who wish to experience luxury & hospitality like no other. The villa has views of the Nandi Hills, the 18-hole Golf course and even the garden. The private pool, jacuzzi and high-ceiling interiors add to the resort's extravagance.
Also Read: Spend A Night In Asia's Most Expensive Suite In Jaipur Costing ₹30 Lakhs Per Night
Why Choose This Lavish Golf Resort?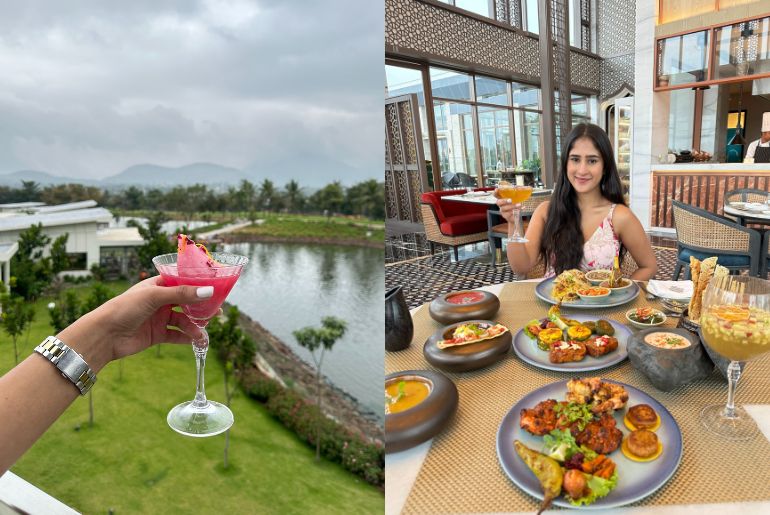 We all know the answer if given a choice of luxury or economy! Well, this golf resort charges ₹19 lakh per night for experiences larger than life. Here, you will have the experience of playing golf like professionals and at the same time, enjoy your time, savouring excellent wine and hospitality considered India's topmost. Spa treatment, sipping wine, painting sessions…the choices to destress from the hectic schedule and chaos in life is endless at this Golf Resort.
To know more about such luxury offers and resorts which offer guests experiences like no other in the world, head to watch the Wanderluxe episodes on our YouTube Channel.
Cover Image Courtesy: Curly Tales India