On October 20, the world celebrates International Chef's Day. It's a day to appreciate the wonderful chefs who work tirelessly to tantalise our tastebuds with delicious dishes and add the extra spark to our special occasions and our usual restaurant visits. This year, the theme is  'Growing Great Chefs' which highlights the importance of mentoring young chefs to hone their culinary talent and make a mark in the food industry. Chef Saransh Goila took this opportunity to share the changes he wishes to see in the industry and the lives of chefs.
On International Chef's Day, Saransh Goila Wants To See These Changes In The Food Industry
Saransh Goila the chefpreneur behind the delishaas Goila Butter Chicken took to Instagram to celebrate International Chef's Day. He often shares easy-to-cook Instagrammable food and drink recipes that Netizens love to experiment with. This time, apart from wishing young chefs a happy chef's day, he also listed down the changes he'd wish to see in the food and hospitality industry.
View this post on Instagram
In his candid post, Saransh Goila firstly and most rightly says, "Log kya kahenge has killed many dreams. Log kya khaenge has made countless dreams come true (What will people say has killed many dreams. What will people eat has made countless dreams come true).
Also Read: Inside Chef Saransh Goila's Los Angeles Diaries
Next, he quips "#StrengthHasNoGender" as a way to encourage women to become chefs despite the long working hours and strenuous jobs. He also draws attention to the fact that chefs don't have a life and they don't take offs. In the culinary profession, chefs often have to work on festive occasions. Also, he wants to fix the problem of chefs working extra hours without extra pay. Saransh Goila rightly says that chefs need a break too and it's time to fix this.
View this post on Instagram
Then, celebrity chef also states hard facts like chefs making far lesser money in comparison to artists and people in other skill-based professions. But Saransh Goila believes that this will change with more chefprenuers believing they deserve success with money and financial goals and not just accolades.
Also Read: Make This Delishass Masoor Aloo Biryani Created By Chef Saransh Goila Easily At Home
Netizens Take To The Comments Section To Wish Him
He wished both his fellow chefs and budding chefs on this lovely occasion. And he wishes they keep inspiring him on this wonderful journey. In his perspective chefs are artists and craftsmen and craftswomen. The chefpreneur rightly points out that cooking and serving food is an honourable profession to take up. Saransh Goila assures all the chefs out there that they aren't alone and their skills are backing them.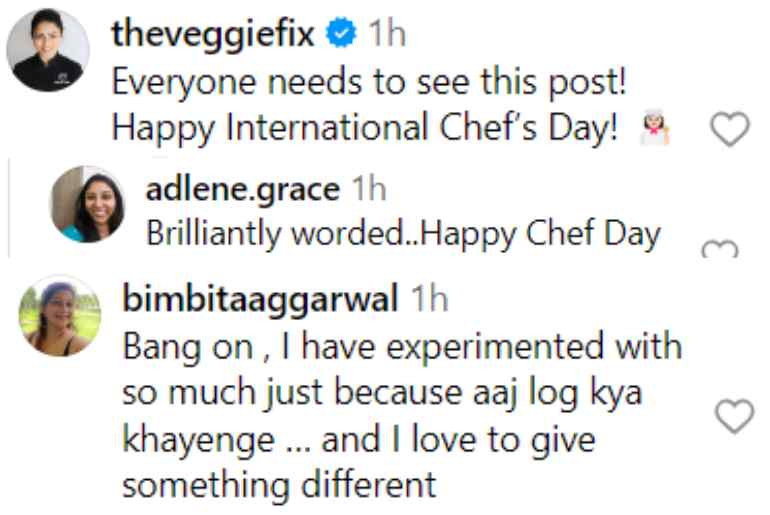 Netizens took to the comments section to wish the chef on this special occasion. @d.aishani comments, "Yo..thats the way to go…..Happy Chef's day & era". @suchismita_sadhu says,"Hit them with the karchi I say 😂😂😂 happy Chefs day SG".@theveggiefix states, "Everyone needs to see this post! Happy International Chef's Day! 👩🏻‍🍳♥️👨🏻‍🍳". @nima_nagarkar chimes in, "@saranshgoila people can say what they want but who gives a care do what you love doing and do it right and believe in yourself rest can Fck off".
Well, Saransh Goila's post is indeed a wodnerful reminder to foodies to appreciate and celebrate the exemplary services of chefs on International Chef's Day.
Cover Image Courtesy: @saranshgoila/ Instagram
For more such snackable content, interesting discoveries and the latest updates on food, travel and experiences in your city, download the Curly Tales App. Download HERE.
Good news! We are on WhatsApp! Subscribe to Curly Tales WhatsApp Channel to stay up-to-date with exclusive content and BTS. Join HERE.