Under 140 Characters

 
For all the caffeine addicts in Dubai, there has not been a better time to be alive. Quaint chains of coffee shops tucked in cul de sacs of Dubai and umpteen malls around the city have seen an exponential rise in creating unique coffee. Here are 5 unique coffees to try in Dubai 
1. Gold Coffee
Rolling Cones serves up a luxury gold cup of coffee which is bound to leave you gleaming with joy! All that glitters is not gold, but at Rolling Cones, it most certainly is, where a cup of coffee will make you rise and sparkle. The premium coffee with edible gold flakes sprinkled over, gives you a luxurious experience. We are sure nothing in the world that a cup of coffee can't solve and especially when its topped with gold.  The Coffee De Arabia will cost you AED 55, where you can choose from cappuccino or latte sprinkled with pure gold flakes. The premium coffee beans are sourced from far corners of the world to give you a completely luxurious experience. 
Location: Rolling Cones
Cost: AED 55
Time: 11:00 am – 11:00 pm
Contact: +97145531234
2. Charcoal Latte
The Secret Garden Cafe can easily be called a hidden gem in Dubai, serving some irresistible confectionery, secret mocktails and fresh juices. But what caught our attention was their one-of-its-kind coffee menu. Apart from the classic espresso and cappuccino, the cafe serves a signature coffee – the charcoal latte. The coffee is made of activated carbon, milk and vanilla extract and is divine! Don't get intimidated by the carbon. It has a whole lot of goodness wrapped in. Charcoal helps with kidney health due to its high absorption properties, aids teeth whitening and skin condition. So, now you don't have to feel guilty about drinking coffee!
Address: City Walk
Time : Everyday, 10:00 am – 12:00 am
Contact : 04 876 7508
Cost : 39 AED
3. Coffee In Edible Cups
Imagine drinking a coffee and at the end of it, you could just eat up the entire cup. Now that's something unique! Dum Dum Donutterie sells Edi Cookie cups which are served in three flavours – Lotus, Nutella and Kadak for AED 26 and is filled with coffee of your choice.  Dum Dum Donutterie as the name says it all, are famous for their doughnuts & are the world's first artisan baked doughnut/croissant brand.
Location: Umm Suqeim, Midriff and The Dubai Mall.
Cost: AED 90 for two.
4. Selfie Coffee

 
Love coffee? Love taking selfies? Well, Catch22 lets you combine both your passions and offers you a " Selfieccino," for only AED 20.  Catch22 in Dubai serves coffee with a selfie on it. You can have your own face or an image printed on a cappuccino or a latte, without paying anything additional for the art.  Click your selfie and share the picture with the barista (via WhatsApp, etc) and they will upload it to the machine, which will print the image using coffee.
Location : The Beach, Jumeirah Beach Residence.
La Mer, Jumeirah 1
Cost :  AED 20 for a coffee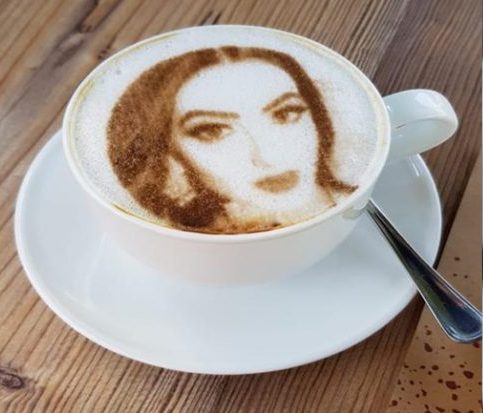 5. Stars On Your Coffee
Grey walls and minimalist chic furniture at Tub of Butter invites you to get lost in this breakfast eatery with your pancakes and dose of caffeine.  Also, if you're up to play the guessing game while sipping your coffee, you're in for a treat as you are likely to have celebrities like Al Pacino, Mona Lisa, Shah Rukh Khan and Marilyn Monroe etched on your coffee!
Address: Umm Al Sheif, Sheikh Zayed Road, Dubai, Al Safa, Dubai