Travelling is truly liberating- it not only helps you grow as an individual but also lets you challenge yourself in a situation. While the idea of travelling across the world sounds dreamy, doing it while breaking stereotypes sounds nothing but empowering and inspiring. And when it comes to women empowerment, Vatika- GCC's leading natural hair care brand has launched a campaign called- 'Vatika Voices' with an aim to empower women. As a brand, Vatika aims to help women by listening to their powerful stories and helping them achieve their dreams. The aid provided by the brand will differ from person to person. The brand will ensure to help the women with just one aim – Empowering Women to shape the future of our society.
Through the Vatika Voices campaign, Vatika aims to show that empowered women are self-sufficient and add more value to society. In fact, the campaign is solely run by women of determination who have managed to prove what it takes to be them. And as a part of the campaign, Vatika and Curly Tales got candid with Chantal Asaad, an Emirati woman who travels like a boss on her motorbike while taking the less travelled road across the Middle East in her travel series with Catherine Hector- The Open Road.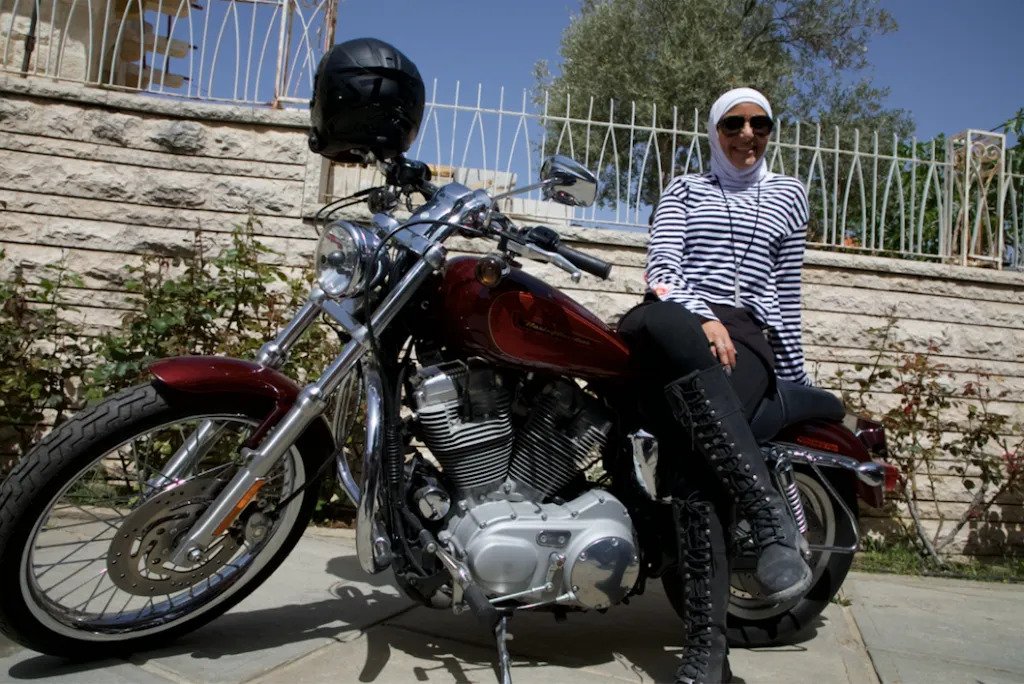 Growing Up Years
Chantal's show The Open Road has received a lot of appreciation- however, becoming one of the first Arab women in the Middle East to explore the country on a bike was never her dream. Born and brought up in Canada, Chantal had a fun outdoorsy childhood. Yes, she was passionate about cars and bikes, the sound of the engine thrilled her, but she always wanted to become a criminal lawyer to help people. However, fate had something else planned for her.
Learning To Ride A Bike
After completing her education, Chantal had secured a job in a Fortune 500 Media company, and biking was never a part of the plan. However, five-six years ago, when she visited Canada, she signed up for a biking course, and the rest is history. Speaking about this, she said,
"I signed up for a bike course over the weekend, and it was the best decision of my life."
Journey As A Biker And Parental Support 
Chantal, who is is currently a marketing & communications manager for a first aid & lifeguard training company called Blue Guard ME, started riding about five to six years ago. Biking happened by accident, but it was certainly the best thing that happened to her. Her parents were always supportive of her. They never forced her to do anything and were the opposite of being conservative.
And speaking about her journey, she said,
"I was introduced to riding groups in the UAE. Everyone was extremely supportive and ready to help show me around. I got a lot of DM's about the best back roads in the UAE, offering to go for rides together."
The Open Road Show And Her Experience
And while enjoying Bike trips, it was The Open Road Show that made her fall in love with biking. The Open Road became the first show to feature female bikers of Arab origin. For both women, taking such an arduous, long journey on a motorcycle was a first, but that enticed them to join the show. During the show- One Hijabi (Chantal Asaad) and One non-hijabi (Catherine Hector) rode around the Middle East to discover the culture on two wheels. It was an unscripted travel documentary and was filmed in three countries in the Middle East.
While filming the show, Chantal and Catherine cooked with locals, explored more of the Middle Eastern culture and felt free like never before. Yes, people were shocked since this was something that was never seen or done before. However, the experience that they gained while riding across UAE, Jordan and Lebanon set them free.
They rode through the rain in Jordan and extreme heat in the UAE. Chantal and Catherine learned to manage their heavy Harley Davidson cruisers through desert sands and every possible terrain. Speaking about her experience, here's what Chantal had to say,
"Being part of the show was a once in a lifetime experience! I could have never dreamed of such a life-changing experience, and I am so grateful that it happened. People all over were very welcoming. Riding around the ME was surreal! Taking in the sights, and the cultures while being on two wheels without a barrier in the way cannot be compared to traveling in a car. We were able to get closer to people- a bike is a conversation starter! We met bikers in every country we visited and were able to try local dishes. We did face a few challenges- however, we overcame all that smoothly."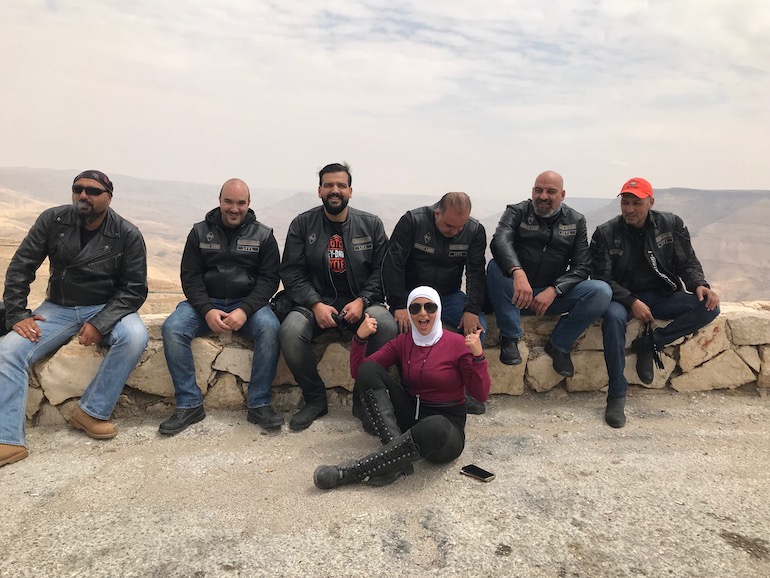 People's Reaction After Seeing Two Girls On Bike 
Chantal and Catherine were two Muslim women on a bike exploring the Middle East all by themselves. Yes, people did get shocked in some parts of ME, but others clicked pictures with them, invited them to their house for Tea, and through the process, they learnt a lot.
Message For Young Women Out There
Chantal is truly an inspiration for many women, especially young riders out there. And when it comes to giving one piece of advice to them, here's what she said,
"Find what you love to do, and do it. Don't let other's opinions allow you to get off the path of your passion. At one point before filming the show someone who had never met me before and had never seen me ride told the producer- oh Chantal can't ride Jebel Jais, she's not advanced enough to do it – guess what? I rode Jebel Jais UP & DOWN! The important thing is- I didn't do it to prove a point I did it for myself it's a way of life. Live it for yourself!"
Well, Chantal inspires us in many ways, and Vatika and Curly Tales want to tell all you lovely women out there that it is never too late to live your dreams.