India is home to some of nature's most scenic magic to witness. Be it beaches or mountains or valleys or waterfalls, you will find the best of everything in this country. Most states here feature the most gorgeous waterfalls overflowing gracefully all around. If you want to experience waterfalls this year, here is the ultimate of the most beautiful waterfalls in India.
23 Serene Waterfalls To Visit In India This Year
1. Athirappilly Waterfalls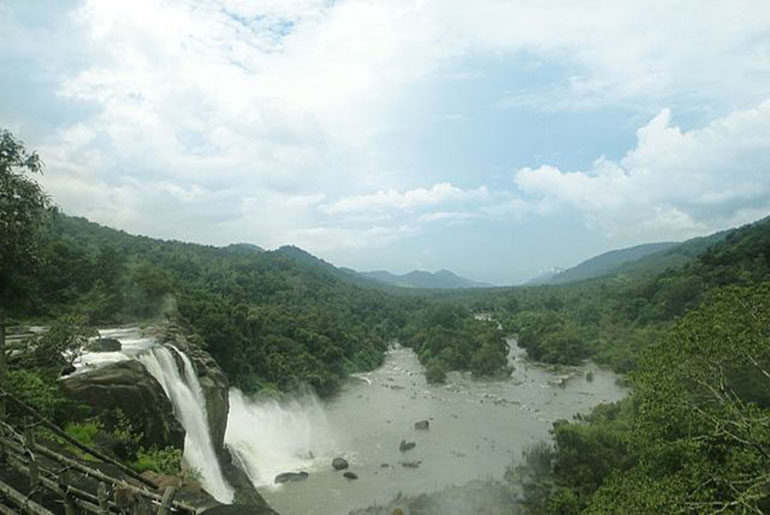 You will some of India's most enigmatic beauty hidden in Kerala. One of the most stunning waterfalls, Athirappilly Waterfalls is in the Thrissur district of Kerala and is visited by thousands and lakhs every year. This is a great place to witness greenery in abundance. 
Also read: Briar Tea Bungalows In Meghamalai Have A Private Forest, Lush Flora And Hidden Waterfalls
2. Dudhsagar Falls
Nestled in Sonaulim, Dudhsagar Falls is one of Goa's most iconic tourist attractions to explore, And why won't be on everyone's bucket list? Surrounded by lush greenery, the views are simply unbelievable with the waters gushing down from a height.
3. Talakona Waterfalls
Chittoor's famous Talakona Waterfalls overflowing from a height of about 270 feet are a magnificent sight to behold. Enclosed by verdant greenery, you will find every corner flourishing with a variety of flora.
4. Nohsngithiang Falls
Nohsngithiang Falls is such an iconic tourist attraction in Shillong. What makes this special is that it is India's fourth-highest waterfall gushing down from a height of 1033 feet.
5. Jog Falls
Nestled in the Shimoga district of Karnataka, Jog Falls is surrounded by epic greenery that is perfect for a serene getaway. This is a paradise for adventure enthusiasts.
Also read: This Eco-Resort In Kerala Sits Amid The Dense Jungle With Private Access To A Waterfall
6. Kumbakkarai Falls
If you want to explore an offbeat waterfall, Kumbakkarai Falls in the foothills of the Kodaikanal Hills is your destination. You will find magical nature and peace here in abundance.
7. Shivanasamudra Falls
To witness India's second-largest waterfall gushing down from a huge distance surrounded by immense green flora, you surely need to explore Shivanasamudra Falls.
8. Hogenakkal Waterfalls
Witnessing Hogenakkal Waterfalls cascading down is a beautiful experience. The panoramic views from here are absolutely out of this world.
9. Hebbe Waterfalls
Hebbe Waterfalls in the Chikmagalur district of Karnataka needs to be on your itinerary while travelling to the state. The coffee plantations and their aroma enveloping the falls is a sight to behold.
10. Rudra Nag Falls
Exploring the Rudra Nag Falls is a beautiful experience of a lifetime. The views with snow-capped mountains in the background are delightful scenes to stare at.
Also read: 5 Hidden Waterfalls In Ranchi That Can Strike Your Awe
11. Unchalli Waterfalls
Cascading down into the River Aghanashini from a height of around 381 feet, the Unchalli Waterfalls in Karnataka is one of India's most serene falls. Also known as Lushington Falls, the views from here are unimaginable.
12. Magod Waterfalls
Another stunning tourist attraction to explore in Karnataka is Magod Waterfalls. It is a group of falls where the Bedti river gushes down from a height of about 656 feet.
13. Barkana Falls
Nestled in the Shimoga district of Karnataka, Barkana Falls is a wonderful sight to explore. The scenic views enveloping the falls with lush greenery make up for a perfect quick getaway.
14. Catherine Water Falls
When in Tamil Nadu, travelling to Catherine Water Falls is a must! Nestled in Kotagiri, this double-cascaded waterfall cascading down is a magnificent sight to witness.
15. Dabbe Falls
Surrounded by the lush greenery of the Western Ghats, Dabbe Falls is one of the most beautiful falls in India. The vibes here are immaculate and serene.
Also read: Trek To Phe Phe Waterfall In Meghalaya To Experience Paradise On Earth
16. Chachai Falls
Chachai Falls is not only one of India's most beautiful falls but also the 23rd-highest fall in the country. Nestled in Madhya Pradesh, this is a great place to enjoy nature.
17. Kune Falls
Lonavala is a paradise for a quick and short getaway for Punekars and Mumbaikars. And you will find Kune Falls here cascading down cliffs and rocks from a height of 100 meters surrounded by mesmerising greenery.
18. Bhagsu Waterfalls
The list would have been incomplete without including McLeod Ganj's Bhagsu Waterfalls in it. The ambience here is simply the best to spend some beautiful moments in solace.
19. Elephant Falls
If you are planning a holiday in Shillong, do not forget to add Elephant Falls to your itinerary. This is one of the most gorgeous tourist attractions in Shillong, making it a mass favourite.
20. Lakkam Waterfalls
Nestled in Munnar, Lakkam Waterfalls is a popular touristy destination and a must on most tourist's itinerary. You will find the waterfall while travelling on the way to Marayoor from Munnar surrounded by lush flora.
Also read: Jharkhand To Get Beautiful Skywalks Offering Scenic Views Of Tourist Sites & Waterfalls; Are You Excited?
21. Chitrakoot Falls
Nestled in the Bastar district of Chattisgarh, Chitrakote Falls gushing down into the waters from around 300 metre is a wonderful sight to witness. Also, popularly known as the Niagara Falls of India, this is the largest waterfall in India.
22. Naneghat Reverse Waterfall
Naneghat Reverse Waterfall in Maharashtra is one of India's best falls. Nestled about 150 km from Pune, this place is perfect for adventure buffs.
23. NohKaLikai Falls
Nestled in Cherrapunji, the water cascading down the rocks is a dynamic vision to witness. The gushing sounds of the falls surrounded by dense flora is a stunning destination to explore.
Which of these falls in India have you visited yet? Do not forget to add these falls to your bucket list, if not explored them yet.
Cover Image Courtesy: Pixabay