The North-Eastern states of India, widely known as the seven sisters, are a hidden jewel. The world is only now discovering the robust beauty and picturesque scenery of the Northeastern states. Meghalaya is a true treasure trove and If you are on the lookout for treks near Meghalaya, head to Phe Phe Waterfall and experience the mesmerising beauty of mother nature.
Phe Phe Waterfall Or Paradise Waterfalls
Phe Phe waterfall surrounded by lush green hills on all sides is also known as Paradise waterfall. It is located in Meghalaya's West Jaintia Hills District, alongside the little village of Jarain. This place, which is just a few kilometers north of Krangsuri Falls, is hidden even to the locals. This is because these falls are not included on the popular tourist tours and is a hidden gem of Meghalaya.
Also read: Peru's Bride Waterfall Makes The Internet Sing Praises Of Mother Nature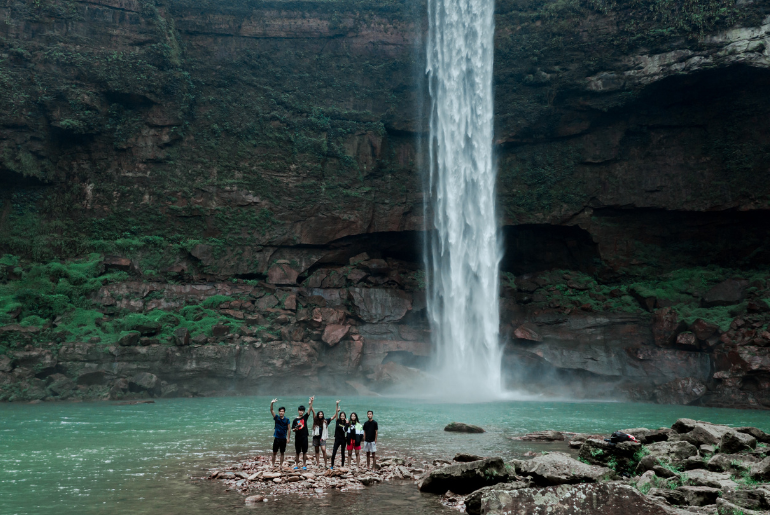 How To Reach Phe Phe Waterfall?
From Jowai on the route to Krangsuri Falls, this stunning waterfall is 20 kilometers. A sumo or cab to Jowai is available from any of Shillong's taxi stand. After arriving in Jowai, there are cabs available to take you to the waterfalls.
Also read: Goa's Waterfalls To Get Facelift With Picnic Areas, Tour Guides, Bio Toilets & More
Trek To Phe Phe Waterfall
If you are planning to trek to this waterfall, be prepared to trek for around two hours. You need to cross a small river by kayak to reach the falls. The terrains are plain and from there it descends steeply to get to Paradise falls. If you have come across a cave-like enclosure with a waterfall that is at least 15 feet tall and falls into the perfectly blue water, then you have reached your destination. Upon reaching the waterfall, you will feel as if you have been transported to paradise on earth.
Be cautious there are unique carnivorous plants present on the way.
Best Time To Visit
Even though the waterfall is accessible throughout the year, the best time to visit is from September to April. It is a perennial waterfall that never dries up.
Also read: These Twin Waterfalls In Lonavala Have Caves Beneath Them