When in Hyderabad, you need to try out the best dishes in the city! Here are 5 dishes you have to try in Hyderabad –
1. Waffle Popsicle At StickHouse
The love for waffles never ends and StickHouse in Hyderabad has made comfort food available to us easily by introducing waffles on a stick.StickHouse in Hyderabad has multiple outlets and we can't keep calm about their unique flavours of gelato ice creams and waffles being served on a stick.
Also read: Try This Waffle Popsicle In Hyderabad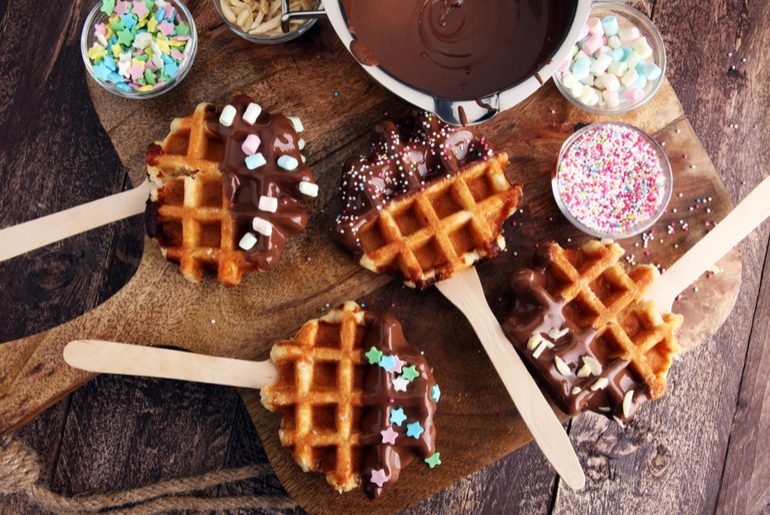 Address: StickHouse, 3rd Floor, Forum Sujana Mall, food court, Kukatpally, Hyderabad
Phone: +91 8106155965
Cost for two: ₹250
2. Irani Chai With A View At Nimrah
Experience an authentic Irani Chai with views of the Charminar at this Irani cafe –Nimrah in Hyderabad. Situated right next to the iconic monument, Charminar, this cafe is a must visit dating back to the1970s. Irani Chai is an integral part of Hyderabad which was introduced by the immigrants from Persia who settled here on business purposes. Sip on a hot cup of chai while taking in views of the Charminar, the Nimrah Cafe & Bakery is the best spot for it. The friendly owner, Aslam will teach you and explain to you the whole process of how it's made. Sometimes, chunks of mawa are also added to the milk to make it thicker and tastier. You can match it up with 18 varieties of biscuits served at his shop.
Also read: Sip On This Irani Chai With Views Of The Charminar In Hyderabad
Address: Nimrah Cafe & Bakery, Beside Mecca Masjid, CharminarRoad, Charminar, Hyderabad
Phone: +91 9848089343, 040 24564909
Cost for two: ₹100
3. Authentic Andhra Meals On A Banana Leaf At Kamat
Have your share of delicious Andhra thali on a banana leaf for an authentic dining experience at Kamat restaurant in Hyderabad. Kamat restaurant which specializes in South Indian and North Indian cuisine has an outlet located in Adibs on the ground floor that serves authentic Andhra Thalis on a banana leaf. This specialty is hard to come by and the restaurant does all vegetarian thalis which are absolutely delicious.
Also read: Enjoy Authentic Andhra Meals On A Banana Leaf At Kamat Restaurant In Hyderabad
Address: Near Ramakrishna Theatre, NTR Estate, Jawaharlal Nehru Road, Abids, Hyderabad
Phone: 040 24736510, +91 9949064000
Cost for two: ₹500 (Approx.)
4. Dessert Nachos At B-Dubs
Have you ever heard of Nachos as a dish for dessert? We bet not! Try this unique combination of sweet and crunchy at B-Dubs in Hyderabad. Buffalo Wild Wings, known as B-Dubs in Hyderabad is world's most famous Sports Bar which opened its doors in Hyderabad recently and we can't keep calm. Although, known for its draft beer and chicken wings, one particular dish that we're absolutely going gaga about is the Dessert Nachos.
Also read: Binge On Nachos For Dessert At B-Dubs In Hyderabad
Address: B-Dubs, Plot 806, Axis Tower, Road Number 36, Jubilee Hills, Hyderabad
Phone: 040 33165323
Cost for two: ₹2,000 (Approx.)
5. Spiciest Chicken Wings At The Wingster
The Wingster in Madhapur, Hyderabad challenges you to finish a plate of their spiciest chicken wings and you can win ₹1000! Do you have what it takes to finish the spiciest chicken wings in Hyderabad? The Wingster in Madhapur is challenging you to finish 8 bone-in wings and win ₹1000! Testing your love for spicy food, without the use of napkins or water! But here's the deal, if you're the fastest person to finish the plate, you get to win the cash prize and you will be the given the title of the 'Lord Of The Wings'. You might even make it to the Hall Of Fame!
Also read:Do You Dare To Finish The Spiciest Chicken Wings In Hyderabad?
Address: The Wingster, 824, 100 Feet Road, Madhapur, Hyderabad, Telangana 500081
Phone: 040 6526 2266
LIKE Curly Tales on Facebook | Instagram| Twitter
You can subscribe to our newsletters