Guys, the year is almost about to end and we can't help but drown in nostalgia. This year has been a cracker of a deal with awesome food we discovered and places we stumbled upon that were awe-inspring. Now lets give few moments of attention to something which makes life worth living….We are talking about our endless love for desserts! Here is a round up of some of the best desserts in Delhi, we hunted down this year.
1.  Munch On Jalebi Churros & Jalebi Nachos At Prankster In Gurugram
Known for quirky and unique food combinations, Prankster in Gurugram is serving Jalebi Churros and Jalebi Nachos to satiate your sweet cravings.Jalebi lovers can legit gorge on this delicious combination of Jalebis and Nachos. Served at Prankster that's touted as India's first Food and Brewery Campus, it has a unique ambience with a dash of throwback school theme including classroom areas, library space and hostel rooms.End your meal on a perfect note with a hint of sweetness, gorge on Jalebi Churros and Jalebi Nachos topped with saffron ice cream. The dish is called textures of Jalebi, it might be a bit too sweet but, the ice cream balances out the sweetness.
Deets
Address: Prankster, Site 8-10, Sector 29, Gurgaon
Phone: 0124 4266653, 0124 4266654
Cost for two: ₹1,500
2. Cheesecake Popsicles At Demould In Delhi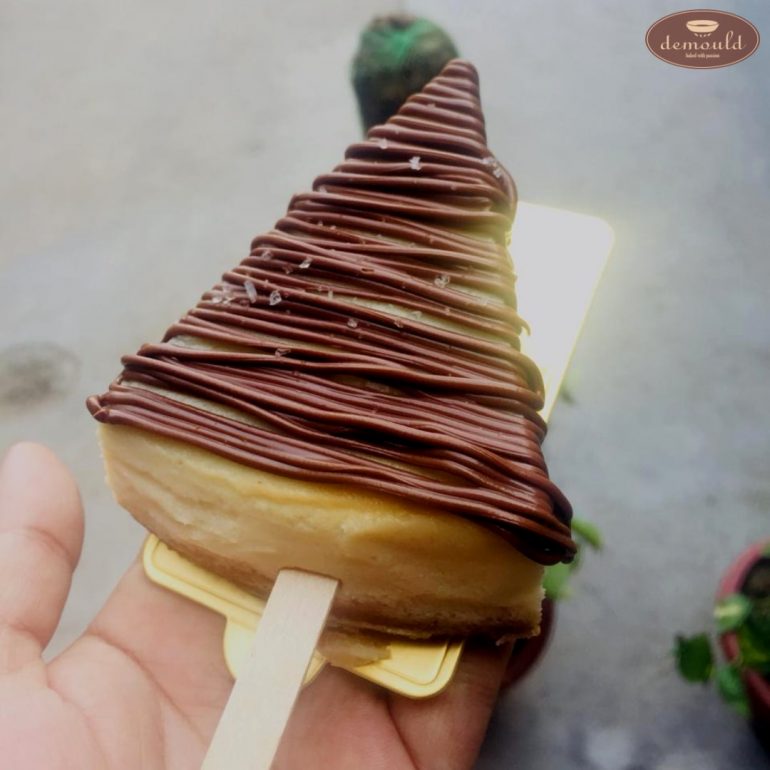 Demould in Rohini takes your cheesecake love to the next level by serving cheesecake popsicles starting at Rs 150 only!Cheesecake is somehow synonymous to late night sugar craving. You are tucked in your blanked with your favorite movie on and bam! Suddenly it strikes! Dessert cravings come unannounced and precisely because we understand that, we found you your midnight savior! All you need to do is pick up your phone, call and choose your favorite popsicle!These  peeps serve all kinds of cheesecake popsicles like Oreo Popsicles,  Salted Caramel Popcorn Cheesecake Popsicle, Mango, Nutella Sea Salt, Dark Chocolate Passion Fruit and Blueberry Cheese Popsicle. What is your favorite flavor? These yummy Cheesecake Popsicles are priced pretty reasonably, starting at Rs 150.
Deets
Address: Demould – Flat 9, Pocket C/12, Maharaja Agrasen Marg, Sector 3, Rohini
Cost: ₹150-300 (for two)
Contact: +91 8447925925
3. Baked Rasgullas At This Eatery In Delhi
Get a slice of Bengal in Delhi by indulging in baked rasgullas at Kamala Sweets in Delhi's CR Park. If there's any place to get a slice of Bengal in Delhi, it is in CR Park. Opened in 1984, Kamala Sweets is one such shop that is serving delectable cuisine's, authentic Bengali sweets like Baked Rasgulla and more. One of the popular outlets in CR Park, it is known for its authentic Bengali sweets that serves a wide range of assortments of Sandesh flavours and sumptuous Rasgullas.Satiate your sweet cravings and try the Baked Rasgullas that come in a plate of six pieces. These rare rasgullas are baked and are sugary with lots of syrup, a treat to the eyes and tummy!
Deets
Address: Kamala Sweets, K/1-101, Chittaranjan Park, New Delhi
Phone: 011 26275476, 011 41602577
Cost for two: ₹250
4. Delicious Brownie Cupcakes In Delhi
You can devour on drooling brownie cupcakes that have molten chocolate and ice cream topping in GK 1, Delhi. Brownie lovers can head to Get Desserted located in the posh market of GK 1 in South Delhi.Indulge in their Brownie Cupcakes that come with molten chocolate filling and topped with a scoop of ice cream. This Brownie in a form of a cupcake is pure happiness and bliss.  Grab this small bundle of joy that has the softness of brownie that comes with oozing white chocolate and dark chocolate in the middle and topped with vanilla ice cream with a drizzle of some more chocolate sauce.
Deets
Address: Get Desserted, M2, Main Road, Greater Kailash 1 (GK1), New Delhi
Phone: +911140224811
Cost for two: ₹250
5. Era Lounge In Connaught Place Serves The Gulab Jamun Cheesecake 
Serving absolute dessert goals, Era Lounge in Delhi is where you can indulge in the sinful gulab jamun cheesecake! Serving absolute dessert goals, Era Lounge in Delhi is where you can indulge in the sinful gulab jamun cheesecake!
Deets
Address: H-36, Connaught Circus, Block H, Next to Petrol Pump, Connaught Place, New Delhi
Phone: 011 49147910, +91 8388888007
Approx cost: ₹1500 for two people