Experiencing some thali love? Well, we're here to give you a countdown of the 5 best thalis in Mumbai that you have to try before the year ends!
1. Dara Singh Thali – Mini Punjab
Calling all the mighty foodies to try the grand Dara Singh Thali at Mini Punjab Lakeside at Powai and Masaledaar By Mini Punjab at Thane. It isn't for the weak-hearted because it is impossible for one person to finish it on their own!  Served in veg and non-veg options, it has Aaloo Paratha, Chur Chur De Naan, Makki Di Roti, Murg Musallam Rice, Lamb Yogurt Curry, Chicken Amritsari, and lots more. The accompaniments include 4 types of beverages, 3 chaat options, 1 soup, pickle, chutney and 7 desserts. Overall more than 40 items are served in this thali.
Address: 
Powai: Mini Punjab Lakeside, Adishankaracharya Marg, JVLR, Near Panch Kutir Bus Stop, Powai, Mumbai -400076
Thane: Masaledaar By Mini Punjab, 1st Floor, The Thane Club, Mohan Koppikar Road, Teen Hath Naka, Opposite Raheja Garden, Thane – 400601
Phone:096999 58688 (Powai),  076665 58688 (Thane)
Cost: ₹2400 for Veg Dara SinghThali  
          ₹3200 for Non-Veg Dara SinghThali
2. Maharaja Thali – Quarter Canteen
Calling all the mighty foodies to Maharaja Thali at Quarter Canteen, Bandra. It isn't for the weak-hearted because it is impossible for one person to finish it on their own and if you finish it you don't have to pay for it. From starters to the dessert — which will never fail to end your craving for meat. Well, we an option for Veg Maharaja Thali too.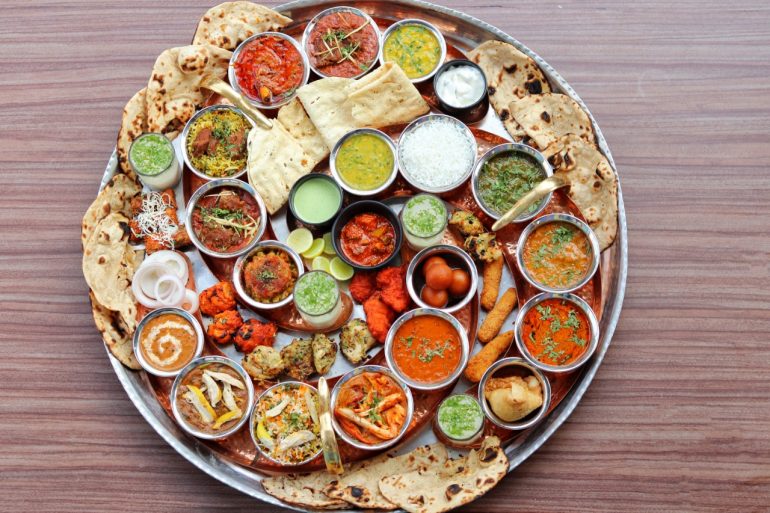 The Non Veg Maharaja Thali consists of Mains Butter Chicken , Mutton Rara , Dal Makhani , Chicken Biryani etc and Starters like Fish Fry , Murgh Lasooni, Lucknowi Boti etc.. with other accompaniments and desserts whereas the Veg Maharaja Thali consists of Mains like Paneer Butter Masala , Methi Mutter malai etc and Starters like Tandoori Aloo, Paneer Malai Seekh , Paneer Malai Tikka along with other accompaniments and desserts.
Address: Quarter Canteen,  Ground Floor, 35th Street, Linking Rd, Bandra West, Mumbai, Maharashtra 400050
Phone: 022 2600 2223
Price: Veg – Rs.1999 all inclusive , Non Veg – Rs.2499 all inclusive
Time: 12 pm – 3:30 pm & 7pm – 1:30 am
3. 3 Cuisine Thali – Bombay Vintage
Mumbai's brand new Bombay Vintage in Colaba makes the perfect assortment of multiple cuisines in one thali at only ₹295. Get an assortment of Malvani, Parsi & Gujarati cuisine, all in one Thali at Mumbai's Bombay Vintage in Colaba. Of all the traditional feasts in India, a thali makes for the perfect assortment of delicious regional dishes on a single platter. The quintessential Indian thali is more like a cultural exploration and makes for a complete meal in itself. As diverse and distinctive as they are, all the Indian thalis serve local and seasonal delights and showcase different cooking techniques that make a particular regional cuisine unique.
Address: Bombay Vintage, Opposite Regal Cinema, Indian Mercantile Mansion, Regal Circle, Madame Cama Road, Colaba, Mumbai: 400001
Phone: 02269444123 or 02269444124
Cost: ₹295 for the thali
Available from Monday to Friday from 12.30 PM to 3 PM
4. Malvani Thali – Khadpe's
Not everything in SoBo burns a hole in your pocket! Definitely not Prabhadevi's hidden gem – Khadpe's. A restaurant that serves the most authentic and yummy Malvani meals. We tried their selection of thalis. The Fish Thali (₹330) was our favourite and you can get a fried Pomfret, Sol kadi, rice, 2 types of fish curry, sukha javla Kismur, bhakri/vade/chapati. You can replace the Pomfret with Bangda, Surmai, Bombil, Prawns, Mandeli. Tisrya, Crab or Shark Fry. We also tried the Chicken Thali (₹240), the Egg Thali (₹165) or Veg Thali (₹165). If you're up for something lighter, try their Mutton Kheema Misal, and Javla Bhajji.
Address: Khadpe's Malvani And Konkni Restaurant, Three View Co-Operative Housing Society, 515-A, Shankar Ghanekar Rd, Opposite Bengal Chemical, Dadar West, Prabhadevi, Mumbai, Maharashtra 400025
Phone: 022 2430 0231
5. Continental Thali – Bohemian Brew
Get loaded with pasta, garlic bread, chicken, French fries and more with the Continental Thali at The Bohemian Brew in Khar. Treat yourself to a brand new Thali in Mumbai city. The Bohemian Brew in Khar serves the Continental Thali and its absolutely delicious! You get plenty of options to choose from like opt for a risotto or a pasta.We went with a Spaghetti in basil pesto with chicken. Along with that, you get 4 options for mains and we went for the Lemon Coriander Chicken with mushroom brown sauce on top. You could also go for fries or mashed potatoes.
Address: Bohemian Brew, 760, Mahesh Apt, TPS III, 5th Road, Khar West, Mumbai, Maharashtra 400052
Phone: 096996 79776
Approx cost: ₹1,200 for two people