Are you up for an adventure? If you said yes, you might want to rethink your answer after I tell you what I'm about to say. Aside from the famous Dil Chahta Hai-style road trip with your friends, several rides are full of action. But if you're up for an adventure, here are some things you should know. As you ride your bike or drive your car on a dangerous road, you look out the window and see a hellish valley. The air can even feel your worry. So, besides a nice ride, there are also many of the deadliest roads in Ladakh. If you make it back alive, you'll never want to drive on them again. 
1. Gata Loops 
Sharks go back and forth like they're in a road whirlpool. Gaata loop is just the same. Have a look. Can you count the loops? It's quite a test even for experienced truck drivers who drive in those parts of the country. There are shortcuts between the loops, but they can only be used by small vehicles. Okay, wants to hear something Spooooky!!! Then, listen to this: Several truck drivers and people who pass by that loop have said that the ghosts of dead truck drivers haunt the loops. 
Also Read: The Boutique Property, Dolkhar Is The Dreamiest Place To Stay In Ladakh
2. Chang La 
This pass is 5.360m (17,590ft) above sea level, making it one of the deadliest roads in Ladakh. It is another high mountain pass that can be driven over, like Khardung La. But, attention, all adrenaline junkies! The excitement of being at the Changthang Plateau's entrance doesn't last more than 20 minutes.
The Indian Army keeps a close eye on the Changla Pass because it is close to the Chinese border and is always covered in snow. The best time to drive over the pass is in the summer. Anyone who sees the pass and its stunning beauty is left speechless.
A fake sadhu named Changla Baba is said to be the inspiration for the name Changla. Moreover, it made this road less beautiful by building a temple at the pass in the name of that made-up Changla Baba. So much for faith without proof.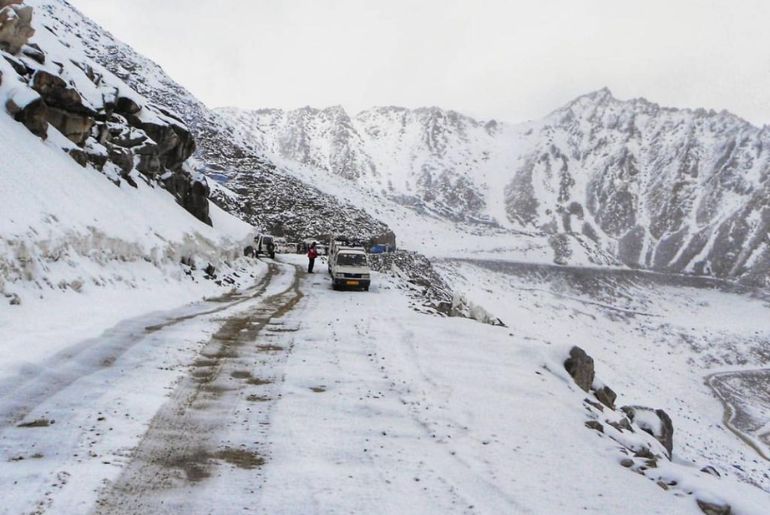 3. Umling La
We now know that Khardung La is not the highest road that cars can drive on. This game has a lot more to offer. Umling La, in Ladakh, is a new name on the list of the world's highest roads that is motorable. It officially beat Khardung La as the highest pass that cars can drive over in 2017.
This Only permit-visit umling la pass is very close to the Indo-China border, and whether or not you can visit it depends on how well you prepare for it. So it would be best if you started taking care of your health before riding on one of these deadliest roads in Ladakh. 
Also Read: Jio 4G Will Now Work At Ladakh's Pangong Lake; Tourists Can Stay Connected!
4. Khardung La 
Khardungla Pass is the entrance to the Shyok and Nubra valleys. It is the highest pass that can be reached by car in the world. The Indian Army keeps a close eye on this dangerous unpaved road 24 hours a day, 7 days a week, where most people would get altitude sickness.
The road isn't paved, and the frozen mix of ice and dirt makes for a narrow, slippery path with deep valleys on both sides. The pass is important in history. Khardong La is on the main caravan route from Leh to Kashgar in Chinese Central Asia.
5. Zoji La 
One of the deadliest roads of Ladakh is Joji La Pass. The eyelid doesn't flutter when it's said that the Banda will fall straight down from 3,538 meters. This road goes between Srinagar and Leh. This pass leads to Kashmir from Ladakh. It is a very hard place to live, where temperatures can get as low as -45 °C. On most days, the roads here are full of mud. At the same time, the snow makes this road even more dangerous. 
Also Read: Here's How To Deal With Altitude Sickness In Ladakh
Put on your seatbelt because you're about to go on the adventure of a lifetime.