Delhi is a hub for all foodies to devour lip-smacking delicacies at super affordable prices! Binge on these 5 dishes that you can eat while on a budget in Delhi.
1. Pizza Parantha, Noida
Rs 110-180
Parantha lover? Head to Hurry's Parantha in Noida and devour in unique varieties of paranthas like this one – Desi style pizza parantha. The pizza parantha comes with a stuffing of veggies and sauce, smeared with butter on top. Now this is what a proper meal looks like. The paranthas come in lots of varieties like Farm fresh, exotic Meza, and even cheese burst delight. Other varieties of paranthas include chicken keema, Delhi-6, mutton jigra parantha and more. The pizza parantha will cost you between ₹110 to ₹180 and is sufficient enough for two people.
Address: Hurry's Parantha, J-44, Sector 18, Noida
Phone: +91 9749494933, +91 9749494934
Cost for two: ₹110-180
2. Shahi Tukda At Cool Point
Rs 30
It's a Mughlai bread pudding with a delectable taste perfect for a dessert. It is served hot and includes bread, milk, khoya and garnished with Pista and costs just ₹30.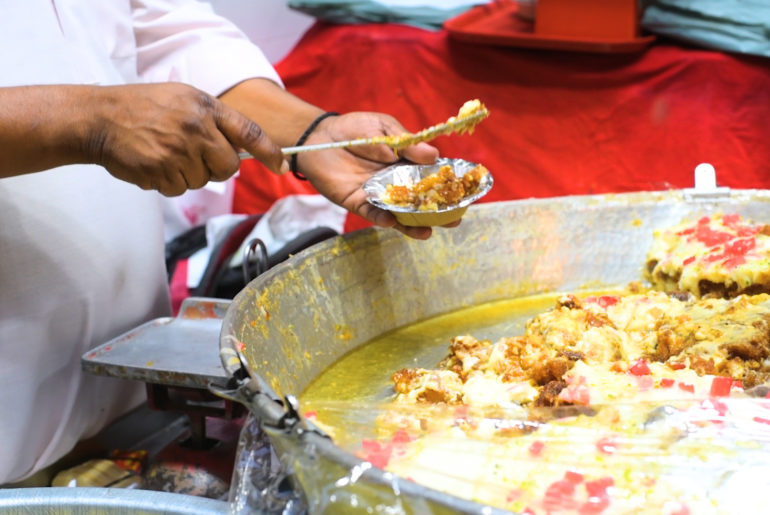 Where: Bazar Matia Mahal, Matia Mahal Rd, Old Delhi
Price: ₹30
3. Pizza Omelette, Dwarka
Rs 100 onwards
Located opposite Goyal Sons, it dishes out Pizza Omelette made out of 10-15 eggs! The stall has gained its fame through unique and innovative egg dishes like these. Get a delicious omelette of 3 eggs starting at Rs 100.
Address: Dwarka ki Spl. Pizza Omelette, E- 561A, Opposite Goyal Sons, Ramphal Chowk, Sector 7, Dwarka
Phone: +91 8010781018, +91 8287019925
Cost for two: ₹250
4. Amritsari Kulchas At Kulcha King
Rs 120 onwards
Kulcha King, located in Sarojini Nagar, serves some authentic Kulchas and we are here for it. This 8 year old eatery in Delhi serves Amritsari Kulchas, which are an actual definition of buttery Punjabi food. Open at 9 in the morning, this eatery is the perfect place to grab some hot delicious breakfast. Their Mix Veg Kulcha contains the right amount of masala, just enough to spice our life. For the spice lovers! The Masala Kulcha is at your service. Topped with some extra spices, this one is a treat to your taste buds.
Address: Shop 144, Ring Road Market, Sarojini Nagar, New Delhi
Timing: 8:30 AM to 10:00 PM
Cost for two: ₹200
5. Dinesh Ke Chole Kulche
Rs 30
The unique feature about this kulcha is that they are deep fried with lots of spices and masala like onion, tomato and garlic and added with lots of butter on it. The masala is their secret ingredient and clearly, a winner which makes this delicacy a stand out dish as compared to other chole kulche in the capital city. The entire dish is served hot with freshly made chole along with salad having raw onions, pickle, lemon and green chilli. You can gorge on this North Indian dish for just ₹30.
Address: Dinesh Chole Kulche, Azadpur Shopping Complex, Near Akash Cinema, Delhi
Cost: ₹30 onward