Dubai's food scene needs no introduction! While the city always has some new restaurant cropping up, there are a few gems that have stood the test of time and continue to serve us. From biryani to kebab and authentic Arabic cuisine, here are 5 of Dubai's oldest restaurants. Its time we salute these little legends!
1. The Arabian Tea House, Al Fahidi
This quaint tea house in the Al Fahidi Historical Neighbourhood, takes you back into Dubai's past. As you step into the Arabian Tea House you get transported into the old times. Turquoise benches, white rattan chairs, lace curtains and beautiful flowers, give you a perfect ambiance to enjoy your cup of gahwa (traditional Arabic coffee) in the shade of an old tree. The tea house offers an authentic Emirati experience offering Arabic breakfast trays, appetizers, salads, sandwiches, biryani, barbecue and much more.
Where: Al Fahidi Street
Timings: 07:30 AM- 11:00 PM
Contact: +971 4 353 5071
View this post on Instagram
2. Ravi Restaurant, Satwa
UAE's legendary Ravi. Chaudary Abdul Hameed is a name popular among Dubai foodies. Hameed started the restaurant in 1971, when he came to Dubai. The restaurant has been serving foodies for over 40 years now and is in fact famous among tourists as well. When here, you can binge on chicken and mutton kebabs, butter chicken, mutton peshawari, chicken biryani and lassi in reasonable prices. The restaurant boasts a casual environment in Satwa and uses basic tables and chairs, a plastic table cloth, simple white plates and polystyrene cups even today. Meanwhile, here are Indian Restaurants In Dubai That Serve The Best North Indian Cuisine.
Where: Al Satwa
Timings: 12 PM- 12 AM
Contact: 04 331 5353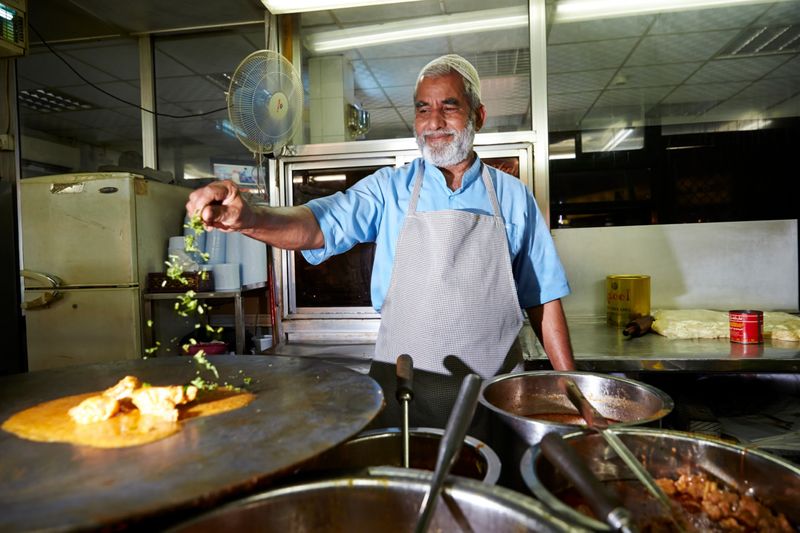 3. Al Ustad Special Kebab, Bur Dubai
Dubai loves its Kebabs and Meena Bazaar, the city's buzzing area is home to one of the oldest hidden gems. Al Ustad Special Kebabs is one of UAE's most iconic restaurants in Dubai- famous for its chicken and mutton kebabs. The success of Ustadi traces from 1978 to 2020. The restaurant was established by Mohammed Ali Ansari who had taken a loan of AED 1,00,000 before opening the restaurant. It was with this money that he had to take care of family expense, 7 children as well as run the restaurant. Ansari faced lots of difficulties in the start and the children are also witness to the family's financial meltdown. However, years of hard work and dedication have finally reaped fruits, and today the restaurant has reached great heights.
However, with the pandemic in place the restaurant faced a lot of financial set backs. But, it is recovering with time.
Where: Near Al Fahidi Metro Station
Timings: 12 pm- 1 am
Contact: 04 397 1933
4. Bu Qtair
What began aa a humble fish shack in the 1980s is now a famous hang out spot in Jumeirah. Back then, Bu Qtair cooked the catch of the day, to cater for the growing expat population. The tiny eatery functioned with cheap plastic tables and not even a toilet on the premises. The Kerala restaurant specializes in just two items: fried prawns and fried fish. Foodies flock the place for Chilli prawns and marinated hammour. The price depends on the type of fish and how much is ordered.
Where: Old 32B Street, Fishing Harbour 2
Timings: 12 pm- 11:30 pm
Contact: 055 705 2130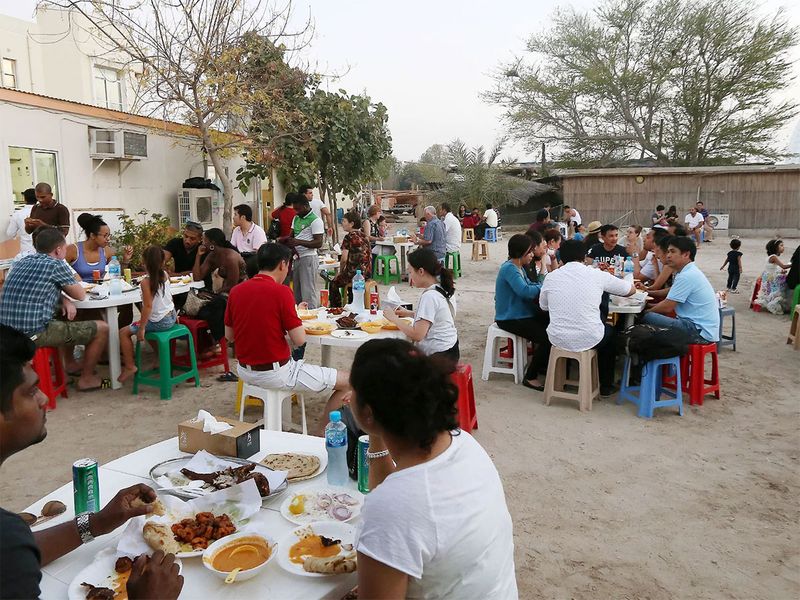 5. Sind Punjab, Bur Dubai
An iconic restaurant in Dubai, Sind Punjab was establishes in July 1977. Ever since then, the restaurant has through four decades stood the test of time. The restaurant first started in Bur Dubai. Sindh Punjab serves one of the best tandoori chicken, Biriyani and butter chicken in Dubai. The restaurant follows a secret family recipe and gives you complete gratification for the money spent.
Location: 
Bukaz Building, Meena Bazaar, Bur Dubai