Vada Pav is not just a dish. It's an emotion for Maharashtrians. This go-to comfort food of crispy, spiced aloo vada tucked in between soft pav (bread), infused with spicy chutney, can make anyone salivate. But where do you get the best vada pav in Maharashtra? Godrej Veg Oils took on the challenge to identify the best vada pav outlets across 7 cities in Maharashtra.  As part of the 'Vada Pav Cha Raja',  QR codes were placed at 250 willing outlets. The public voted for each outlet based on the taste and the customer satisfaction. And we have the winners.
If you're salivating for the snack, then let nothing stop you. Don the chef's hat and prepare delicious vada pavs at home by ordering Godrej Veg Oils from Bigbasket. The best part is that you can avail 10% discount if you use the code GODREJ10 on bigbasket.com.  This offer is valid on Godrej Sunflower Oil, Rice Bran Oil, Filtered Groundnut Oil, Refined Groundnut Oil, and Refined Soyabean Oil. It's valid till June 30, 2022. So, what are you waiting for? Happy Eating! Meanwhile, read on to know who's the Vada Pav Cha Raja, runner-up and some of the most popular vada pav outlets in Maharashtra as voted by you.
1. Sai Krupa Vada Pav In Andheri, Mumbai
Sai Krupa Vada Pav nestled in Andheri, Mumbai is officially crowned as the 'Vada Pav Cha Raja'. It garnered the highest number of votes. Sai Krupa Vada Pav serves buttery, spicy vada pavs that have made their way into the hearts of Mumbaikars.  The large number of votes for this vada pav outlet's delicious food and prompt customer service is testimony to them being the kings of the vada pav business.
View this post on Instagram
2. Akkacha Vada Pav In Thane, Mumbai
The runner-up of 'Vada Pav Cha Raja' is Thane's Akkacha Vada Pav. This charming eatery serves innovative combos where customers can have vada pav with onion bhaji, palak bhaji or mirchi bhaji at pocket-friendly prices. Customers love their vada pavs as it's fresh, prepared with good quality ingredients exuberating great flavours. Akkacha Vada Pav serves generous portions of food that are a great value for money.
3. Vadoji Vada Pav In Aurangabad
Aurangabad's Vadoji has a vision to serve people authentic and the most affordable vada pav they've ever eaten. And these are perhaps exactly the reasons why people have voted Vadoji Vada Pav as Maharashtra's best vada pav outlet. It's the brainchild of the trio of entrepreneurs who introduced Live Roll Ice Cream for the first time in Aurangabad. Their vada pavs come in interesting flavours like mayonnaise, corn, cheese, schezwan and more.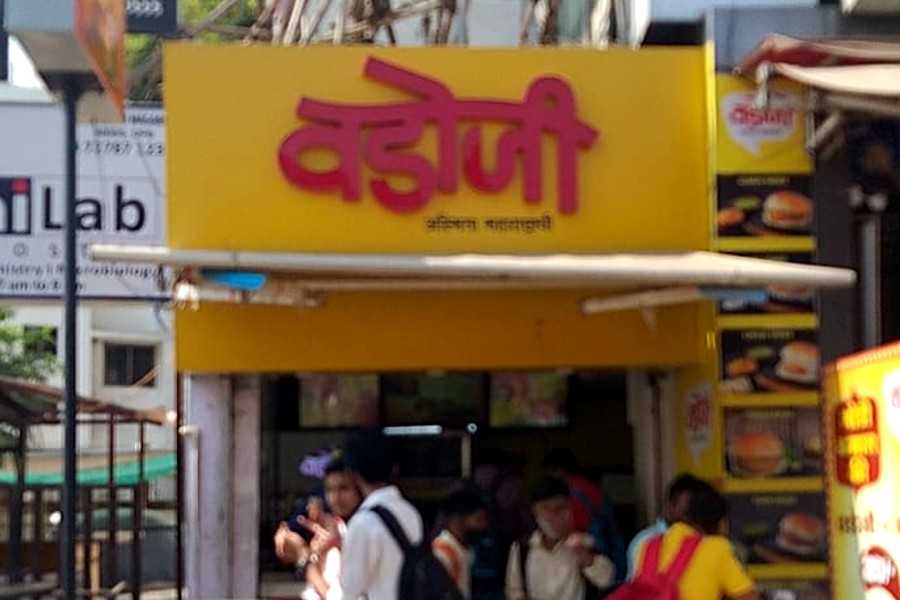 4. Krishna Vada Pav In Nashik
One of the best ways to enjoy the chilly weather of Nashik is to bite into a buttery vada pav at Krishna Vada Pav. The snack is a favourite among locals in Nashik who can't wait to get their share of vada pav. And why stop at one? They'd want at least two for the road. The vada pavs here are flavoursome and wholesome, and you must try it to believe it.
5. Swad Vada Pav In Pune
Punekars have voted for Swad Vada Pav as not only the best vada pav joint in Pune, but one of the best in Maharashtra. The tiny vada pav outlet, unlike larger commercial eateries, focuses on authenticity. Their vada pavs are rustic and rooted in the heritage, culture and flavours of the city. Bite into a vada pav at Swad and you'd be able to dive into the depth of its flavours. This is one of the best vada pav outlets in the city that you must visit.