Love your coffee? Well, here are 5 different and quirky variations of coffee in Pune that every coffee lover must try –
1. Espresso Pannacotta, Le Plaisir
Combining coffee and pannacotta, the Espresso Pannacotta (₹200) at Le Plaisir is set to impress you guys. Head to Pune's outlet close to Deccan Gymkhana. And what's the best part? The dessert also jiggles! Don't believe us? Find out for yourself!
Also read: Make Way For One O Eight Cafe's Ricotta Pancakes In Pune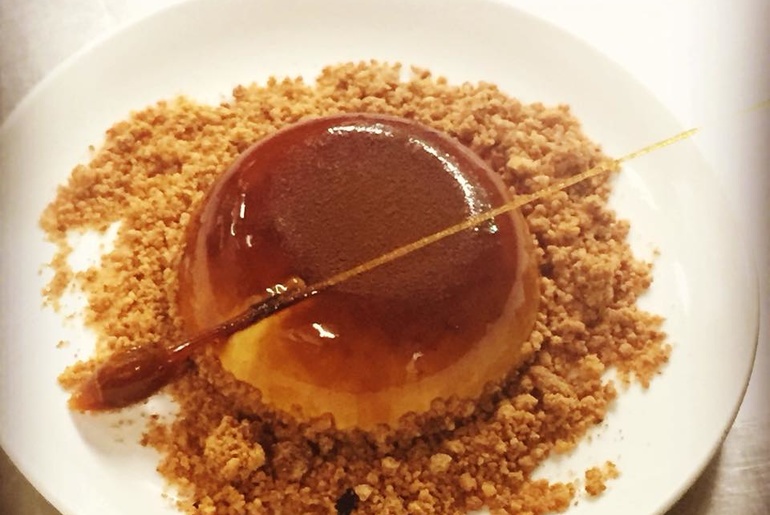 Address: Le Plaisir, 759/125, Rajkamal, Opposite Kelkar Eye Hospital, Prabhat Road, Deccan Gymkhana, Pune
Phone: +91 8550995835, +91 8550995865
Approx cost: ₹1,000 for two people
2. Coffee Pitchers, Coffee Crafts
Coffee Crafts in Kharadi in Pune brings to you Coffee Pictchers. Beer Pitchers can get off the way! We're gonna get a caffeine high now! For days when cups and cups of coffee don't help you come to a fully awaken state, it's Coffee Crafts in Kharadi, Pune which has got a solution to this massive Monday morning issue. It's Coffee Pitchers! For a chocolate fix, they serve Frappe Pitchers too!
Also read: Beer Pitchers Are So Mainstream, We've Found Coffee Pitchers In Pune & We Just Love It
Where: Coffee Crafts, Shop 8, Gera Park View, Near Eon IT Park, Kharadi, Pune
When: 10 AM to 11 PM
How Much: ₹400 for two people (approx.)
3. Colorful Lattes, One O Eight Cafe
Try One O Eight Cafe, Pune which provides lattes in a quite healthy way, in green, golden and pink color. The colors in the lattes are completely organic. The Green/ Matcha one is prepared with a help of green tea powder added to the base. So all health freaks and green tea lovers, you must definitely not miss on this one. The next Pink one is due to the addition of the healthy beetroot juice. Finally, the Golden one is because of the adding turmeric. Turmeric has an anti-oxidative and helping in aiding the healing process. Al the lattes are extra thick and creamy which adds on to the taste and flavor.  So all Latte lovers, you must definitely not miss this unique opportunity.
Also read: Get A Healthy Latte In Greens, Goldens And Pinks At One O Eight Cafe
Address:  Precious Gem Apartment, Lane Number 6, Meera Nagar, Koregaon Park, Pune, Maharashtra 411001
Contact No: +91 9011804770
                      +91 7875757507
Working Hours: 7 Am to 10 PM
Average Cost: ₹850 for two people
4. Middle Eastern-Style Coffee, Cafe Denj
Get your hands on a steaming cup of Turkish coffee and Persian tea at the new Cafe Denj in Aundh, Pune. Head to Aundh's newest cafe – Cafe Denj which serves steaming Turkish coffee and Persian tea. The cafe was started by an Iranian owner and is the designated Persian eatery in Pune. The coffee beans have been sourced from Turkey and it is prepared with sugar. But if your palette is adjusted to the strong bitter taste, you can soldier through the unsweetened coffee.They also have a variety of teas including the Relaxation Blend, Aromatic Mix, Saffron tea and Denj Special tea. 
Also read: Cafe Denj In Aundh Serves Middle Eastern-Style Coffee And You Can't Miss It
Address: 163, Plot 25, Balaji Apartment, Kotbagi Hospital Lane, Aundh, Pune
Phone: +91 8806226688
Approx cost: ₹300 for two people
5. Chukku Kaapi, Kaappi Cafe 
As the weather changes in Pune, we're all geared up to enjoy the Chukku Kaapi at Kaappi Cafe in Kothrud. Tune into Kaappi Cafe in Rambaug Colony, Kothrud for a steaming hot cuppa of Chukku Kaapi (₹30) and some exotic Kerala cuisine. But what is Chukku Kaapi? It's a drink made out of coffee with dry ginger. Basically, it is a coffee with dry ginger, basil leaves, jaggery and black peppercorn. All of this is boiled and the residue is strained. They have a large selection of teas, coffees and cold coffees. The tea without milk selection in the menu is a must try!
Also read: We've Got The Perfect Drink For The Pune Winters With Chukku Kaapi In Kothrud
Address: 11, Paud Road, Rambaug Colony, Kothrud, Pune
Phone: +91 8007100072
Approx cost: ₹500 for two people
LIKE Curly Tales on Facebook | Instagram| Twitter
You can subscribe to our newsletters