Viman Nagar has to be the most popular locality of Pune. The nightlife is crazy and the restaurants serve the best food! Here are 5 things you have to try at Viman Nagar –
1. Ice Cream Pizza – Polar Bear Ice Cream Shop
Calling all the ice cream fans in the house, Polar Bear in Viman Nagar serves an ice cream pizza and you've got to try it! Serving some quirky and fun flavors for people from all ages, Polar Bear is here in Viman Nagar, Pune to satiate all your sugar cravings. We've fallen in love with the Ice Cream Pizza (₹105 per slice, ₹395 for a full pizza). It has the goodness of ice cream, loaded with your favorite sprinkles, jelly cubes, and toppings. Another masterpiece is their Seven Wonders ice cream with 7 scoops of ice cream along with your choice of toppings.
Also read: Polar Bear Ice Cream Shop In Viman Nagar Serves An Ice Cream Pizza And You've Got To Try It!
Address: Polar Bear, Unit 2/1, Ground Floor, Turning Point 2, Survey 206/3, Viman Nagar, Pune
Phone: +91 9890870211, +91 9881136048
Approx cost: ₹300 for two people
2. Nutella Pretzel Shake – GeoBistro
Giving you decadent freakshakes and mouth-watering desserts is Viman Nagar's GeoBistro. If you're a fan of freakshakes, you can't miss the Nutella Pretzel freakshake (₹390) at GeoBistro at Viman Nagar, Pune. This dessert/drink is made out of chocolate ganache, vanilla ice cream, swirls and topped with a very eye-pleasing pretzel at the end. Served in a dessert-wine glass, the Nutella Pretzel Shake is a one of a kind dessert that is eye catching as well as mouth-watering!
Also read: You Need To Try The Nutella Pretzel Shake At GeoBistro In Viman Nagar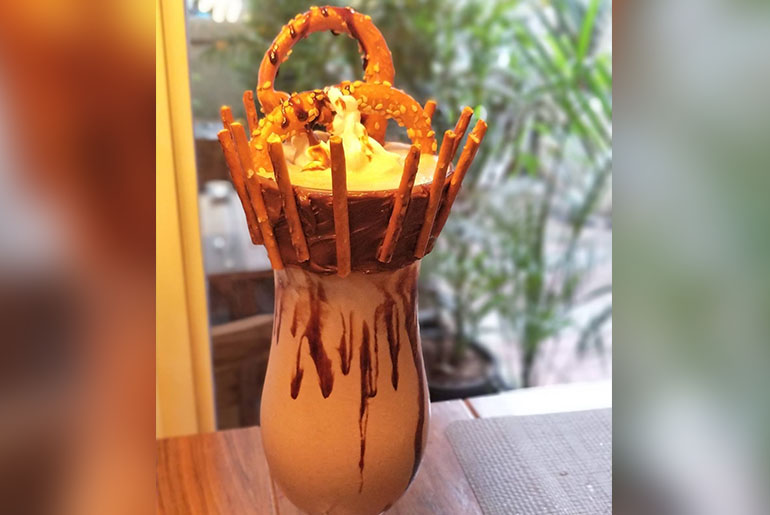 Address: GeoBistro, Row House 2, Nand Gaon, Clover Park, Datta Mandir Chowk, Viman Nagar, Pune
Phone: 020 30162116
Approx cost: ₹950 for two people
3. Biggest & Spiciest Pizzas – Largo Pizzeria
Largo Pizzeria in Pune serves the largest and spiciest pizzas in the city! Do you have what it takes to finish 20 inch pizzas that are also extremely spicy? Largo Pizzeria now has 4 stores across Pune city and they serve some of the best pizzas in the city. Within 4 years of operation, their smallest pizzas are thin crust with the size of 16 inches. Go for their mammoth preparations by indulging in the 20 inch pizzas. 
Also read: We Challenge You To Try The Spiciest & Largest Pizza In Pune City!
Address: 
Viman Nagar: Bungalow 6, Gera Villas, Opposite Silver Line Apartments, Viman Nagar, Pune
4. Themed Restaurant Experience – Rainforest Restobar
With artificial waterfalls, tree shades and wooden interiors, the place is a hit among the young crowd. Serving exotic tandoori food that is surely worth trying. The entire experience with the theme, food and drinks is one of a kind.
Also read: 6 Themed Restaurants In Pune That You Can't Miss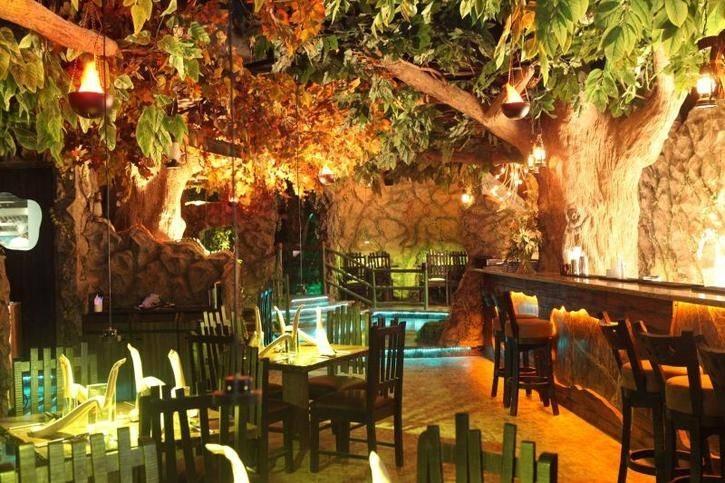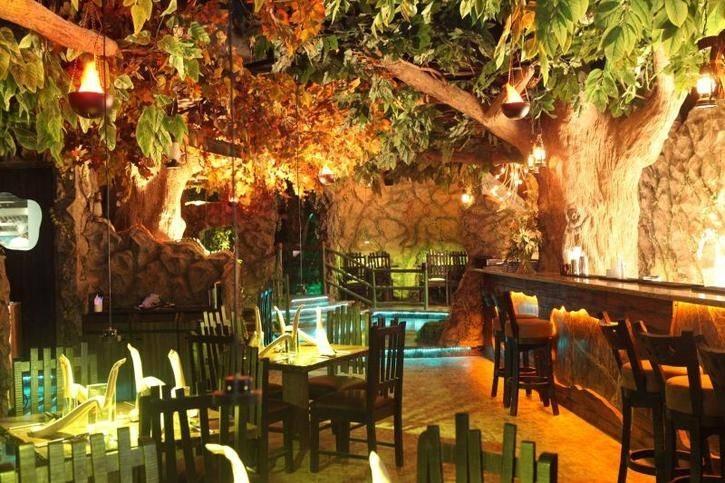 Where: Phoenix Market City, Nagar Road, Viman Nagar, Pune
Approx cost: ₹1500 for two people
5. Deep Dish Pizzas – Baked & Wired
Baked And Wired is known for its monster deep dish pizzas that are prepared Chicago style. Love cheese? You will love Pune's new pizzeria by the name of Baked And Wired. Located at Kalyani Nagar, it serves some of the cheesiest pizzas known to mankind. After their delivery service turned into a huge hit, Baked And Wired has opened up their newest outlet. If you wanna have an affair with oodles of cheese on a pizza, you're at the right place.
Also read: Baked And Wired In Pune Serves Mammoth Chicago Style, Deep-Dish Pizzas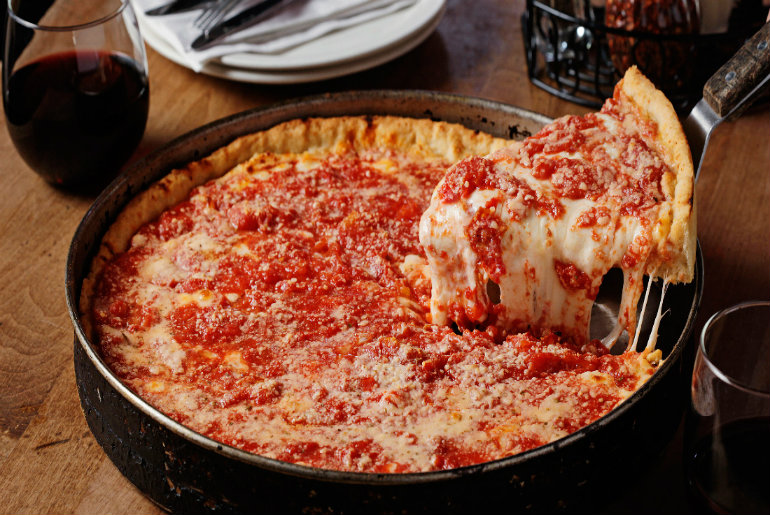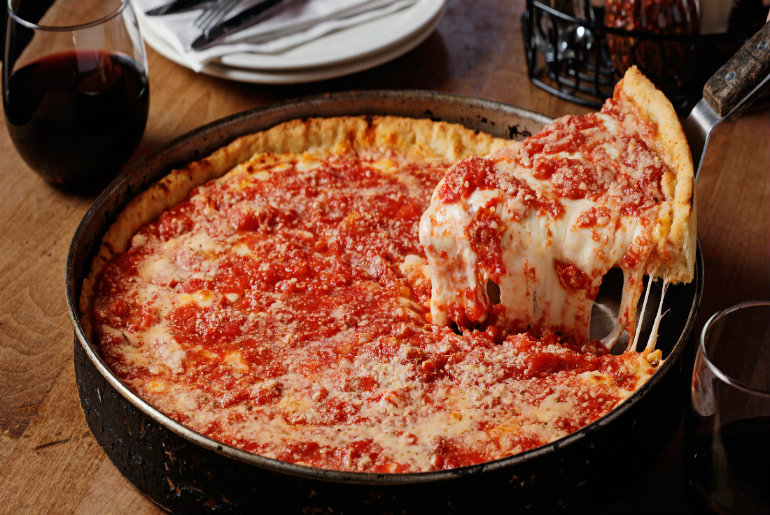 Address: Shop No. 3, Saniara Apartment, Opp. Erin Nagarvala School, Central Avenue Road, Kalyani Nagar, Pune
Phone: +91 8007865324
Approx cost: ₹800 for 2 people
LIKE Curly Tales on Facebook | Instagram| Twitter
You can subscribe to our newsletters