Fries before guys, isn't it? And on this 'National French Fry Day' we get you some of the best french fries teh city of Mumbai has to offer!
Here are the crispiest, greasiest, cheesiest, extremely devious but equally delicious french fries in Mumbai city.
1. The J, Multiple outlets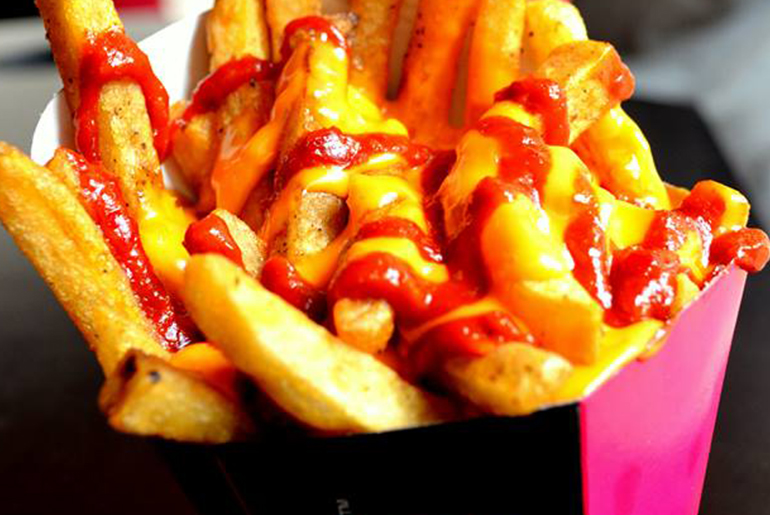 The J, spread across all over the city, specializes in gob-smacking french fries that will tantalize your taste buds. With those crispy fries accompanied by some delicious sauces, you are definitely in for a treat. The vegetarians should definitely go for the Pizza Fries. Calling all the Mexican lovers, don't give their Burrito Fries, a miss! Their Angry Birds is the perfect combination of chicken nuggets, fries and cheese. The Shredded Chicken Fries are to die for.  The cherry on the cake is that it also serves Jain fries and wraps. Serving Jain fries and wraps, The J is giving all the other fries places a run for their money.
Deets: 
Where: Multiple outlets – Churchgate, Powai, Andheri, Chembur & more.
Timing: 8 am – 12midnight
Costs: ₹450 for two people (approx.)
Also Read: 5 Late Night Delivery Services To Satiate Your Midnight Hunger Pangs In Mumbai
2. Doolally Taproom, Andheri, Khar, Sanpada and Kemps Corner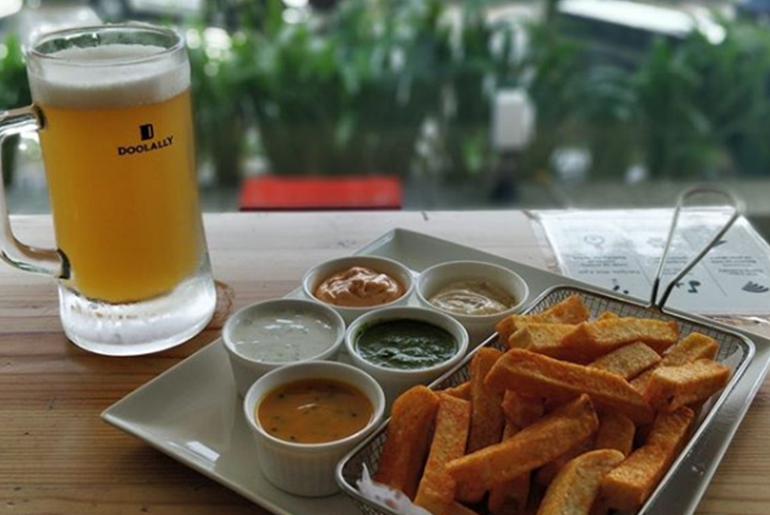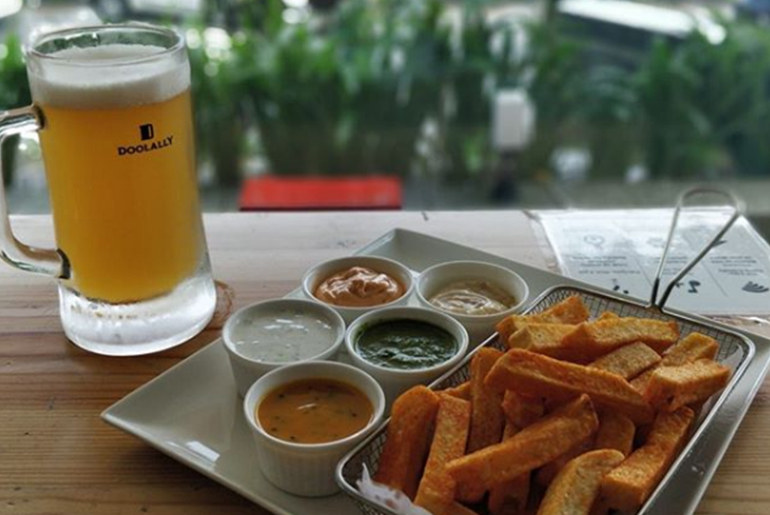 Doolally, located in Andheri, Khar, Sanpada and Kemps Corner, serves one of the thickest fries in the city.  Apart from its beer, Doolally is known for its House Fries. Tell us a better combination than beer and fries, we'll wait! A generous portion of house fries, served in a basket, is accompanied with dips such as Garlic Mustard Aioli, Bhut Mayo, Herb Tzatziki etc. Their crispy fries combined with apple cider is the perfect thing to do on a lazy afternoon.
Deets: 
Where: Andheri, Khar, Sanpada and Kemps Corner
Timing: 7 am – 1 am
Costs: ₹2,000 for two people (approx.)
Also Read: Satiate Your Midnight Hunger Pangs At Mogul Sarai In Bandra
3. UFO Fries & Corn, Kandivali, Malad & Kharghar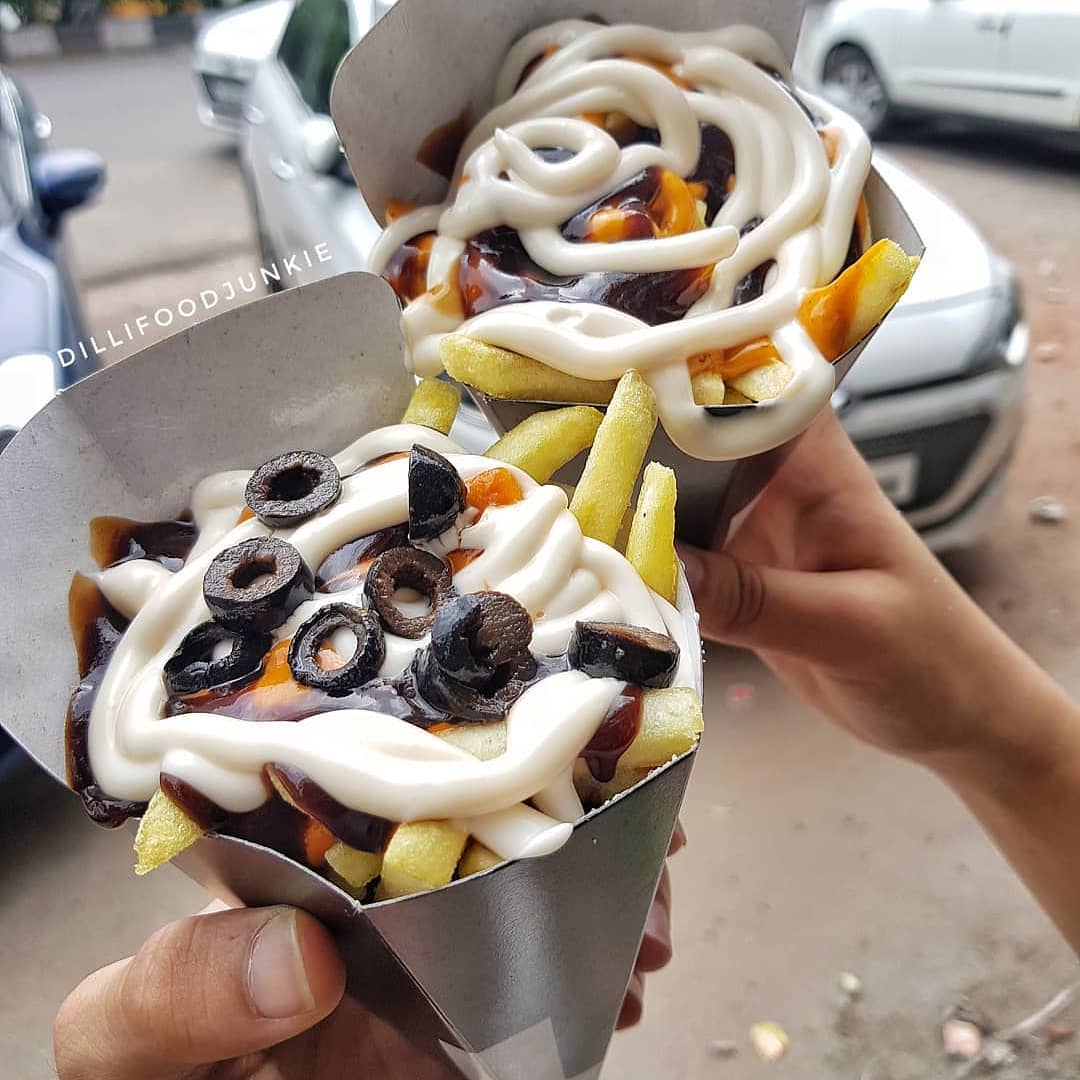 Master in the French Fries department, UFO Fries & Corn, is here to make you drool over their lip-smacking fries. Serving over 25 varieties of veg fries and over 15 varieties of Jain fries, this food joint is way ahead in the French Fry game. UFO has Maggi Fries(₹130) that is a cone-full of fries topped with your very own beloved Maggi! Two favourites, merged into one, right? They also serve something called as the 'Alien Fries' (₹130), which is basically, crispy fries heaped with jalapenos, cream cheese and hot and spicy chipotle sauce. Their 'alien from the UFO', was our favourite from the lot!
Deets:
Where: Kandivali, Malad & Kharghar
Timing: 9am – 12:30AM
Costs: ₹400 for two people (approx.)
Also Read: 5 Iconic Places In Mumbai Where You Should Definitely Eat
4. 145 Cafe, Bandra, Lower Parel and Kalaghoda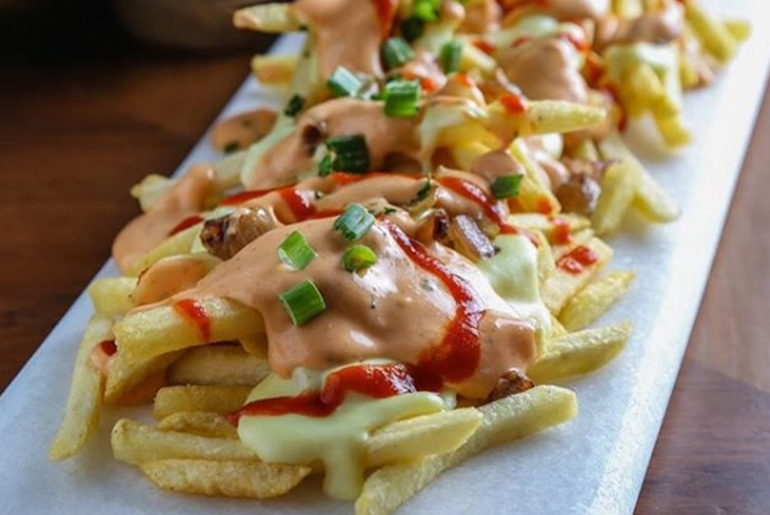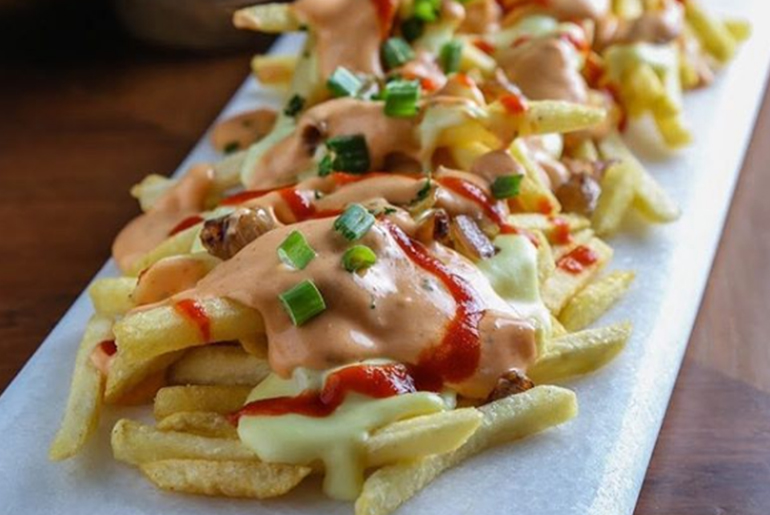 145 cafe has multiple outlets in Mumbai. This place is known for its iconic milkshakes, Animal fries because they taste spectacular. Leave it to 145 Cafe to set a high standard for the cheesiest, most delicious fries. Their Animal Fries, medium-cut thin crispy fries, are here to make your day. These fries served on a slap, are topped with loads of cheese and we cannot be more happy about it. Caramelized onion and their secret sauce play a huge role in making the fries taste delicious. Serving easily to two individuals, this dish is the perfect appetizer to be accompanied with your cocktails. Who is ready to try this beast?
Deets: 
Where: Bandra, Lower Parel and Kalaghoda
Timing: 12noon – 1:30am
Costs: ₹1400 for two people (approx.)
Also Read: 5 Best Sizzlers In Mumbai That You Can't Resist
5. Jimis Burger – Andheri, Malad & Sanpada 
A meal at our favorite burger joint would not be complete without an overflowing platter of crispy fries on the side. Their well-seasoned fries go perfectly well with their Jawbreakers. Their Cheese french fries are drenched with mozzarella cheese and an in-house spice. Calling out the bacon lovers! Their bacon cheese fries, priced at ₹220, is definitely worth the money and more.
Also Read: 5 Maharashtrian Meals In Mumbai That Are A Must Try
Deets: 
Andheri: Shop B2, Shree Siddhivinayak Plaza, Off link Road, Opposite Citi Mall, Andheri Lokhandwala, Andheri West
Malad: 13-14, Pleasant Park, Off Link Road, Opposite Movie Time Cinema, Evershine Nagar, Malad West, Mumbai
Sanpada: Shop 25, Ground Floor, Satara Plaza, Palm Beach Rd, Phase 2, Sector 19D, Vashi, Navi Mumbai, Maharashtra 400703
Timing:  12noon – 12midnight
Costs: ₹700 for two people (approx.)
Also Watch: UFO Fries & Corn Sells Over 25 Variants Of Fries!