If you're living in Andheri, you know that's a world of its own. With cafes, pubs, shopping malls and dessert joints, there's nothing that Andheri doesn't have. But here are some of the best things to try while you're out in Andheri –
1. Spicy Nutella Chicken Wings At New Tella Cafe
Never in your wildest dreams, would you have ever thought of Nutella dripping from your scrumptious spicy Chicken Wings. Guess what Tella told me what's new in town? New Tella Café's Nutella spicy Chicken wings. This pet friendly café in Andheri has something spicy, something sweet and everything in between. Fan of Chicken wings? Nutella spicy Chicken wings tossed with garlic chili powder, Nutella, and spicy tomato paste is a perfect combination of spice and sweet which leaves us scratching our heads (in a good way). This captivating pairing lets eaters enjoy spice without burning off their taste buds and can add a layer of complexity to your favorite dish.
Also read: Indulge In These Spicy Nutella Chicken Wings At Andheri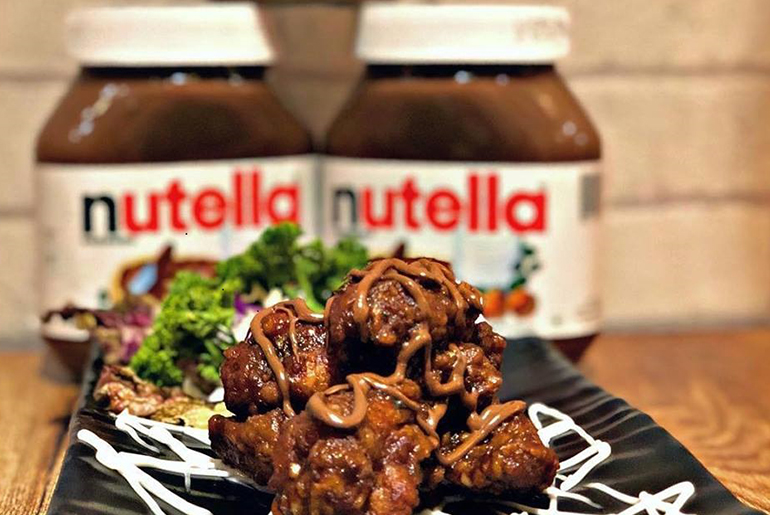 Address: Shop 3, MayFair building, Oberoi Complex, Andheri Lokhandwala, Andheri West.
Timing: 11 AM to 11 PM.
Cost: ₹700 for two people
2. Clubbing At Bombay Cocktail Bar
Funky cocktails, lip-smacking appetizers and a whole night of fun at Bombay Cocktail Bar in Andheri. Get your Saturday nights straight with their funky cocktails, chill music scenes and lots of yummy food! You're in for a fun-filled time whether you choose to go with your friends or on a romantic date night with bae. Bombay Cocktail Bar even has something special planned during the weekdays. There are ladies nights, live performances, and models night. Because why should fun only be limited to the weekend amiright?
Also read: Head To Bombay Cocktail Bar In Andheri For An Ultimate Clubbing Experience
Address: Bombay Cocktail Bar, Deluxe House, Ground Floor, Plot B-50, Opposite New Link Road, Andheri Lokhandwala, Andheri West
Phone: 022 33951713
Approx cost: ₹2,000 for two people
3. Loaded Nachos At Vedge
Vedge might be a vegetarian eatery, but its got delicious and eye pleasing dishes like the Loaded Nachos Tower and the Upside Down Pizza pot that you can't miss. In between Veera Desai's chaotic lanes, Vedge has opened up with a fresh new vibe and our yummy foodswith a twist. You need to try the Fully Loaded Nachos tower. It's a colorful tower with nachos, veggies, gooey cheese and its a total treat to the eyes and taste buds. Along with that, try out the Upside Down Pizza pot pie. A pot pie with pizza stuffing served to you with melted gooey cheese on the top making it a small sized pizza pocket.
Also read: Have You Tried The Loaded Nachos And Upside Down Pizza At Andheri's 'Vedge' Yet?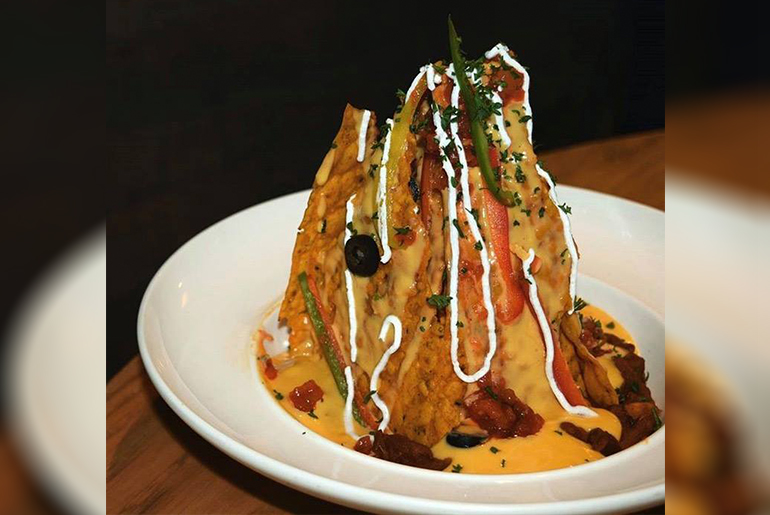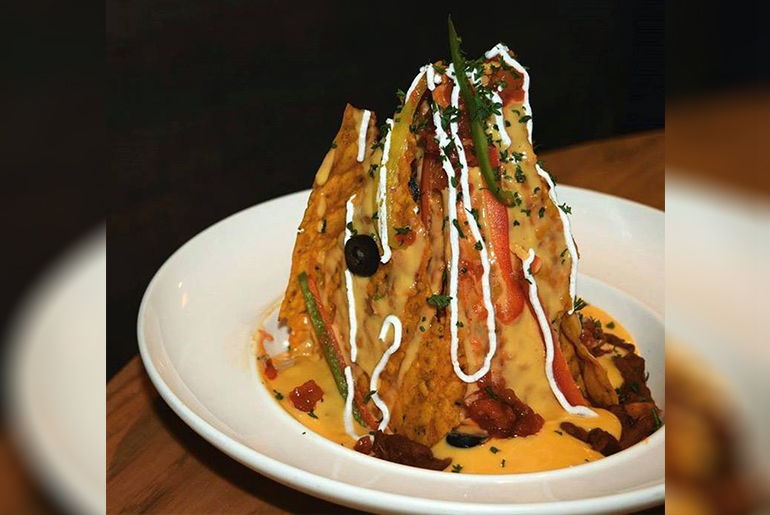 Address: Vedge, Ground Floor, Fun Republic Mall, New Link Road, Veera Desai Area, Mumbai
Phone: 022 61668906, +91 8976042312
Approx cost: ₹600 for two people
4. 1 KG Dessert At Trench
Thinking about a sugar rush? Try the Midas Touch at Trench in Andheri & Bandra which towers over 1 feet and is nearly 1 kg of goodness. Up for a challenge? Grab at the Midas Touch served at Trench in Andheri & Bandra. As desserts go, it is the greatest and the baddest of them all! Towering over 1 feet and weighing nearly 1 kg, it is impossible for one person to finish the whole thing.
Also read: Trench In Mumbai Serves The Midas Touch Dessert Which Is Nearly 1 Kg Of Goodness
Address: 
Andheri: Shop No.2 Jawahar Ban, CHS Ltd, Four Bunglows,, Opp. Kokilaben Dhirubhai Ambani Hospital, Andheri (West) Mumbai, Mumbai, Maharashtra 400053
Approx cost: ₹999 for Midas Touch
5. Cafe With A Cause
Bombay To Barcelona was started by Amin Shiekh who provides a safe and comfortable environment for people from all socio-economic backgrounds. Bombay To Barcelona opened its gates to the public on 15 August, 2017 with the idea of acceptance in mind. It is a library cafe where you can relax with a steaming cup of coffee, some snacks and a good book. Founded by Amin Sheikh, who knows a bit too much about a rough lifestyle, she opened this cafe keeping in mind no sense of discrimination against any human being.The cafe is run by volunteers from various groups of people.The owner of Bombay To Bareclona, who has been a street kid himself, likes to run the place without any judgement or discrimination against any class. He was an orphan who lived in the streets since he was 5 years old. He has learned things the hard way, but he's prepared himself for the worst things in life. Today, he stands tall with this venture and wishes to help others find their way as well.
Also read: Bombay To Barcelona In Andheri Is A Library Cafe For A Cause
Address: Golden Nest Society Apartments, Mapkhan Nagar, Aashiyana Society, Marol, Andheri East, Mumbai, Maharashtra 400047
Phone: 077384 46788
Approx cost: ₹500 for two people
LIKE Curly Tales on Facebook | Instagram| Twitter
You can subscribe to our newsletters