Mesmerized by the glitz and glamour of Downtown Dubai, but wondering how to experience the best without burning a hole in the pocket? Fret not! Here are some experiences you can enjoy and cherish, without burning big bucks.
1. Go On An Abra Ride
Take a ride across the marvellous Downtown Dubai on a traditional wooden Abra boat. As you row along the Burj lake, soak in the breathtaking views of  the Burj Khalifa, the Dubai Mall and the spectacular dancing fountain. This is your chance to have a closer, better view of the stunning skyline and the iconic structures in the promenade. Ideal for those who are visiting Dubai for the first time.
Cost: AED 65 onwards
Timings: 5:45 PM to 10:00 PM (Sunday to Saturday)
2. Go On Swan Boat Rides Or Try The Transparent Kayaks
Emaar Entertainment has launched four new water experiences at the Dubai Fountain. The Dubai Fountain Water Experiences has activities that the whole family can enjoy. The four new water experiences have a little something for kids and adults. Firstly, kids can enjoy a ride on the water at the Bird Cove. Dock your little one on duck or flamingo-shapes boats and watch them enjoy a gala tour. You can pick from a combination of motorized and pedal boats, depending on what your little ones prefer.
Adults can also enjoy a ride on the water in motorised or pedal boats in the shape of larger-than-life swans. Families can explore the Dubai Fountain and watch the stunning show from spots they never haven't. Prices start from just AED 50 per person.
Lastly, if you're looking for some adventure, hop onboard one of the specially designed kayaks or water bikes. The activity is ideal for beginners, intermediate, and advanced paddlers. It will cost you AED 80 per person. And if you're better off on the land, enjoy the Floating Garden. Oh, and don't forget to click some pictures for the gram!
Cost: AED 50 per person
Timings: 12pm to 8pm
Location: Dubai Fountain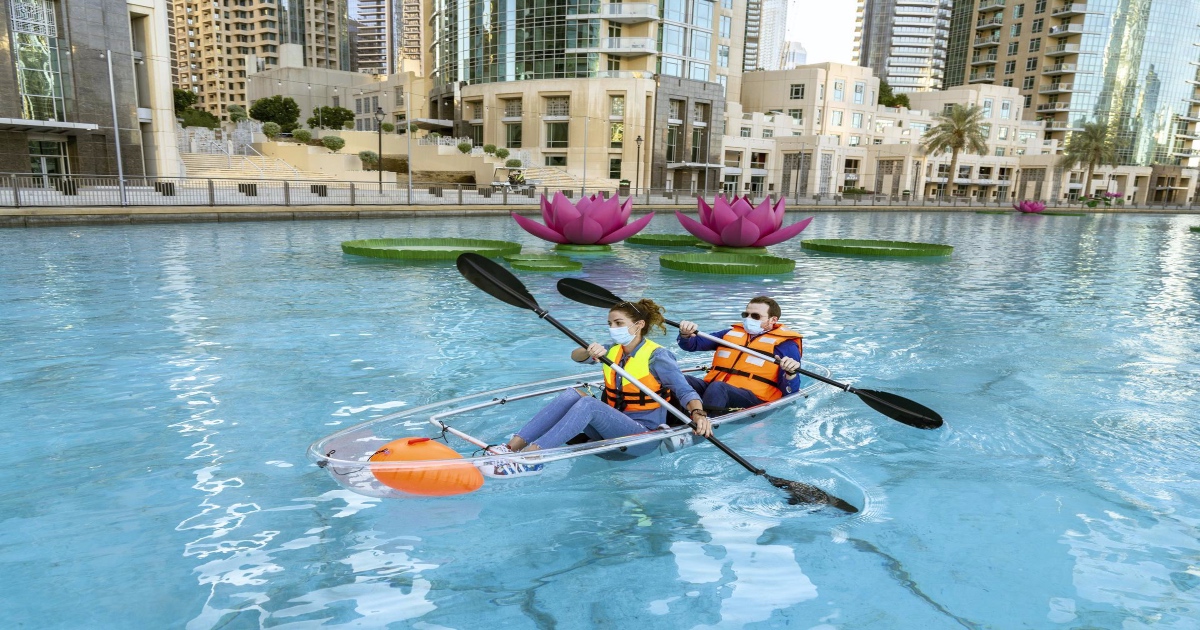 3. Nap In A Quirky Setting
The sleeping pods in Dubai Mall are a blessing for all shopahlics. After all, what better than a power nap to energize yourself after a crazy shopping spree. The Dubai Mall has quirky sleeping pods that perfectly fit the bill. So, don't forget to check it out the next time you head to Dubai Mall. Trust me, you'll thank us.
Cost: AED 40 onwards
Timings: 12:00 PM to 11:00 PM
Location: The Dubai Mall, Grand Parking Atrium, 1st floor
4. Savour Some Camel Cookies
When in Dubai, live like a true Emirati! You might have hogged and shopped your heart out in the city's best spots, but your holiday would still be incomplete if you forget to savour  the gooey, fudg(y) camel cookies. It tastes awesome and is also an excellent gifting option to take back home. After all, there's nothing more local than cookies made with Camel milk!
Cost: AED 40 onwards
Timings: 10:00 AM to 12:00 AM
Location: 1st floor, Dubai Mall
5. Master Your Skating Skills At The Ice Rink
The ice rink at Dubai Mall has been a favourite hub for tourists for a long time now. And, why not, the Olympic-sized ice rink  offers a fantastic opportunity to experience the thrill of ice skating and ace the skills. Not up for anything adventurous? Worry not! Head down for an 'ice' disco session where you can let your hair down and groove to the tunes of a resident DJ.
Cost: AED 95 on Weekends, AED 45 on Weekdays (Ramadan Promotion)
Timings: 12:00 PM to 2:00 AM
Location: Dubai Mall
6. Explore The Biggest Bookstore In Town
The Japanese book store- Kinokuniya is a favourite amongst book worms around the region. The store has more than half a million books across all genres and languages, comic book pop-ups and more. If you're in the mood to indulge and explore your favourite authors, you can spend hours browsing the collection. Heads up- if you're a Manga fan, there are some great things in store for you.
Timings: 10:00 AM to 12:00 AM
Location: 2nd Floor, Dubai Mall
This article has been contributed to Curly Tales by Sweta Swaminathan. If you wish to contribute your travel story, please drop an email here