Witnessing Durga Puja in Kolkata is a different feeling all together! And the Heritage Home Durga Pujas are one of the most colorful Pujas in Kolkata. Any pandal hopping session is incomplete without visiting a Heritage home puja, popular in Kolkata as the Bonedi Barir Durga Pujas. These Pujas are not just a remembrance of the past but an emotion. Famous for having the best Thakur Dalans, the heritage home pujas steal quite the limelight during the festive season. Let's take a look at 7 such Bonedi Barir Durga Pujas of Kolkata.
1. NILMONI SEN BARIR DURGA PUJA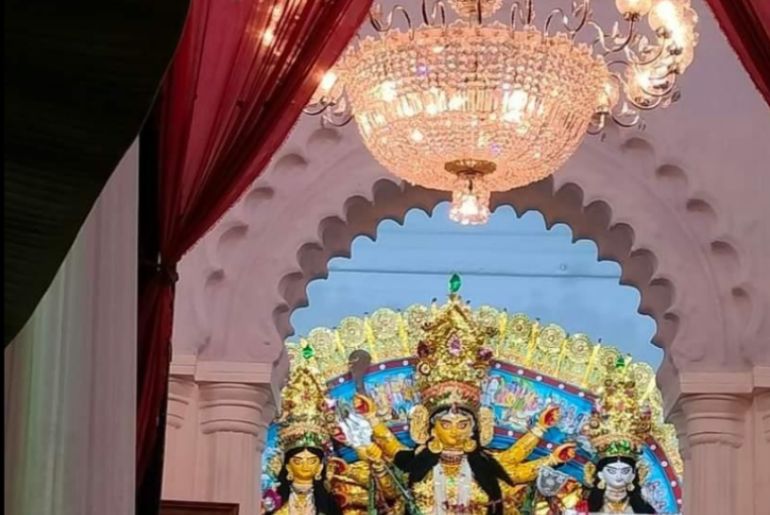 Nilmoni Sen Barir Durga Puja has its history in the name itself. This Puja has been celebrated by a gold merchant from 19th century Calcutta, Nilmoni Sen. Sen has celebrated Durga Puja in this house since 1913 and his bari is mostly famous for worshipping the Abhaya Durga. A major highlight of this Durga Puja is the breathtaking Thakur Dalan with arched patterns.
Where: 117/1 Baithakkhana Road, Kolkata – 700009
2. LATU -BABU CHATU-BABU BARIR DURGA PUJA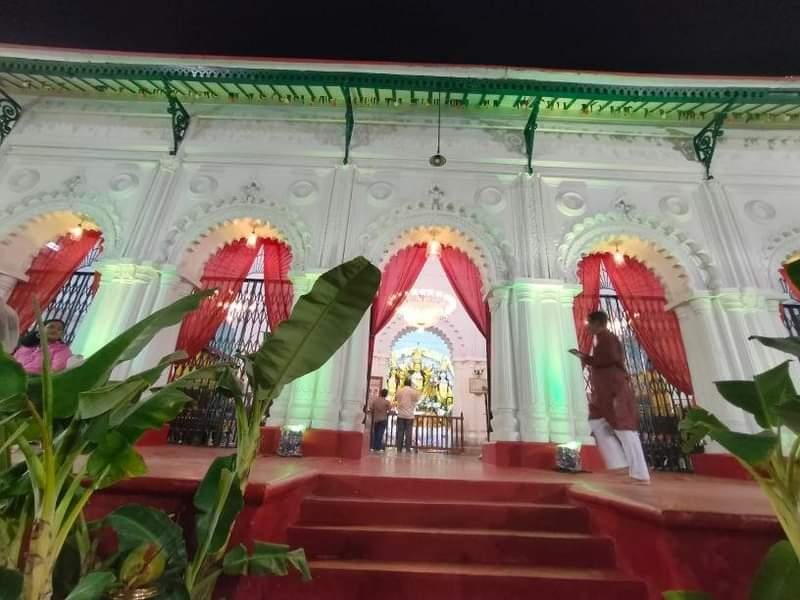 This Durga Puja is just a few kilometers from Sovabazar Rajbari. The red coloured palatial mansion dates back to 1770. This Durga Puja was performed by Ram Dulal Dey and later handed over to his sons, Ashutosh Dey and Pramatha Nath after his demise.
Where: Ram Dulal Nibas, 67 E Beadon Street North Kolkata (Nearest Metro Station is Girish Park)
3. NARASINGHA DAW BARIR DURGA PUJA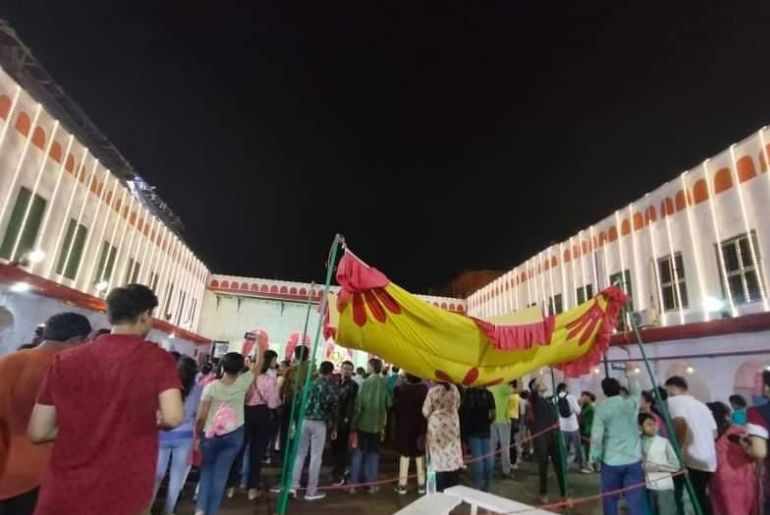 The Narasingha Daw Barir Durga Puja or the Daw Bari Bandookwala'r Puja is handled by the Daws – the famous Gun Makers and Traders of West Bengal. This Puja has is being celebrated by the Daws since 1859 and was first started by Sri Narasingha Chandra Daw. The highlight of this puja is the unique Thakur Dalan which is decorated with intricate architectural designs in green, red and white.
Where: 20 Vivekananda Road, Kolkata – 700006
Also read: 6 Reasons To Extend Your Durga Puja Vacation In Kolkata
4. JORASANKO SHIBKRISHNA DAW BARIR DURGA PUJA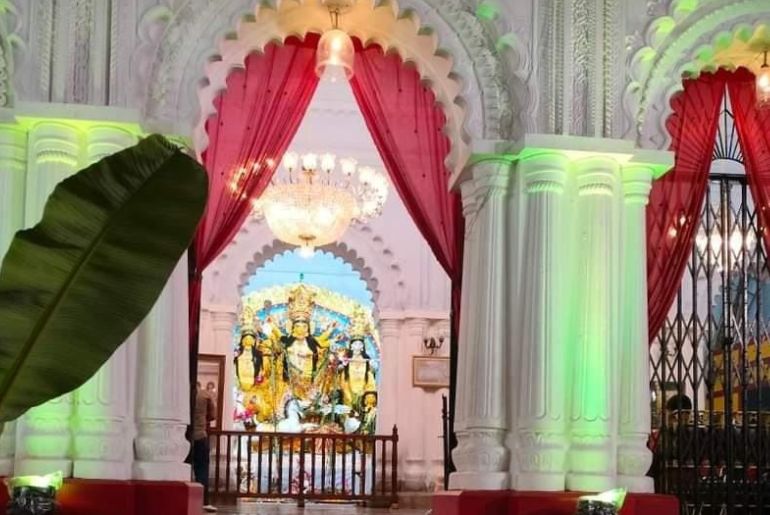 The Jorasanko Shibkrishna Daw Barir Durga Puja is one of the most popular heritage home pujas in Kolkata. Jorasanko bari belonged to Gokul Chandra Daw. After adopting Shibkrishna Daw, his relative's son, Gokul Chandra Daw started celebrating this Puja from 1840 on that occasion.
The highlight of this puja are the series of balconies on both sides, right above the Thakur Dalan.
Where: 12 A Shibkrishna Daw Lane, North Kolkata – 700007
5. DUTTA BARIR BONEDI PUJA
The Dutta bari is also known as the Ghosh bari and is located in Balaram Dey Street in Kolkata. The Durga Puja celebrated here was first introduced by Shri Shyamal Dhon Dutta from Hath Khola. The puja here has been going on since 1882 and now it's the 6th generation of the descendants who continue with the family tradition. The highlight of this puja is the Pratima, which is divided into three parts called Katahamo.
Where: 159 Balaram Dey Street, Ram Bagan Kolkata- 700006 (Nearest metro station is Girish Park)
6. KHELAT GHOSH'S BARIR DURGA PUJA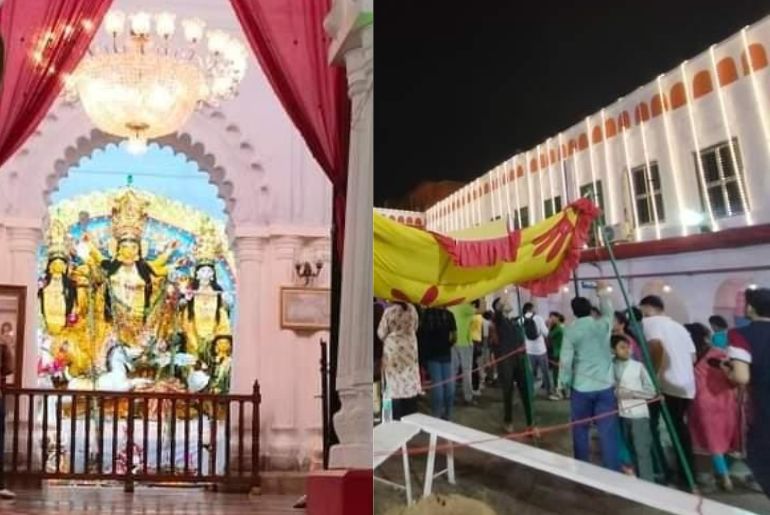 The Babu Khelat Ghosh's Durga Puja was introduced by Babu Khelat Chandra Ghosh in 1846 and is around 170 years old. Currently this puja is handled by a trust who looks after the Babu Khelat Ghosh's house – a white building with an 85 feet marble corridor and intricately crafted wooden doors. The beautifully made Thakur Dalan and various other artefacts are the highlights of this Durga Puja.
Where: 47 Pathuriaghata Street, North Kolkata (Nearest Metro Station is Girish park)
7. SOVABAZAR RAJBARI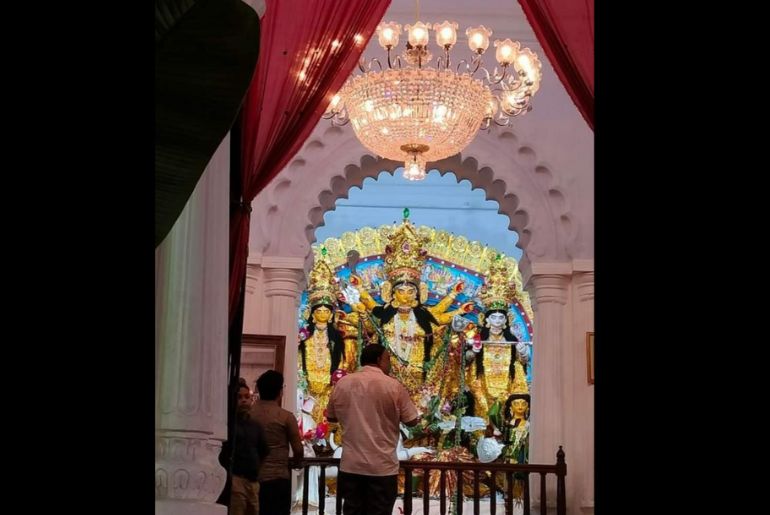 Founded by Raja Nabakrishna Deb, the Sovabazar Rajbari Durga Puja was introduced in the year 1757. Locals believe that Goddess Durga visits this Rajbari to listen to the music performed in the Naach Ghar. The naach is either performed by the Baijis or the performers who sing and dance in the courts of rich Zamindars. This mansion has its own Thakur dalan and Durga Puja here is all about devotion and merri making.
Where: Address: 33 and 36 Raja Nabakrishna Street, Sovabazar North Kolkata- 700005
Now that you know about all these amazing heritage home Durga Pujas in Kolkata, which one are you planning to visit first? Do let us know in the comments section below!
All Image Courtesy: Instagram/Suchishmita Pal