Under 140 Characters
Zooming across smooth roads, climbing the mountains, jumping off the plane… is old school. Challenge your limits with these life-changing experiences.
1. Black Water Rafting, New Zealand
Imagine you are tubing in the river which is confined by walls and it is pitch dark everywhere… getting goosebumps already? Yeah, river rafting in black water is sure to give you an adrenaline rush.
Take tubing trips or just raft for 3 hours in the Waitomo Glowworm Caves in New Zealand for the best experience.
A word of caution: Take a guide with you who knows the river and the caves at the back of their hands.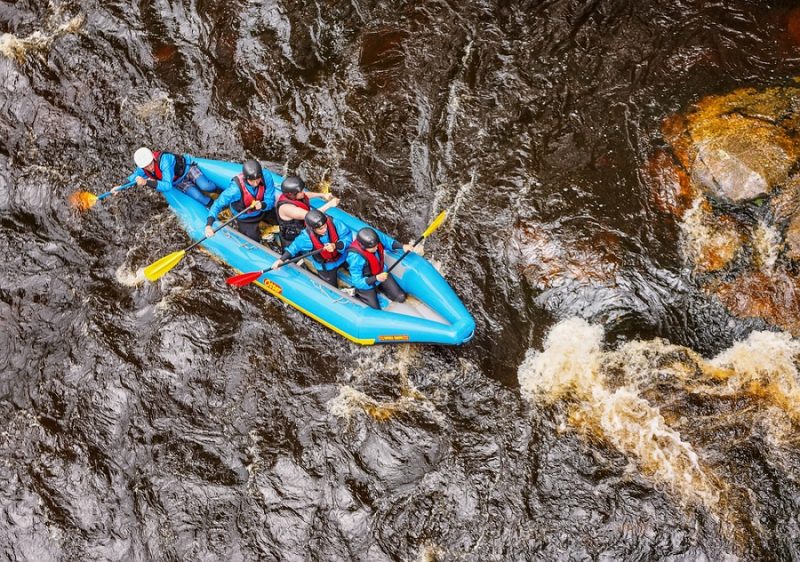 2. Husky Tour, Finland
Get on the ride and tour with the huskies. Loose yourself in the Finnish wilderness on the husky tour from Kittila to the Norwegian border.
A two-day husky safari and you get to be in charge of your team of four to five dogs, isn't that amazing? You can also cook in an open fire and sleep in the tents. The last day of snowmobiling experience follows the Victoria Trail.
3. Heli-skiing, Iceland
Are you in for skiing and fishing from a helicopter? Sounds weird, right? Well, trust Iceland to throw in some juice in adventure sports.
This is one of the coolest adventure activities you can find in the Arctic Circle. Stay at the Deplar Farm located in the remote valley in northwest Iceland. Lose yourself in the mesmerizing view of 3,000 surrounding peaks.
Rent a helicopter which will take you to the peaks and drop you to ski, while you can fish for salmon in glacial rivers.
4. Downhill mountain biking, French Alps
Try exploring the downhill tracks of the Southern French Alps. The bends, pins, and the circuitous mountain routes will surely fuel the adrenaline junkie in you.
Use bike lifts and vehicle shuttles to get the taste of adventure amidst mountains. If you get an opportunity to visit the ski resorts of Orcieres, there is a bike park with one of the nose-dive descents of 5900 ft.
5. Kayaking and wild Camping, West Sweden
Visit the western part of Sweden full of coastal waters and archipelago of 8,000 islands. This is the best place for Kayaking in Europe.
You will be provided with a map so you can guide your ways and also be a part of Wild camping on your own private island.
Which adventure activities have you tried until now? Please share in the comments below.
LIKE Curly Tales on Facebook | Instagram | Twitter
You can subscribe to our newsletters.