Indian Railways is soon launching pod hotels in different parts of India after they launched two in Mumbai; the first in Mumbai Central and the second in Chhatrapati Shivaji Maharaj Terminus. Very soon, India will be the home to more pod hotels. And this time, the Indian Railways will build these in Ahmedabad and Delhi. These affordable overnight stay facilities will be accessible to commuters soon.
Pod Hotels Will Soon Come Up In Ahmedabad!
The pod hotels in Ahmedabad are going to be grand and very technology-based. The name is Urban Naps' and it is built in the Sardar Vallabhai Patel International airport. There will be a massager inside for relaxing, meditation music, and also oxygen therapy. It will seem like you are paying a lot to travel with all the advanced technologies and luxuriousness. The plan for these pods is to provide the ultimate relaxation to the people. It has been built in a way that cares about people resting in between all the travelling. There is a time limit to using these facilities. The minimum time to book this hotel is 20 minutes and the maximum is 2 hours, 120 minutes. The minimum cost to avail of this service is ₹199 and it increases with respect to the duration you are staying inside.
Also read: Indian Railways Is Launching Its Second Pod Hotel At Chhatrapati Shivaji Maharaj Terminus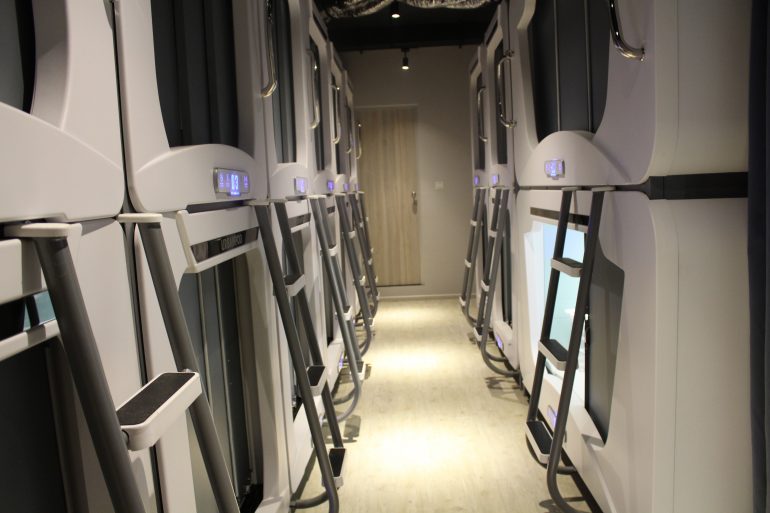 Pod Hotels Will Soon Come Up In Delhi!
'Snooze at My Space' is the pod hotel of Delhi and it is nestled in the Delhi airport. It is being built in 2 places in the airport. No matter if a passenger is taking a domestic flight or an international flight, these pod hotels are going to be super useful for the flyers to accommodate, especially during the layovers. The rooms come in both single occupancy and double occupancy with a washroom, a fridge, and a TV.
Also read: 5 Pod Hotels In India For A Cosy Stay With Comfort And Privacy
For these hotels, the cost is dependent on the duration of your stay just like that of Ahmedabad. The duration to book a room is a minimum of 4 hours and you can extend it to 12 hours. The cost of booking a single-occupancy room starts from ₹3,870. You have to pay this price for spending a duration of 4-5 hours inside the pod.