Climate change is real. So is global warming. Icebergs are melting, and tsunamis, earthquakes and landslides are happening more frequently across the globe. So, being a responsible citizen of the Earth is more important, now than ever. Recently, businesswoman Martha Stewart enraged the Internet after she used an iceberg from Greenland to chill her cocktails. Here's what's happening.
Businesswoman Martha Stewart Uses Icebergs To Chill Her Cocktails
82-year-old Martha Stewart, a businesswoman, TV show host and author, received severe backlash on the Internet during her luxe vacation in Greenland. Martha Stewart took to her Instagram handle, @marthastewart48 to share pictures from her cruise vacation in Greenland. In the caption, she mentioned that at the end of the first zodiac cruise from Swan Hellenic, she ventured into a gorgeous fjord on the east coast of Greenland. Here, they captured a small iceberg for their cocktails that night.
View this post on Instagram
Her caption was followed by a slew of pictures. In one she poses with her cocktail glass, relaxing in her hotel, overlooking scenic views. The next picture shows a big piece of iceberg placed on a black cart, probably used to chill cocktails. She posted other pictures with her fellow cruise mates, holding champagne glasses as they are surrounded by massive icebergs.
Also Read: 3 Years, 1000 Days, UK Man Books World Tour On Cruise Ship To Save Money; Here's How
Martha Stewart went for a cruise vacation on Swan Hellenic, a luxury cruise line known for cultural expeditions that are known for exploring remote polar regions on off-the-beaten-path destinations. From workshops on bird watching to talks on how glaciers are measured, this cruise line also focuses on these issues.
View this post on Instagram
Netizens Ask Her To Leave The Icebergs Alone!
But what's ironic is wealthy cruise passengers using pieces of icebergs to chill their drinks. Martha Stewart even took to Instagram to flex the same. And this left Netizens fuming. @ihearthostrobot described this scenario as a "dystopian novel" where billionaires vacation to melting icebergs, and scoop them up for their cocktails amid climate change crisis. Many others told her in the comments section "to leave the icebergs alone".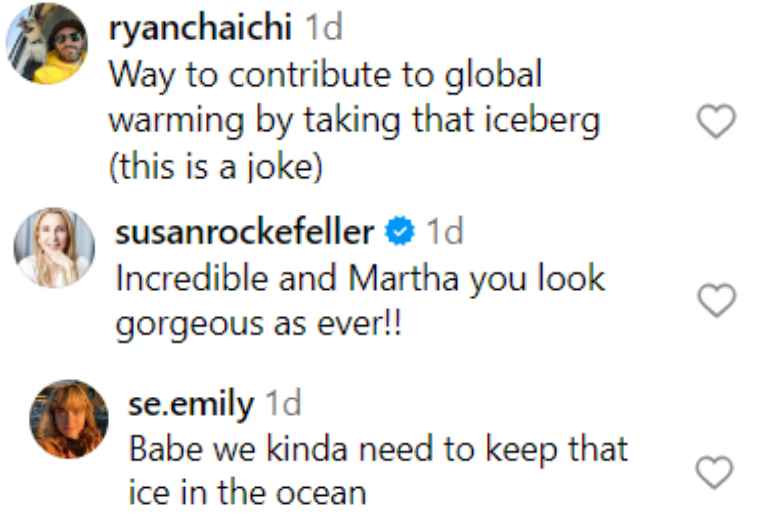 Also Read: The Netherlands Capital, Amsterdam Will Be Banning Cruise Ships To Curb Pollution, Overtourism
Meanwhile, what is your opinion about the wealthy travelling in luxe cruises and using icebergs to chill their cocktails amid climate change?
Cover Image Courtesy: @marthastewart48/ Instagram