Asha Bhosale is globally known for her versatility as a playback singer. The singer is a foodie with amazing culinary skills. In an interview earlier she had spoken about her love for food and how her elder sister, Lata Mangeshkar loved her cooking skills. Recently the veteran singer went on a dinner date with her granddaughter, Zanai at Mizu which  is a Japanese restaurant in Mumbai's Bandra. 
Asha Bhosale Dinner Date With Granddaughter Zanai At Japanese Restaurant
Singer Asha Bhosale and her granddaughter Zanai Bhosale went on a dinner date in Bandra. It was drizzling and the grandmother – granddaughter duo were papped by the paparazzi outside the Japanese restaurant. Zanai took her grandmother Asha Bhosle on a dinner date in Mizu Izakaya which is a Japanese restaurant in Bandra.  Zanai posted a video of Asha Bhosale pouring oil on a dish on Instagram captioning it as Best dinner date. Asha went on the date with Zanai just a day after she celebrated her 89th birthday. The duo seemed to have a lot of fun together as they enjoyed some amazing dishes from the Japanese cuisine.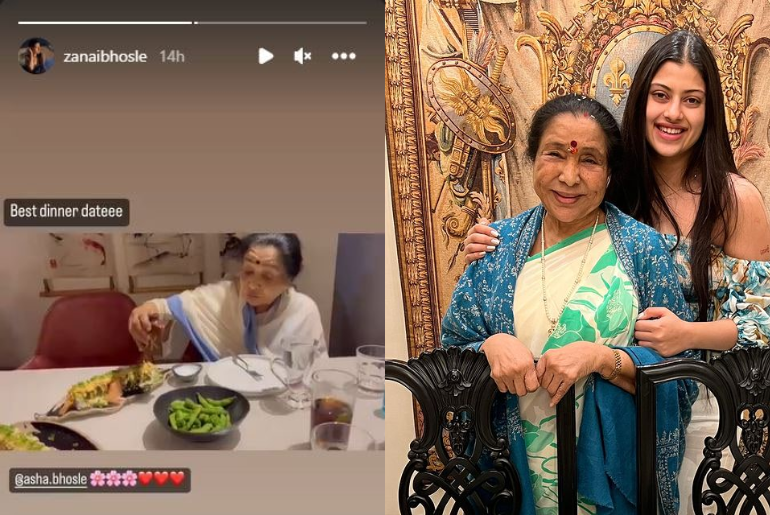 Also Read: Japan To Remove Tourist Visa Requirements From Some Countries To Boost Tourism
Mizu Izakaya : Japanese Restaurant In Bandra
Mizu Izakaya is a beautiful Japanese restaurant in Bandra. The interior of the restaurant is classy, teleporting you to Japan with small artefacts on the wall. The place offers you authentic Japanese food with an amazing variety to choose from. From Yakitori to Ramen to Baos, this place serves it all. With the detailed interior and lip smacking authentic food, you surely will feel like you are in Japan.  Togarashi Crusted Steamed Baos and Kani Crab Salad are the most famous and loved dishes here. The bar is super sorted and offers some of the best drinks. Make sure to not miss the Japanese hot pot experience. They have recently added The Autumn Lantern into their Winter dessert menu and you just try it. 
View this post on Instagram
Also Read: This Japanese Vlogger Has Been Documenting India And His Videos Are Going Viral
So when are you taking your loved ones to this Japanese restaurant?
Cover Image Courtesy: Instagram/Zanai Bhosale and Mizu Izakaya