There's a famous saying that goes, "When everything else fails, there's always dosa". Alright, we just made that up but if there's one thing that everyone agrees upon, it's that South Indian food is glorious. Sure, it tends to get stereotyped and reduced to the mere mention of dosa, idli and medhu wada. But it goes without saying that our folks down south do a great job at making these delicacies. Fortunately for us, we don't have to travel too far to get our fix because some of these places make the best dosas in Mumbai. And we set out to explore just that. So, here's taking a look at the joints that whip up some mean dosas.
1. Mysore Masala Dosa at Cafe Madras, Matunga
How is Mysore Masala Dosa at Cafe Madras, Matunga? Cafe Madras has been up and running for more than 75 years at this point. And if there's one thing that the loyal patrons have to say about it, it's that the food still tastes the same way it used to back in the day. And that's saying something in a day and age where food quality at restaurants keeps on deteriorating. Their pricing may have increased in the past few years but there's no place in Mumbai where you can score a dosa at ₹39. So, the next time you are in the mood some authenticity, head on down to Cafe Madras.
Address: Cafe Madras, KAMAKSHI BUILDING, NO. 391/B, Bhaudaji Rd, Matunga, Mumbai, Maharashtra 400019
Contact: 022 2401 4419
We recommend: Mysore Masala Dosa, ₹55 (exclusive of taxes)
2. Neer Dosa At Hotel Ram Ashraya, Matunga
How is Neer Dosa At Hotel Ram Ashraya, Matunga? The South Indian community has left its mark in Matunga and that's the primary reason why the best south Indian eateries are located in the neighbourhood. And one of the oldest ones there is Hotel Ram Ashraya. Located near the busy flower market of Matunga, Ram Ashray sees a steady throng of people who frequent it from as early as six in the morning. Many a night outs have ended with grabbing breakfast at Ram Ashray and their Neer dosa with chutney is what you need to munch on.
Address: Hotel Ram Ashraya, 24 Shreeji Sadan Bhandarkar Marg Opposite Matunga Kabutar Khana, Matunga, Mumbai, Maharashtra 400019
Contact: 022 2410 2369
We recommend: Neer Dosa, Price at request
3. Special Jinny Dosa At Anand Stall, Vile Parle
Ask the students at Mithibai where you get the best dosa in Mumbai and the answer is unanimous. It's Anand Stall. Situated bang opposite to the bustling college, Anand Stall might just be a stall but it has made quite a reputation for itself. People travel all the way from South Mumbai to have a taste of the dosas served up at this small eatery. With over 64 types of dosas to choose from, we suggest eating in instalments but definitely trying all of them.
Address: Anand Stall, Gulmohar Road No. 1, Opp. Mithibai College, Vile Parle West, Mumbai, Maharashtra 400056
Contact: 098334 42623
We recommend: Special Jinny Dosa, ₹160 (exclusive of taxes)
4. Andhra Chicken Dosa At Thangabali, Multiple Outlets
Ever since opening up, Thangabali has been making waves among the food joints in the city. And we can tell you for a fact that their food is oh-so-good! But our eye is on the Andhra Chicken Dosa and we can truly say that we have fallen in love. Shredded chicken cooked in classic south-Indian spices wrapped up in an uthappam is what it's all about. How is your mouth not watering already?
Address: Multiple Outlets
We recommend: Andhra Chicken Dosa, ₹230 (exclusive of taxes)
5. Sada Dosai At Dakshinayan, Juhu & Malabar Hill
The true mark of a good south Indian restaurant lies in their ability to make the perfect sada dosa. And Dakshinayan hits the ball right out of the park with theirs. How a dosa can be crispy and soft at the same time is honestly beyond us but they somehow manage to make it happen. You can't help but love it!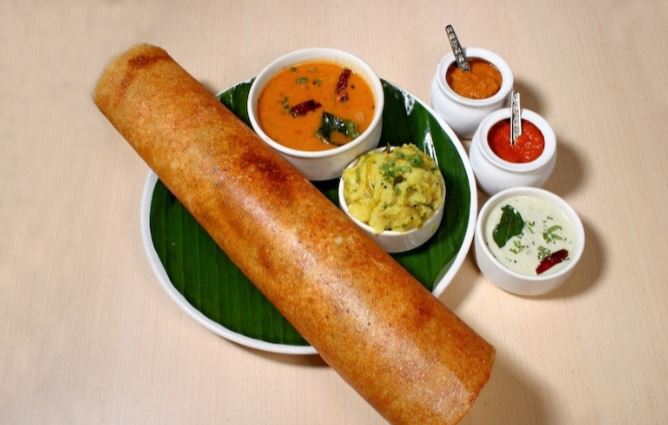 Address: Dakshinayan has 2 outlets
Juhu: Gandhigram Rd, Near Hare Krishna Temple, Juhu, Mumbai, Maharashtra 400049
Malabar Hill: 183A, Walkeshwar Rd, Raj Bhavan, Malabar Hill, Mumbai, Maharashtra 400006
We recommend: Sada Dosai, ₹150 (exclusive of taxes)
6. Cheese Masala Dosa At Thambbi, Multiple Outlets
Eating at Thambbi is considered a rite of passage when you are an alum of Ruia, Podar or Welingkar. Every student's hang out spot, Thambbi is always spotless and their menu is simple yet sufficient. As a student, my pick used to always be the Cheese Masala Dosa and even when I go back to it, the taste remains the same. With its spicy potato filling and a generous amount of shredded cheese, you won't be disappointed. Thinking about it makes me want to go back to college and only for that dosa. Luckily for you, they have outlets across the city so you don't have to sign up to be a student all over again.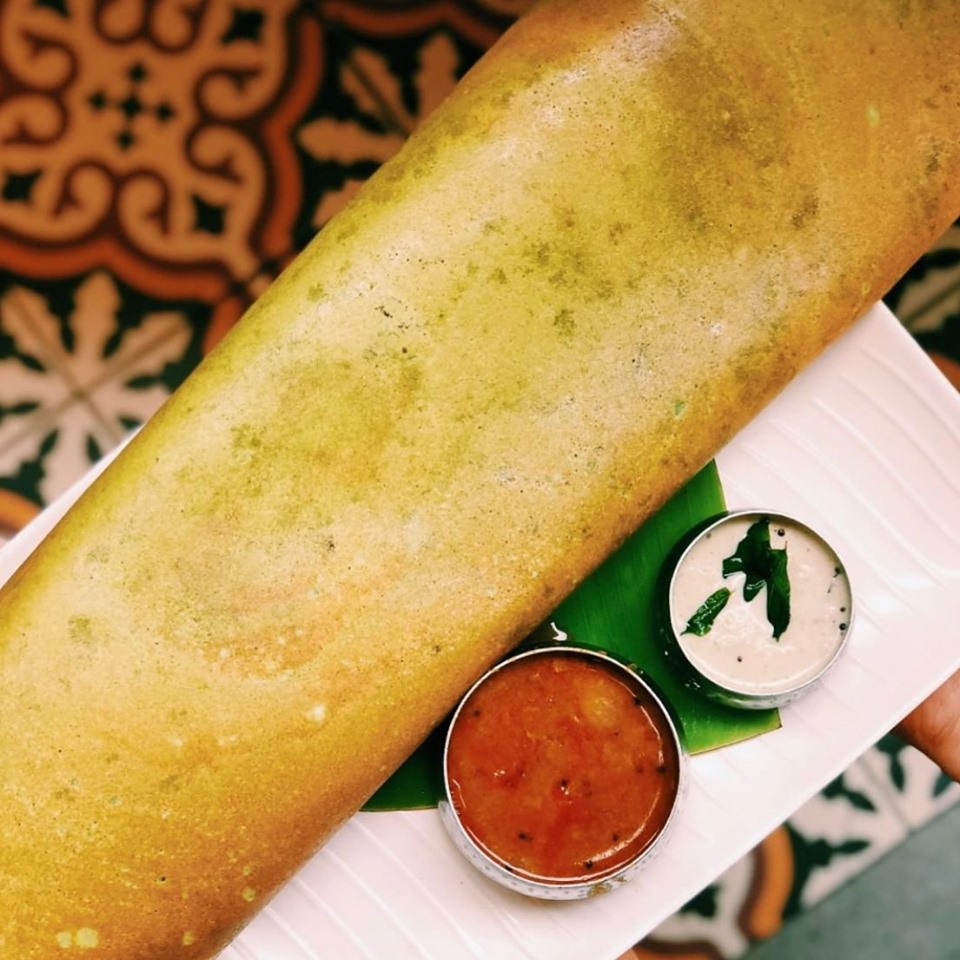 Address: Multiple Outlets
We recommend: Cheese Masala Dosa, ₹117 (exclusive of taxes)
7.  Onion Rava Dosa At Arya Bhavan, Multiple Outlets
The easiest way to find Arya Bhavan is by following the scent of sambar emanating from the nearest restaurant. Always packed, Arya Bhavan is the place to be when you are craving some feel-good food. The piping hot sambar served with their dosas is an eye-opener. If it were up to us, we'd be drinking it by the gallon. Thankfully, their Onion Rava Dosa complements it really well so you won't be guzzling that sambar down.
Address: Multiple Outlets
We recommend: Onion Rava Dosa, ₹150 (exclusive of taxes)
8. Ghee Masala Dosa At Mani's Lunch Home, Multiple Outlets
Mani's started off as a hole-in-the-wall eatery in Matunga and the first outlet still remains the best one. The place is so small that you might just have to share your table with a fellow dosa-lover. They only serve their dosas between 8 in the morning and 9 in the night so make sure your way before its too early or too late.
Address: Multiple Outlets
We recommend: Ghee Masala Dosa, ₹65 (exclusive of taxes)
9. Cheese Chilli Garlic Dosa At Banana Leaf, Multiple Outlets
If you thought that cheese and garlic only go hand-in-hand when it comes to naans then you might want to think again. Because they go spectacularly when it comes to dosas too. It might not be the most traditional dosa but we can always appreciate a fun fusion. And boy do they take fusion to another level. If you are in the mood to try something crazy, you can opt for the Choco Dosa which is tastes just as good as eccentric as it sounds.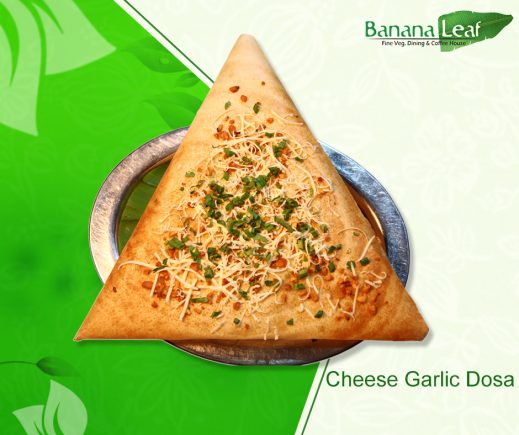 Address: Multiple Outlets
We recommend: Cheese Chilli Garlic Dosa, ₹185 (exclusive of taxes)
10. Rajni Dosa At South High Restaurant & Bar, Lower Parel & Malad
We can't talk about fusion food and not bring up the Rajni Dosa at South High. Essentially South Indian tacos, the taco shell is substituted with a crisp dosa which is stuffed with a ton of cheese and potatoes with a spicy hit of chillies. And if you aren't feeling as adventurous, take it easy and snack on the Thuppa dosa which is coated in ghee.
Address: South High has 2 outlets
Lower Parel: Ground Floor, Trade Tower, B-Wing, Kamala Mills, Senapati Bapat Marg, Lower, Parel, Mumbai, Maharashtra 400013
Malad: Near Bata Showroom, New Link Road, Malad West, Mumbai
We recommend: Rajni Dosa ₹235 (exclusive of taxes)
What are the top 10 dosa places in Mumbai?
The Top 10 dosa places in Mumbai are:
1. Mysore Masala Dosa at Cafe Madras, Matunga
2. Neer Dosa At Hotel Ram Ashraya, Matunga