The harvest festival of God's Own Country, Onam is here! And what better way to celebrate it than to meet up with your gang and visit some amazing Kerala restaurants serving you traditional Onam Sadhya on the banana leaf? We have here for you a list of 8 best places to enjoy Onam Sadhya in Bangalore. So make those lunch plans right away and gorge on some delicious Onam delicacies.
1. Ente Keralam, Ulsoor
At Ente Keralam you can literally step into the shoes of your Mallu friends, thanks to the traditional Kerala bungalow like ambience and the whiff of coconut prepared delicacies. Feast on the lavish Onam Sadhya spread, of over 25 delicacies. This includes traditional dishes like thoran( stir-fried vegetables with grated coconut), scrumptious avial (mixed vegetable delicacy made with grounded coconut gravy), kaalan(yoghurt based curry made with coconut and vegetables) and many more mouthwatering dishes. Make your lunch reservations right away and get your friends along for this amazing Onam Sadhya meal.
Deets
Address: 12/1, Ulsoor Road, Sivanchetti Gardens, Ulsoor, Bangalore
Price: ₹1,300 for two
Contact: 080411 33707
Also Read: 5 Best Alfresco Places In Bangalore
2. Samovar, Kammanahalli
Kerala restaurant chain Samovar will be hosting the Onam Sadhya meal today from 11:30 am to 4:30 pm. Serving over 27 dishes delicious dishes, this is one of the places to enjoy great Onam Sadhya in Bangalore. Call right away and make your reservations in advance. Your king-like feast plans will be taken care of thanks to the wide variety of dishes served here. Finish your meal with the traditional rice-based dessert, payasam and you're good to go.
Deets
Address: 29, 3rd M Main,1st Cross, Ramahia Layout, Kammanahalli, Bangalore
Price:₹299 per person
Contact: 8921438276.
3. Pulimunchi, Multiple Outlets
When it comes to amazing coastal restaurants in Bangalore, Pulimunchi surely tops our list. The Onam Sadhya here is a meal to surely look forward to. Serving over 25 traditional dishes today from 12 pm onwards, we recommend you make your lunch plans right away. Gorge on delicious authentic Kerala cuisine here served to you on a banana leaf, say hello to pampering the Malayalee way!
Deets
Address: 188/1, 1st Floor, Upper Palace Orchards, Sadashiv Nagar, Bangalore
Price: ₹500 + taxes per person
Contact: 080- 23616678, ‭9980189488 ( For Sadashivnagar) ‭080-41233940‬, 9980189488 ( For Indiranagar)
Also Read: These 10 Best Mangalorean Restaurants In Bangalore Will Surely Satiate Your Ghee Roast Cravings
4. Karavalli, Residency Road
On most days you might not be interested to eat pure vegetarian food. But can you really resist Onam Sadhya? Karavalli at The Gateway hosts traditional Onam Sadhya every year. With prior bookings, you can gorge on authentic Onam dishes like the sweet and tangy puliyingi( chutney made from ginger and tamarind) and parippu ( authentic gravy laden with ghee) and the traditional Kerala sambhar. Enjoy a fine dining experience here at this place offering you a great Onam Sadhya in Bangalore.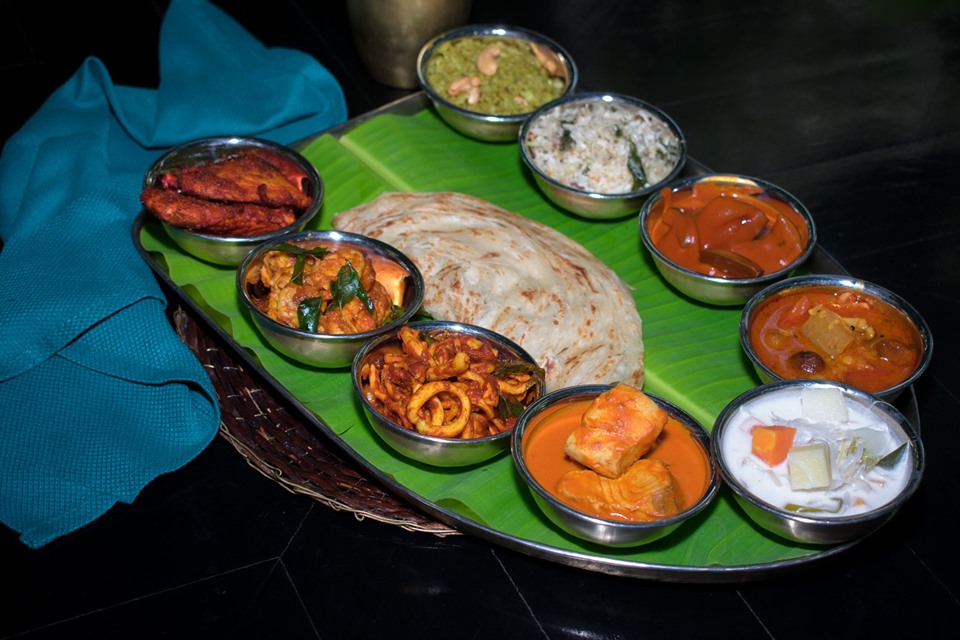 Deets
Address: Karavalli, Taj Gateway, Residency Road
Price: Rs 1600+ for
Contact: +91 9538638137, +91 9898780004
5. The Den Hotel Whitefield
Mark your dates on the calendar because on September 13th you can feast on a lavish lunch of Onam Sadhya at the Den Hotel in Whitefield. Indulge in the favourite coastal dishes like the Thakkali Charu, Avial, Nenthra Pazham,  Vazhaipoo Vadai and Pulisseri. Make your reservations at the numbers given below and your Onam Sadhya in a total fine dining experience is taken care of.
Deets
Address: ITPL Main Road, KIADB Export Promotion Industrial Area, Whitefield, Bangalore
Price: ₹2,000 for two
Contact: +91 80 7117272
Also Read: Bangalore's Robot Restaurant Will Take You To The Future
6. Rural Blues, Sarjapur Road
If you're away from home and missing an authentic Onam Sadhya meal, then do visit the Rural Blues. You can gorge on authentic dishes from the God's Own Country here today from 12 pm onwards. Listen to your music from Kerala and dine in a breezy like ambience. You can savour authentic Kerala dishes including different types of payasams that will surely leave you asking for more.
Deets
Address: 112, Kodathi Gate, Near Wipro SEZ, Sarjapur Road, Bangalore
Price: ₹799 (including taxes) per person
Contact: 080 47 111 100
7. Carnatic, Church Street
Take a break from work and plan a lunch get-together with your colleagues, bonding over a wholesome Onam Sadhya here. Make your lunch reservations and head here to Carnatic. Munch on your favourite banana chips, Inji Puli, Iddiyappam, Avial, Rasam, rice and many more such delicious dishes. End your meal on a sweet note with the Ada Pradanam and your in for a treat.
Deets
Address: 30, Off MG Road, Opposite State Bank of India, Church Street, Bangalore
Price: ₹399 per person
Contact: +91 8296702777, +91 8296703777
8. Maria Taste Circle, Marathahalli
If you're looking for a reasonably priced homely Onam Sadhya meal, then do visit Maria Taste Circle in Marathahalli. Serving around a whopping 31 number of delicious Kerala dishes, Maria Taste Circle is one of the best places to visit for Onam Sadhya in Bangalore. You can make your lunch reservations in advance and visit here for a lunch experience from 11 am to 4 pm today. Take your family with you and bond over some amazing Kerala dishes to celebrate the harvest festival in total zest.
Deets
Address: 1st Main, Sree Ramanjaneya Layout, Marathahalli, Bangalore
Price: ₹349 per person onwards
Contact:  +91 9035520077, +91 9035520088
Now that we've informed you about these amazing Onam Sadhya places in Bangalore, do not wait any further. Since most of these places will be serving Onam Sadhya lunch meals ending today itself, make your reservations and head to these places asap. Celebrate Onam in style, by feasting on scrumptious Onam Sadhya meals.